If Dominion Energy is allowed to buy South Carolina Electric & Gas, its customers will get a one-time shot of cash to make up for some of the years they spent financing an abandoned nuclear power plant.
Then they'll keep paying for the plant for another 20 years.
That's the pitch Virginia-based Dominion laid out last week after it agreed to buy SCE&G's parent company, Cayce-based SCANA Corp. The deal — valued at about $14.6 billion, including existing debt the buyer will take on — is meant to resolve one of the biggest financial questions in South Carolina's history: Who should pay what for the failed expansion of the V.C. Summer Nuclear Station?
Dominion says that under its proposal, investors will wind up eating a bigger chunk of the $9 billion Midlands project than they will if the transaction doesn't go through. SCANA, which is South Carolina's largest publicly traded company, owns 55 percent of the two unfinished nuclear reactors in Fairfield County.
But the extra billions don't mean ratepayers are off the hook entirely: Dominion says it wants to roll back only about a fifth of the rates SCE&G is collecting for the scuttled V.C. Summer project, and its proposed refund checks would cover about three-quarters of the money customers have shelled out so far.
Over the next two decades, SCE&G customers would pay about $2.2 billion for the project, plus a 10.3 percent return for investors, according to documents filed Friday. Dominion would eat $1.7 billion of the costs.
SCE&G customers' tab includes a subsidy from Dominion to lower rates for the first several years of the combination, and a massive tax write-off that SCANA had planned to claim for killing the project. Dominion says it will get a much smaller tax benefit — valued at about $500 million — from the write-off than SCANA would have.
Executives from the two companies said while customers would still pay billions, the offer was an improvement. SCANA chief executive Jimmy Addison said it was more than the South Carolina utility owner could offer on its own.
"Suffice it to say that billions more have been put on the table by Dominion," Addison said.
Dominion chief executive Thomas Farrell likewise said that SCE&G's 718,000 customers would be better off under Dominion than SCANA, even though they'll still have a share to pay: "It's greatly reduced. It's a fraction."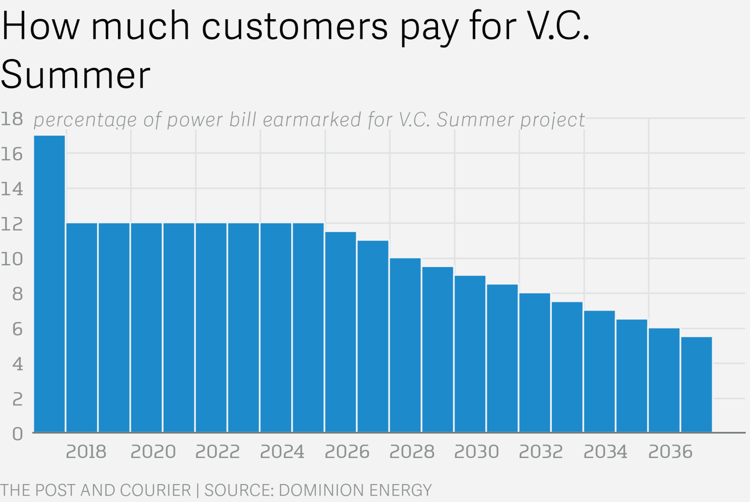 'A wake-up call'
To the lawmakers who hold the keys to the deal, however, even a fraction might be a bridge too far.
That's because top legislative leaders want to roll back the full $37 million a month that SCE&G customers are paying for the abandoned project. The unfinished reactors account for nearly a fifth of their monthly electric bills.
The House and Senate are moving quickly on efforts to repeal the controversial law that helped finance the project — the Base Load Review Act. Lawmakers say that despite the sale, they won't delay their votes when the Legislature reconvenes Tuesday.
"I think we need to move forward because you don't know what's going to happen with the sale," Senate Majority Leader Shane Massey, R-Edgefield, said.
The House is expected to vote on the proposal during the week of Jan. 15, said Majority Leader Gary Simrill, R-Rock Hill. The Senate is expected to follow suit in early February.
In a statement, Dominion said Friday that it was OK with legislators axing the Base Load Review Act — if the repeal only applied to future projects.
"Repealing the law for future projects would still allow our merger to move forward," the company said.
Still, lawmakers say that no utility — SCANA, Dominion or another suitor — should bank on collecting any more money for the nuclear plant.
"This should be a wake-up call," Simrill said of the upcoming votes.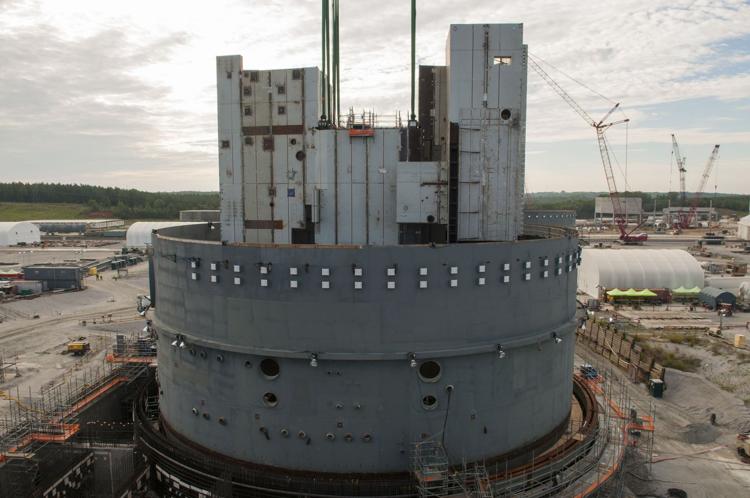 Growing skepticism
The dose of skepticism from lawmakers comes despite a flashy proposal from Dominion: refund checks for every one of SCE&G's customers, who have paid $1.8 billion for the project so far.
Wall Street analysts initially speculated that the refunds — $1.3 billion in all, or about $1,000 for the typical household — would be a powerful enticement to politicians in an election year.
But top lawmakers indicated that refunds wouldn't cut it if SCE&G customers will keep paying into the future,
"My goal is, and has been since the beginning, to either get the reactors built or get the people's money back. This is a step in that direction," Gov. Henry McMaster said Friday. But, he added: "There is still work to do."
As policymakers' reactions trickled out this week, Wall Street started to have second thoughts.
After the sale rallied SCANA's battered shares on Wednesday, doubts led a selloff to close the week. SCANA shares were trading about 14 percent below their equivalent in Dominion stock at the end of the week, indicating that investors were having doubts about the deal's prospects.
Those doubts may not be unfounded.
The terms of the SCANA acquisition say that Dominion can walk if the Legislature changes South Carolina's utility laws or regulators demand concessions that make "a significant change to the economic value."
That's a real possibility because regulators are considering a proposal to strip nuclear-related costs from SCE&G's electric rates, and lawmakers are poised to do the same. Executives have said that could torpedo the deal.
If the acquisition is called off, it could come with real costs, though it isn't clear that legislative changes would trigger them: Depending on the circumstances, Dominion could owe $280 million if it walks away, and SCANA could owe $240 million for reneging.
And if SCANA is left to stand alone, it has warned that slashing electric rates would swamp its finances. Before the acquisition was announced, the company said the move could force it into bankruptcy.
At the time, the company painted a dire picture of the consequences to South Carolina's electric grid — higher borrowing costs, slower repairs and a situation that SCANA's attorney said would "hurt you more than you can imagine."
But even then, several lawmakers insisted they would take a hard line: They heard the warnings, and they said they'd call the company's bluff all the same.