SCANA studied the idea of cutting its electric rates by nearly 10 percent before deciding to be acquired by Dominion Energy — a discount far more generous than it had previously offered in the wake of its failed nuclear project.
SCANA's study came amid a political maelstrom for the company, which owns South Carolina Electric & Gas. It had offered in November to cover more of the cost of its unfinished nuclear reactors and slice its rates by 3.5 percent.
Chief executive Jimmy Addison has said that when it made its initial offer, SCANA was "putting its best foot forward."
But in the weeks after that offer was rejected by lawmakers, SCANA asked financial advisers to study what would happen to its bottom line if it reduced its electric rates by 9.75 percent, according to regulatory disclosures filed late Wednesday.
Internally, SCANA described that rate cut as the biggest it could afford. In the documents filed Wednesday, it said the previously undisclosed plan "would provide the largest reduction in electricity rates it could on a stand-alone basis" before being dinged by credit-rating agencies.
The power company would have lost just over half of its monthly collections for the abandoned expansion of the V.C. Summer Nuclear Station under that scenario. It also studied the possibility of a 5 percent rate cut paired with a $500 million refund to make up some of the money electric customers had already paid.
In both scenarios, SCE&G customers would have paid for the nuclear plant over the next 50 years.
SCANA said Wednesday that if it had gone forward with the bigger rate cut, it would have barely maintained the financial health it needs to borrow money inexpensively. The company's credit rating has been dented in recent months because of the political turmoil it faces.
"In that scenario, SCANA would likely have become a financially weakened utility with very low growth in earnings and no growth in dividends without substantial reductions in (operations and maintenance) or capital investment — critical elements for maintaining a safe and reliable system for customers," spokeswoman Rhonda O'Banion said. "We determined that the customer-focused Dominion proposal was clearly the better option."
Making a plan
The company drew up its alternative proposals while out-of-state utilities lined up to ask about buying SCANA outright. The hypothetical scenarios offered a benchmark to compare offers against.
The only formal offer came from Dominion, a Virginia-based utility giant that had been asking about making a deal since last spring.
SCANA's financial advisers at Morgan Stanley estimated that the company would be worth more under Dominion's $7.9 billion all-stock deal than it would be after slashing rates, the disclosures show.
Morgan Stanley ultimately decided that Dominion's offer would be "fair from a financial point of view" to SCANA's shareholders.
Dominion has said that its plan aims to strike a balance between electric customers' demands for lower bills with shareholders' need to walk away with something. Two-thirds of SCANA shareholders have to approve the deal before it closes.
For ratepayers, Dominion's offer includes a 3.5 percent rate reduction, plus savings from federal tax reform, and nuclear charges would begin to phase out after eight years. It has also offered a $1.3 billion refund that would repay most of the money ratepayers put into the V.C. Summer project. Under the Dominion plan, customers would pay for the next 20 years.
Dominion spokesman Chet Wade said that toward the end of his company's two-decade plan, customers would get lower rates than the undisclosed proposals. And it would end the nuclear charges sooner.
Still, SCANA's unreleased proposals frustrated lawmakers who said SCANA had told them that it could be financially crippled if rates are cut too much.
"It shows again dishonesty, it shows deception," said Rep. Peter McCoy, a Charleston Republican who led a committee that investigated the V.C. Summer project. "They care about the shareholders. They care about themselves. The greed at the top is like nothing I have ever seen."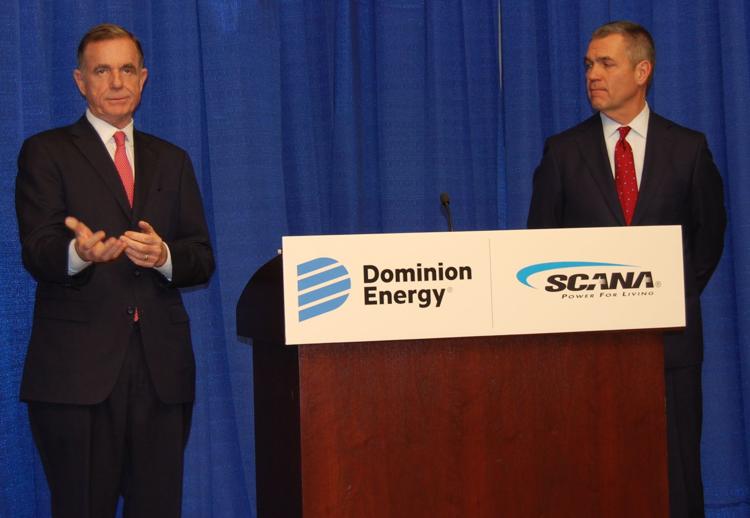 More offers
Before the details of the Dominion deal were nailed down in the last days of 2017, SCANA had been courted repeatedly by other power companies.
At least three other utilities expressed an interest — in phone calls, formal meetings and encounters at industry conferences.
And SCANA had been at least passively interested for months: SCANA's board considered a sale as early as December 2016. But the company decided to hold off while the future of its ailing nuclear project was sorted out.
In the months that followed, four suitors, including Dominion, approached former SCANA chief executive Kevin Marsh to see if the company was on the block, according to a timeline filed with the U.S. Securities and Exchange Commission.
The requests began in March, as the company began a full review of the nuclear project that would ultimately lead to its demise. One unidentified company's CEO chatted with Marsh at an industry conference that month and casually asked if he'd be open to an offer.
They accelerated as Marsh sought to sell part of his company's project to build a pair of nuclear reactors at the V.C. Summer site, north of Columbia. Utilities roundly said they weren't interested in the power plant — but they might be interested in SCANA.
Dominion was one of them. Its chief executive, Thomas Farrell, met with SCANA management and made an offer as early as May, but he was told SCANA needed to deal with its nuclear project first.
In July, Marsh asked Farrell to come to Columbia for another meeting to ask him about buying a piece of the project from Santee Cooper, which owned a minority stake in the reactors. Farrell said he wasn't interested, countering instead with an offer for SCANA.
SCANA's board decided not to pursue it — for the time being.
Increasing interest
The interest from would-be buyers ramped up after SCANA and Santee Cooper halted construction in July. That decision set off a political firestorm that's still raging in the Statehouse.
It reached a fever pitch while talk of selling Santee Cooper, a state-owned utility, picked up last fall.
Gov. Henry McMaster's office was reaching out to out-of-state power companies, including Dominion, to drum up interest. That prompted at least one to ask if SCANA would be interested in a package deal.
In the space of 10 days in October, Dominion traveled to Columbia for a meeting to lay out new terms and three other companies reached out to test SCANA's interest in selling. One of them backed out later in the month, saying the swirl of uncertainty around SCANA's future was too great.
The wave of interest reached SCANA even though the company never undertook a formal process to find buyers.
Asked by utility regulators if he had "tried very hard" to find competing offers, Addison, the company's new CEO, said he hadn't. The company has repeatedly said that Dominion's proposal was the only formal offer it received.
Talks with Dominion didn't get serious until November, after SCANA's offer to cut rates by 3.5 percent was panned by politicians. By then, executives have said, it was clear SCANA would need outside help.
Even in the thick of negotiations, tentative proposals continued to emerge: Just before Christmas, one company followed up and asked if SCANA would be willing to sell its fast-growing North Carolina natural gas business, PSNC Energy. That company met with Addison and floated a $2.2 billion offer.
But Addison advised the board not to pursue it. PSNC was worth more, he told them, and its network of pipelines around Asheville, N.C, and Raleigh was an important growth area for SCANA.
Two weeks later, Dominion agreed to buy the company outright.
Andrew Brown contributed to this report from Columbia.