COLUMBIA — An attorney hired by SCANA Corp. took the blame for deleting key portions of an audit of the company's failed South Carolina nuclear project, dismissing claims that executives intentionally withheld vital information about the project from regulators, the public and Wall Street investors. 
George Wenick, an attorney with the law firm Smith Currie, said SCANA's leaders never ordered him to delete a review of the nuclear project's schedule — information that could have raised serious doubts about the reactors viability two years before construction was called off. 
Wenick was responsible for hiring the Bechtel Corp., one of the world's most experienced construction and engineering firms, to review the struggling V.C. Summer project in 2015. The $1 million audit highlighted significant problems with the project and suggested the reactors wouldn't be completed until after 2020 — the deadline to cash in on $2 billion in federal tax credits.    
The testimony is likely to play a major role in the high-stakes regulatory hearing that will decide whether SCANA, the parent company of South Carolina Electric & Gas, or its roughly 720,000 electric customers pay for the abandoned project.
Wenick's comments could also be used in ongoing investigations by the U.S. Department of Justice and the Securities and Exchange Commission. Those federal agencies requested documents related to Bechtel's final report and earlier drafts of the analysis last year. 
On the witness stand, Wenick took personal offense to emails and testimony that suggested he helped SCANA scrub, flush and whitewash the Bechtel report. Attorneys opposing SCANA allege Wenick helped the company to intentionally conceal the report, until Gov. Henry McMaster forced the utility's project partner, Santee Cooper, to release the audit last year. 
"I would never do that. That's just not the way attorneys operate," Wenick said, becoming emotional. "It gets picked up by the press and it's out there. But that's not who I am. That's not who attorneys are. They don't get hired to conceal things. That's not what this was about."
SCANA and its attorneys say it didn't disclose Bechtel's analysis because it was put together in preparation for possible litigation against its nuclear contractor, Westinghouse. But attorneys opposing SCANA believe Wenick hired Bechtel to ensure the critical report was protected under the guise of attorney-client privilege.
Wenick adamantly denied playing any role in deciding whether Bechtel's report should be given to the S.C. Public Service Commission and the Office of Regulatory Staff, the state's utility watchdog. 
"I can't say enough times that that never entered into my mind. I have no idea as to what you folks are entitled to in terms of reports," Wenick said Wednesday, directly addressing the utility commissioners. "Certainly when you ask for things, there is an obligation to provide them.
"I wasn't asked and I didn't advise them," he added. 
Attorneys for the state's utility watchdog released emails that show Wenick talking about the Bechtel report and in the next sentence advising SCANA on what to disclose in a quarterly report filed with the state regulators.   
Wenick says he wasn't talking about Bechtel. But it's impossible to tell because the email is partially redacted.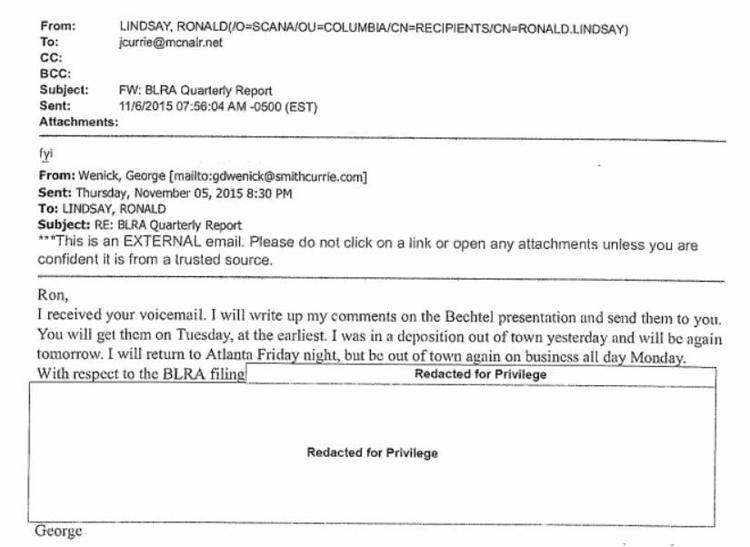 During the ongoing hearing, SCANA's attorneys have painted Bechtel's work as worthless, arguing it didn't reveal anything new about the project in 2015. Wenick argued Wednesday that Bechtel's review of Westinghouse's schedule was inadequate. 
It's now up to the regulators, criminal investigators, and state and federal judges to decide whether the report was important enough to disclose to ratepayers and investors. 
The utility commissioners are expected to make their decision by December.