SCANA Corp. executives took free rounds of golf, entry to the Masters tournament and tickets to football games from the contractors responsible for building the company a pair of nuclear reactors — even as the project slid toward failure.
And that only covers the executives who still work for the power company.
In response to questioning from utility regulators this week, SCANA said its executives accepted two rounds of golf at Kiawah Island — one of the state's premiere golfing destinations. And they took tickets to high-profile events on at least four occasions.
They saw the Carolina Panthers once, and they took-in an unspecified number of Charlotte Hornets basketball games. They were offered entry to the Masters in Augusta, Ga., annually and they went "during various years," SCANA told regulators.
The South Carolina Electric & Gas parent company was asked to provide information about gifts dating to 2008, when plans to expand the V.C. Summer Nuclear Station near Columbia were first being presented to the public.
The gifts ran until at least 2016, years after SCANA began raising alarms internally about the project's future.
In 2016, executives accepted a pair of tickets to see the top-ranked Clemson Tigers trounce the University of South Carolina Gamecocks — a night game on the way to Clemson's first national championship in decades.
SCANA declined to answer questions about who accepted the tickets or which contractors offered them, citing a series of lawsuits filed against it over the failed nuclear project.
"Because we are in active litigation, we will not be providing additional information," spokesman Eric Boomhower said.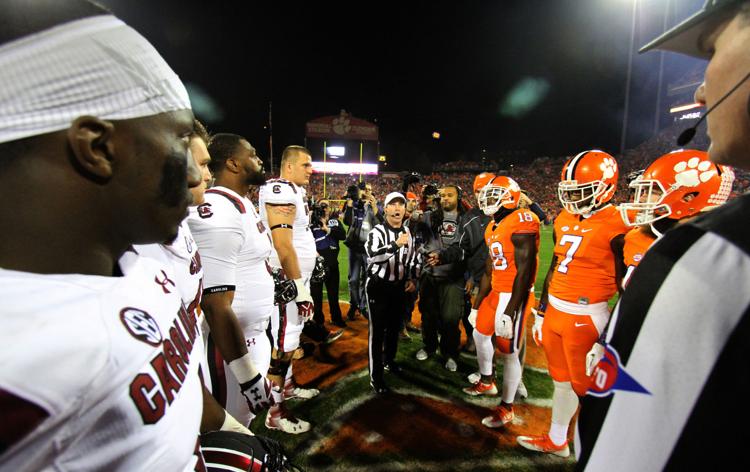 But in a filing with the state Office of Regulatory Staff, a utility watchdog agency, SCANA said it only had information about gifts accepted by current executives. The two men who presided over the nuclear project — former CEO Kevin Marsh and former executive vice president Steve Byrne — stepped down late last year.
That's not to say they didn't receive offers of their own. Marsh, for one, was offered a trip to the NHL Stanley Cup playoffs in the middle of 2016, around the time SCANA asked regulators to approve one last budget increase for the nuclear project.
Marsh was emailing with Danny Roderick, the CEO of Pittsburgh-based lead contractor Westinghouse Electric, about the power company's decision to lock in the reactors' cost. In-between messages about $100 million-a-month payments for the project, Marsh said he wouldn't be able to make it to see the Pittsburgh Penguins play.
"Thanks for the invitation to the Stanley Cup playoff," Marsh wrote that June. "Don't think I can work it out, but I am sure the excitement for the games is hard to surpass!"
SCANA told the watchdog agency it "does not prohibit" its executives from taking those sorts of perks because it "recognizes that gifts of nominal value may be given or received as a result of business relationships."
Executives also exchanged cultural gifts with their counterparts in China and Japan, the company said. Westinghouse is owned by the Japanese conglomerate Toshiba Corp.
Westinghouse and the project's lead construction contractor, Chicago Bridge & Iron, didn't immediately respond to questions about whether they offered gifts.
SCANA's disclosure came in response to questions connected to the regulatory process that will determine how much the company has to pay for the nuclear project, which was abandoned July 31 after years of delays and hefty cost overruns. SCANA and its partner, state-owned power company Santee Cooper, spent $9 billion on the Westinghouse-designed reactors before pulling the plug.
Regulators are in the process of deciding whether SCE&G should be allowed to charge customers for the unfinished reactors. Nearly a fifth of their monthly bill payments go toward the scuttled project.