A top SCANA accountant says the company's most powerful executives pressured her to lie and she was given altered information to share with state regulators about how much it would cost to finish the utility's faltering nuclear project, according to a transcript of her sworn testimony.
If the estimates were lower, that could have made the project appear healthier than it was. Leaders at SCANA, which owns South Carolina Electric & Gas, have been accused of painting a rosy picture to regulators, customers and investors about the health of the $9 billion project before it failed a year ago.
Carlette Walker, who managed the nuclear project's finances, testified under oath that she left her $565,000-a-year job in 2016, "Because I wasn't going to lie."
"And who do you feel was pressuring you to lie?" an attorney representing SCE&G customers asked.
Walker answered with the names of the power company's top officials: Kevin Marsh, its CEO throughout the nuclear project's final years; Steve Byrne, who had been its operations chief; and Jimmy Addison, the finance chief who was her boss and is now SCANA's chief executive.
SCANA and attorneys representing Addison, Byrne and Marsh did not respond to requests for comment Monday. Marsh and Byrne resigned from the company last year after the project went bust and state lawmakers called for them to step down.
Walker was in SCANA's inner circle and was repeatedly called to testify about its budget to South Carolina's utility regulators and her work won her raises year after year as one of the project's leaders.
Now, her legal testimony is central to a series of lawsuits and regulatory cases that will decide if SCE&G ratepayers should get a refund for the $2 billion they've already poured into the unfinished reactors at the V.C. Summer nuclear power plant. The work costs them $37 million a month, nearly a fifth of their electric bills.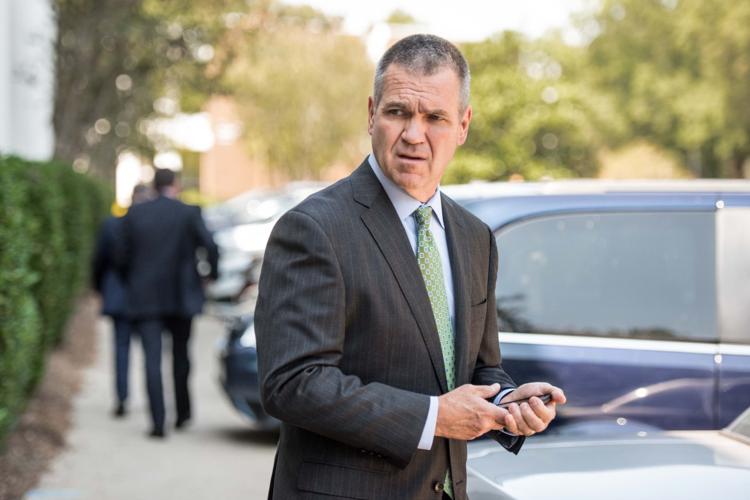 The deposition represents the first on-the-record comments Walker has made about the project since it was called off. But her thoughts about its management are not a secret.
A year before the project ended, Walker left a blistering, five-minute voicemail with her counterpart at Santee Cooper, a state-owned utility that owned just under half of the $9 billion reactors.
She warned the utility not to sign off on any more budget increases and she accused her bosses of stringing the project along to prop up the company's earnings and lock down their bonuses and breaking "every friggin' law that you can break," according to a recording of that voicemail, which was obtained by The Post and Courier earlier this year.
In her interview with attorneys, Walker said she tried to warn Santee Cooper not to support any more increases to the project's budget because she "felt especially protective of the ratepayers." And she knew Santee Cooper had been raising issues with how SCE&G was managing the project.
"I knew at that point I could not do anything to protect SCE&G's ratepayers," Walker said.
When she was asked whose interests would benefit from a budget increase, she responded: "SCANA's only."
Large segments of her remarks were redacted because SCANA's attorneys marked them as confidential. Still, the parts of the transcript that are visible show Walker saying construction cost estimates she shared with Addison in 2015 were not the same ones provided to the state Public Service Commission, which regulates utilities.
Walker said her team prepared a new estimate of what it would cost their contractor, Westinghouse, to finish the reactors. The numbers were key because they indicated how viable the project would be if the utilities paid a fixed price for construction.
But according to her testimony, her team's financial numbers were later altered as the company prepared for its hearing in front of the utility commission.
"The numbers that your team prepared that you provided Jimmy Addison were not the numbers that eventually made it into the 2015 testimony?" an attorney asked.
"No," Walker said.
It's unclear what Walker's team estimated the new cost to be. Asked where those numbers went, she suggested the attorneys ask Addison himself. 
"I handed it to him," Walker said. "Just ask him. Say, 'Jackass, where's the file Carlette gave you that was supposed to be used in the testimony in 2015?'"
Attorneys opposing SCANA may get a chance to do just that. Addison, Marsh and Byrne are expected to be interviewed when state regulators consider in November who should pay for the failed project.