Log Creek Timber, a family-owned timber harvesting business in Johnston, has changed over the last year. 
The Edgefield County company more than doubled the number of log trucks it owns. It had 20 and then doubled down, buying 20 more. Another five are on the way. The business hired new drivers for each of those trucks and, because of that, had to expand its human resources department. 
When Reg Williams, who runs the business with his two siblings, noticed that they were increasingly taking on new logistics responsibilities, they created a new position. 
But the family isn't rapidly expanding the business; they're just trying to adapt with the industry.
"Things are changing so quickly nowadays," Williams said.
The reason for Log Creek's staffing changes is an issue that's been straining timber-harvesting and -hauling companies in South Carolina and across the Southeast: skyrocketing transportation costs.  
About a year ago, Log Creek was hiring about 30 to 35 contract drivers. But the cost to insure them more than tripled in the last 12 months, Williams said, rising from about $7,000 to $8,000 to between $28,000 and $32,000 per driver. 
Premiums for the trucks they own and operate have risen, too, but not nearly to that extent, he said. 
Because of that, the company now employs about five contract drivers, he said, and has flipped its business model to rely almost entirely on a fully-owned fleet. It has figured out how to keep the day-to-day operations going, but when it comes to sorting out the costs of buying trucks and hiring employees, it's "still figuring that out," Williams said. 
Joe Conrad, an assistant professor of forest operations at the University of Georgia, recently completed a study on log truck insurance expenses in Georgia, North Carolina and Alabama. Many of the challenges and trends he's observed and that Log Creek is seeing are playing out across the Southeast, he said, noting that he knows of one owner who had to borrow $50,000 to cover an unexpectedly steep premium jump. 
Contraction
Contract haulers, in particular, are viewed by carriers as a bigger risk because of previous losses, he said.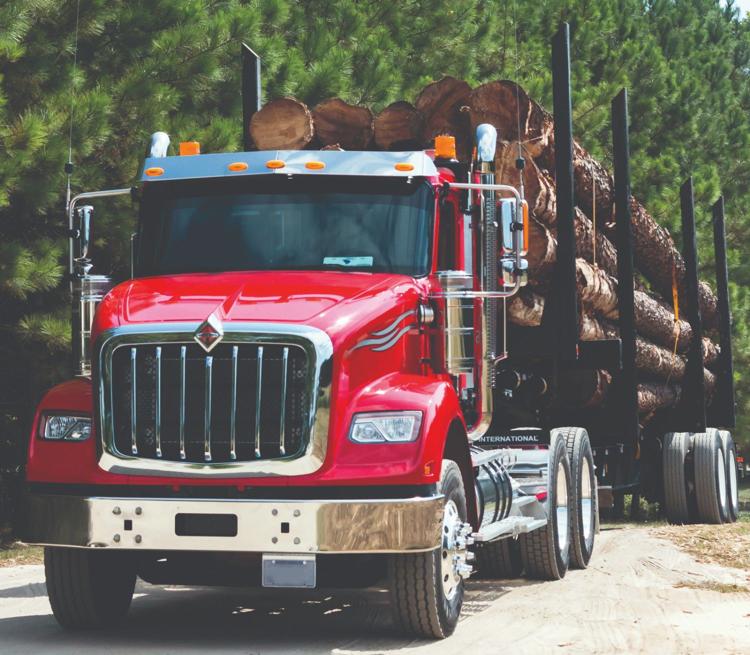 "Consequently, many insurers charge contract haulers higher premiums or refuse to cover them at all," Conrad said. 
That's led many businesses to cut back on contract drivers and expand their in-house fleets, though not all of them have the capital to make the shift, he said. While prices vary, Conrad said a new log tractor and trailer setup could cost about $170,000.
It's a big issue in South Carolina, where the forestry industry has a $21 billion economic impact, according to the S.C. Forestry Commission, and where timber is the top-harvested crop. 
The supply is there, and the demand is strong, but the challenge is getting the freight from one place to another in a cost-efficient manner. Aside from insurance, other expenses are on the rise, such as tires. And the shortage of qualified drivers is forcing companies to pay higher wages.
'Can't sustain this'
Cam Crawford, the president of the Forestry Association of South Carolina, said he was first alerted of insurance concerns early last year. He said one possible culprit for the increasing premiums is a lack of competition among carriers that offer coverage for log trucks. 
Ray Farmer, director of the S.C. Department of Insurance, issued a report last December on affordability and availability after meeting with Crawford and Rick Todd, CEO of the S.C. Trucking Association. 
While it could not determine definitively whether the competition among log-truck insurers was limited, the study found that premiums for all commercial-vehicle coverage were rising, with rates jumping nearly 25 percent for trucks, tractors and trailers in 2017. 
In the states that Conrad of the University of Georgia analyzed, the increases didn't correspond with rising accident rates. The frequency of log truck accidents in Georgia, for example, has been going down over the last decade, he said. 
But at the same time, the cost of repairing the vehicles has increased as more pricey high-tech devices, such as sensors and cameras, become standard equipment.
Based on his research and work with industry leaders, Conrad said, the cost of moving timber is a top priority for forestry businesses in the Southeast. He urged haulers to focus on bringing down their accident rates by prioritizing safety.
Crawford of the Forestry Association said he'd like see some specific legal reforms as to how claims are processed, but noted that there are no easy solutions for the industry's most pressing problem of runaway costs. 
He said the issue ripples across the entire timber supply chain.
"The industry cannot sustain this," Crawford said.