COLUMBIA — Charleston has the Harbor Entrepreneur Center. Greenville has NEXT. Now the capital city is getting a work space geared to small but growing businesses that have found success beyond the startup stage.
SOCO coworking company is opening a new, larger location in Columbia's Vista district. The new venture targets businesses that want the "vibe and community" SOCO prides itself on but need more infrastructure in the form of private offices and meeting rooms, said founder Greg Hilton. A number of entrepreneurs think the new space could even serve as a tool in Columbia's larger quest to retain homegrown companies rather than having them move on to other entrepreneurial hub cities.
When he founded Krumware in 2016, Colin Griffin spent a few months working out of a home office.
"But it can be tough to focus when you have the dogs nipping at your heels or the allure of couch," he said. "I'm the kind of person I need a place to go to work."
At that time, SOCO was about the only game in town for coworking, an entrepreneurial-geared office trend popping up across the nation in the last decade. It gave Griffin a network of other entrepreneurs to compare notes with and a home base that helped when it came time to expand and hire people for his budding software company.
As Griffin began to need more space, he saw cities like Greenville and Raleigh where shared offices for growing businesses already existed and sometimes questioned, with Columbia's population base, "Why don't we have this already?"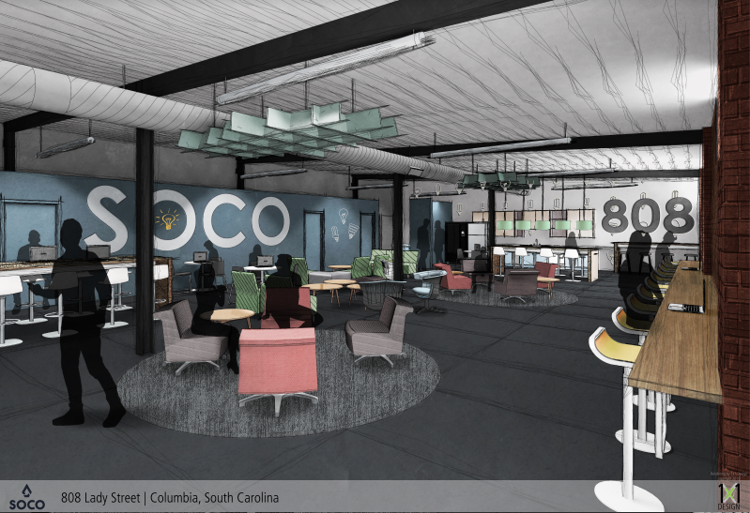 "I want way more small and local businesses to look at Columbia as a place to come and grow and stay," said Vanessa Driscoll, founder of F2T Productions, Management and Catering.
F2T, which stands for farm to table, was operating its sustainably farmed food and event planning out of an office in Columbia's Rosewood neighborhood. Driscoll came to SOCO because she felt detached from the community she was serving. As the coworking company moves into its larger space, F2T will have the added advantages of more conference rooms to meet with clients and after hours space to host food tastings.
Located at 808 Lady St., the nearly 11,000-square-foot space will open in the fall as SOCO 80808, a name that pays homage to a former Columbia artist collective and gives a nod to the creative hub of the city it's housed in. The other SOCO Vista location will close. 
In the new space, Krumware will be going from open style to offices, "transforming from a startup to this is serious" with a space to showcase to clients, Griffin said.
He said he's often asked why he doesn't open his own office. But space at SOCO comes with another advantage — talent attraction. SOCO 80808 will have a larger event space where, among other things, technology group meetups will take place. Students will be coming through and Krumware wants its name to be visible when that potential workforce makes that connection.
Krumware now has eight full-time designers and software engineers. Griffin plans to double the size of his team by the end of next year and tripling the year after as they start to go after higher value corporate contracts.
"Now we'll be able to stretch our legs a bit to help us grow and get through the next phase," he said.
It's a big move for SOCO, too, as it doubles the square footage the company has available for members.
Hilton said this new venture will serve as a test of whether SOCO can grow but still maintain the community atmosphere. If it succeeds, Hilton expects to duplicate it elsewhere in the Columbia area and Midlands.