A little more than eight months into one of the area's biggest and most ambitious economic development projects, Ed Walker is pleased with the progress he's seeing.
"We're right on track with what we intended to bring to this site," Walker, CEO of defense contractor W International, said of his company's $35 million investment at the Charleston International Manufacturing Center in Goose Creek.
The site, located along the Cooper River, is expected to employ roughly 600 welders and fabricators in the next few years as the Defense Department awards contracts for construction of a next-generation Navy submarine and a new class of aircraft carriers.
Right now, W International employs about 50 welders for the handful of contracts it has already received and work the company is sending to Goose Creek from its Detroit-area headquarters. Plans call for hiring another dozen or so welders each month as the workload increases.
"We're very comfortable with where we're at in the procurement process, the number of employees we're bringing on board and the volume of work," Walker said.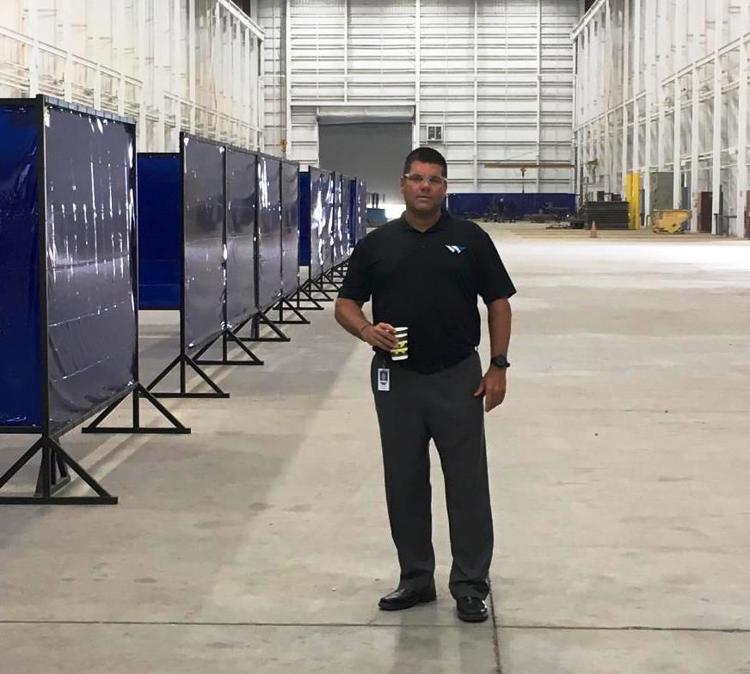 Administrative offices have been renovated, new floors and lighting have been installed in the weld and paint shop building, and equipment is slowly starting to fill the space, with the bulk of W International's metal fabrication tools and equipment scheduled to arrive through next year.
Some minor improvements have been made to the towering, 225-foot-tall cube-shaped building that's the centerpiece of the W International site. That's where Walker plans to build the large aircraft carrier parts, and a full renovation will take place once that work arrives.
It's been easier than he expected to find a skilled workforce in a Charleston region where big manufacturers like Volvo, Boeing and Mercedes-Benz Vans are competing for some of the same talent.
"We've had hundreds of resumes — a lot more demand than we anticipated," Walker said of the welding jobs that offer pay from the high teens to upper 20s, depending on experience. He expects to find many future workers through training programs W International is sponsoring at area high schools.
"We've been fortunate to have a great pipeline of good people," he said. "Everyone that's come here is super skilled. Workforce has not been a challenge."
The biggest challenge ahead could be finding enough work for those employees to do.
The defense work isn't guaranteed — W International will have to bid for it against a number of competing subcontractors looking to get hired by the big contractors Electric Boat and Newport News Shipbuilding.
Walker said he thinks W International has an edge because its riverside site has the indoor space and barging capability most lack for the large parts — such as deck structures and tanks — that the new submarine and aircraft carrier projects require.
"We're confident that we do great work and we're competitive but also that this facility lends itself uniquely to the large product that the Navy and shipyards will need support on for the next 25 years," he said. "I think there will be more demand than we can handle."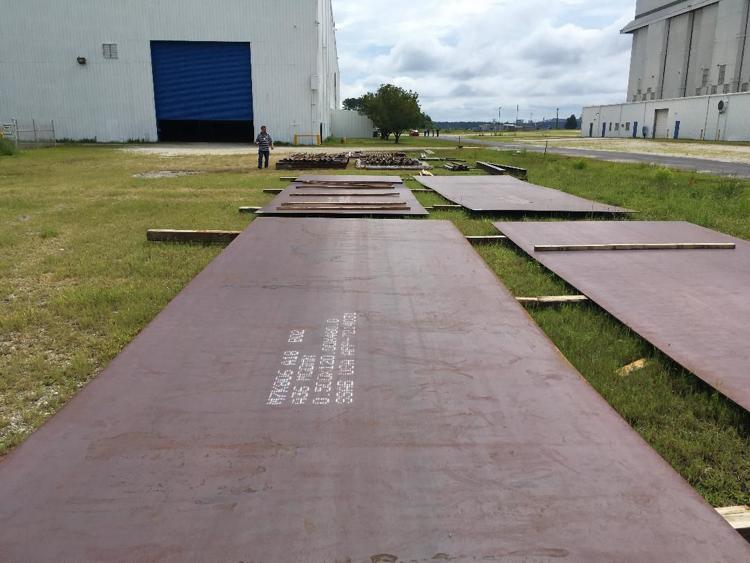 The number of companies competing for those contracts is dwindling, which could give W International another advantage. A recent Pentagon report shows the defense industry lost about 20,500 manufacturers in the past 18 years, with shipbuilding hit especially hard, because of budget cuts driven by the federal Budget Control Act.
BWX Technologies, for example, said this month it might stop producing missile tubes for the $128 billion Columbia submarine program, leaving just one supplier for the critical part. Rex Gevedon, the company's CEO, told analysts, "We're not interested in the future orders unless we do have a way to make money on these orders."
Even if the defense contracts don't go as planned, Walker said he's working to land deals with a European offshore wind industry player that's looking to expand to the United States.
Walker declined to name the company, but only one firm — Vineyard Wind, a subsidiary of Copenhagen Infrastructure Partners and Spain's Avangrid Renewables — fits the bill. That company is seeking to build the first large-scale offshore wind energy project — an 800-megawatt wind farm off the coast of Massachusetts.
"We're looking at doing very large structures for mega-sized wind turbines installed on the ocean," Walker said.
"There's a lot of demand for the site beyond Naval work, so we're not concerned about bringing in the volume of work," he added. "We're more concerned with making sure we bring in the right mix of work."
There are high expectations for W International, with South Carolina Gov. Henry McMaster calling the company's decision to locate in the state "a landmark moment" and citing the firm during his "State of the State" address as an example of the Palmetto State's growing and diverse manufacturing base.
An incentive agreement Berkeley County offered to provide tax breaks to W International calls for 600 jobs to be created. Walker said he plans to do better than that — 1,000 workers within five years.
The state is offering tax credits for the number of jobs W International creates, and state Commerce chief Bobby Hitt compares landing the welding and fabrication shop to some of the biggest economic development deals he's been involved with. 
"From premium automobiles and wide-body commercial aircraft to medical devices and luxury boats, South Carolina is now a state that produces advanced products," Hitt said. "With today's announcement that an industry leader like W International is locating in Berkeley County, our manufacturing portfolio continues to grow."