Santee Cooper expects to convert the two coal ash ponds at its former Conway power plant to wetlands by the end of 2020, having hit a milestone in the years-long cleanup this week.
A truck removed the last major load of the 1.8 million tons of the toxic waste product excavated from the Grainger Generating Station site on Monday morning, said Jane Hood, vice president of environmental and water systems for the utility.
"So we're quite happy about that," Hood told Santee Cooper directors at their board meeting in Pinopolis.
The state-owned power provider said it still needs to remove minor amounts of ash from the site between S.C. Highway 501 and the Waccamaw River, mainly from the dikes surrounding the two ponds. That's expected to be completed by the end of the year.
The ponds will then be converted into 82 acres of wetlands and breached to connect them with the ebb and flow of the Waccamaw, Hood said.
"This a reasonable schedule given reasonable weather and, hopefully, no more hurricanes," she said.
Moncks Corner-based Santee Cooper has been excavating the waste material and a foot of underlying soil since late 2014, about two years after it shuttered the coal-fired Grainger plant. The state required it to complete the project by 2024.
The utility accelerated the schedule last fall after rising flood waters from Hurricane Florence breached the ponds. Hood said a crew of 18 truck drivers and 13 heavy-equipment operators have been putting in 60-hour weeks at the Horry County site.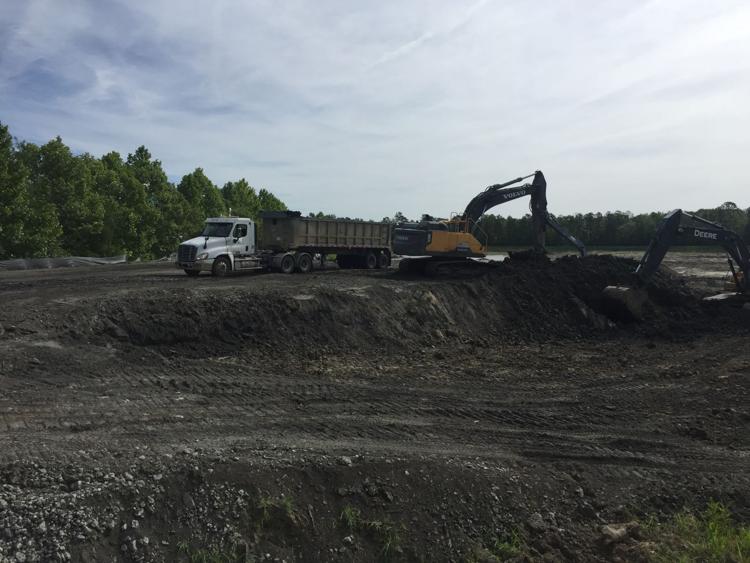 Monday marked a "major milestone" for the project, said Santee Cooper finance chief Pamela Williams.
"While we still have more work to do, we're pleased to accomplish this step toward our goal of removing all ash from the area," she said.
Most of the coal waste — about 1.1 million tons — has been reused as a raw material by cement makers. The rest is being placed in landfills or stockpiled at Santee Cooper's Winyah Generating Station near Georgetown.
The utility said it spent almost $48 million on the project through March. A cost estimate for the rest of the work was not immediately available.