The economy in South Carolina and most of the country is in a peculiar spot.
It has enjoyed an exceptionally lengthy run-up. And most of the pertinent statistics show that it remains on solid footing, though growth is expected to taper off a bit this year and next.
Even so, some business leaders can't shake a nagging feeling as they gaze into the future, knowing that the good times can't go on forever and that a recession will rear its head at some point.
"I'm old enough to know it's coming. I just can't predict the date," said Rob Tiede, the CEO of global packaging giant Sonoco, one of South Carolina's oldest and largest companies.
The U.S. expansion is now in its 10th year and is the second-longest on record.
Some experts believe this latest cycle might have already peaked — in 2018. Most projections call for U.S. growth to slow to about 2.2 percent this year and weaken further in 2020 as the impact of the federal tax cuts fades and the global economy sputters, according to The Associated Press.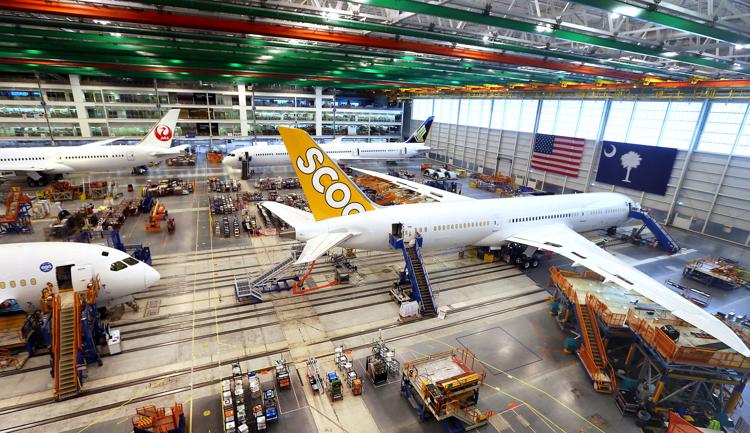 The National Association for Business Economics said in a recent survey that roughly half the economists who responded to its latest survey expect a recession to have begun by late 2020.
"We are coming off a very good year," said Matt Martin of the Charlotte branch of the Federal Reserve Bank's Fifth District, which includes South Carolina. "The economy grew at close to 3 percent last year. It will be less this year."
The headwinds are coming from several directions. They include the unresolved tariff talks between the U.S. and China, rising interest rates, a slowing global economy and Britain's plan to break away from the European Union under the so-called Brexit strategy. 
Adding to the unease is the 10-year anniversary of the end of the last downturn. The Great Recession officially was declared over in June 2009. If the U.S. economy keeps expanding beyond the midpoint of this year, it will top the decade-long recovery that ended in March 2001. 
Martin attributed some of the hand wringing to "the Great Recession hangover," citing vivid memories of the long climb out of the last abyss. 
"Nobody is taking wild risks with their businesses," Martin said. "When the next downturn comes, they want to be ready."
University of South Carolina research economist Joey Von Nessen brought up the 10-year expansion mark during a recent presentation to Charleston Trident Association of Realtors.
"It raises the question: How long it will last?" he said. "It leads to the psychological factor." 
'Slow-balization'
South Carolina business leaders have varying takes on the next downturn, with most saying they don't see a decline coming anytime soon. But nearly all are preparing in some form or fashion for an eventual slump.
As the top executive of a global company with 20,000 employees in 33 countries, Tiede of Sonoco takes the big-picture view.
"We've clearly seen a 'slow-balization' of economies around the world," he said last week.
It's an uneven landscape. While Europe is clearly slowing down and parts of Asia are showing signs of checking up, business conditions at home are nearly ideal, he said.
"We have low interest rates, low inflation, low unemployment and the benefit of reduced taxes," Tiede said. "So a lot of good things going on."
The rub is that the economic health of the U.S. is increasingly tied to that of other countries like China, which displaced Germany as South Carolina's biggest trading partner a few years ago. Goods valued at roughly $13 billion flowed between the Palmetto State and the world's most-populous nation in 2017, according to the latest data. 
"If the rest of the world slows down, will it have impact here? The answer is yes," Tiede said, referring to the United States. 
For now, Sonoco's mills remain busy, he said. One of the biggest hopes for the Pee Dee-based company — and most other international businesses — is that the testy tariff talks get resolved.
"It's just the uncertainty in the marketplace that comes into play," he said.
Other than monitoring expenses more closely, Sonoco isn't taking any special measures because Tiede said it always incorporates the possibility of economic hiccups when mapping out its business plan.
"If we see storm clouds on the horizon … we'll start battening down the hatches," he said.
The State Ports Authority is bracing for choppier waters as well.
The owner and operator of the Port of Charleston has seen its container volume increase by almost 8 percent a year since the last recession ended. But in response to the growing uncertainties in the global economy, it has sliced its future cargo growth estimate by more than half — to 3.3 percent annually.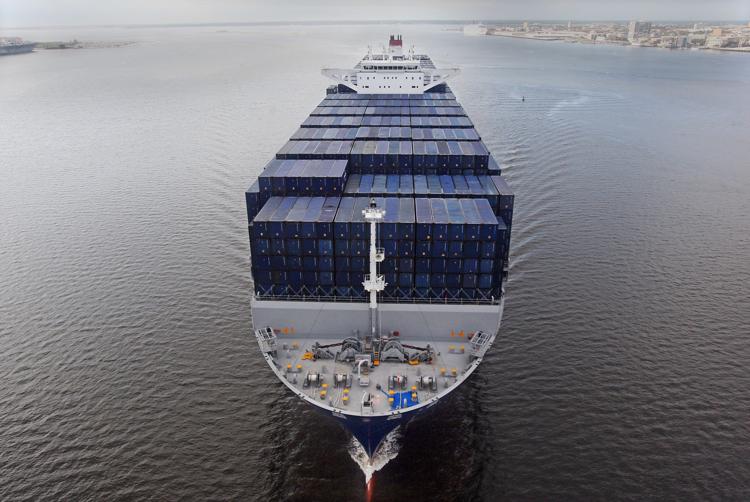 "We feel this more modest forecast is both responsible and responsive to different possibilities in the economic cycle, as well as the consensus view that world trade growth is slowing," CEO Jim Newsome said.
Newsome still believes ports in the Southeast, including Charleston's, will expand at a faster rate on average than their other U.S. peers, thanks to steady growth in population, manufacturing and exports. That's a key reason the SPA and others are spending roughly $2 billion on big-ticket local maritime projects, including the Charleston Harbor deepening and a new container terminal and rail yard. 
Newsome said those type of long-term investments — mostly tied to attracting supersized vessels that can carry upward of 14,000 containers — will help shield the industry from the brunt of a recession.
"We will be one of a few East Coast ports that can handle multiple ships of this size at once," he said.
'Still very busy'  
At Nucor Corp., executive Giff Daughtridge said recessions are "great things to predict" because experts always see one around the corner.
But the vice president and general manager of the steelmaker's Berkeley County plant sees no need to worry in the immediate future. He noted that forecasters often point to a sharp rise in interest rates or a rare "inversion" — a bearish situation where long-term debt yields less than short-term debt — as harbingers of a downturn. Nucor doesn't "see either of those things this year or next," he said. 
But in the event of a downturn, the company is prepared, Daughtridge said.
"Our strategy on recessions specifically and business cycles in general is the same — we invest in existing plants and look for strategic growth throughout the cycle," he said.
The most important strategy, he said, is the Charlotte-based company's no-layoff policy, even at the bottom of a business cycle.
"We keep the team together and are ready to take advantage of the upturns when they come," he said. That gives Nucor "the experience and collective wisdom to continuously improve during the downturns."
Frampton Construction has kept busy in the fast-growing Charleston market in recent years, with several speculative port-driven industrial buildings under its belt.
Like most other CEOs, Chad Frampton said he isn't "seeing anything that indicates a slowdown in the immediate future," but he remains on alert. And rightly so: The construction business is highly cyclical and vulnerable to a sudden downward shift in the economy.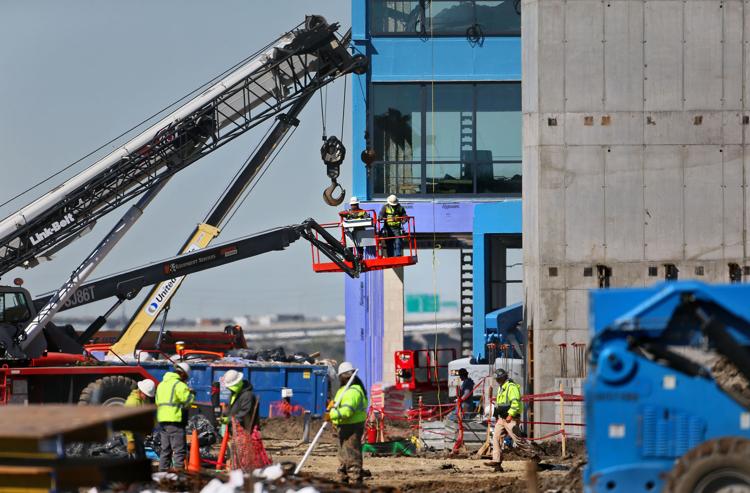 Currently, rising prices are among Frampton's top concerns. 
"It's worth noting that we've observed steadily inflating costs in subcontractor pricing and materials since the last recession, which is an unsustainable trend," he said.
"As a result, we're bracing ourselves for the inevitable tipping point," he said.
Still, Frampton remains upbeat based on what he's hearing from architects, who often serve as canaries in the coal mine because of their early front-line involvement in building projects.
"They generally start to experience these effects a year in advance of general contractors, so that's an indicator we monitor closely," Frampton said. "By all accounts, they're still very busy."
The pause button
The Charleston Regional Development Alliance talks to many corporate executives in recruiting new employers to the area. It hasn't heard many concerns about a recession, but it is sensing more hesitation among international prospects caught in the tariff or Brexit crossfire, said Mike Graney, vice president for global business development.
"Those things are weighing on activity," Graney said last week. "So it seems companies all over the world have hit the pause button. They're still interested in investing in global markets … but not at this very second in this economy."
In response, the alliance is pivoting. Graney said it's devoting more of its resources toward recruiting domestic firms, such as technology businesses, that aren't as sensitive to global trade issues. 
"That doesn't mean all international destinations are created equal," Graney added.
The alliance believes the U.S. will become a primary expansion site for U.K. companies once the dust clears from the Britain-European Union split, he said. Also, South Carolina is likely to benefit from British Airways' new Charleston-to-London service, which starts in April. 
"We'll elevate the U.K. to our top (overseas) target for 2019," Graney said.
Michael Wilson, CEO of North Charleston-based global chemical maker Ingevity Corp., also isn't convinced a recession is looming in the near term, though he's aware of the potential trouble spots. He cited the declining growth rate in China, the uncertain impact of Brexit on Europe's economy and the heavy debt load that's weighing down Italy. 
"There's no question that there's a slowing economy," he said last week. "I think when that happens, business leaders get concerned." 
At Ingevity, which employs about 1,750 workers in the U.S., China and at a newly acquired manufacturing plant in England, executives drew up an action strategy late last year as part of their normal 2019 operations plan just in case the economy falters, Wilson said.
He also said the company feels fortunate that sales of a key product that helps cut gasoline emissions in automobiles is "somewhat insulated" from normal recessionary pressures thanks to stricter air-pollution regulations being adopted around the world. 
"That's going to happen regardless of whether auto sales are up or down 5 or 10 percent," Wilson said.
At KION North America, CEO Vincent Halma said new products should give the company an edge if the economy contracts. The company has doubled its workforce at its Summerville headquarters since 2015, and it has added two lines in recent months to produce eight new industrial forklifts, including a fully autonomous version.
"We are introducing revolutionary technology," Halma said. "We believe the new technology and products we're producing will help us grow."
Halma said the U.S. economy "is very strong and very stable," but he, like many executives, is worried about higher tariffs on Chinese imports, which were supposed to kick in March 1 but were put on hold as talks continue between Beijing and Washington. 
"We know a lot of customers are waiting to make investments based on the current tariff situation," he said. "We hope that if the import tariffs are lifted, that will take away some of the insecurity that some customers have right now."
'Hills and valleys'
The last recession started in December 2007, triggered in part by shoddy mortgage-lending practices and the subsequent tidal wave of loan defaults.
South Carolina took a licking during the 19-month slump. Unemployment spiked to 12.5 percent. Home sales plummeted. State budget writers faced a $1 billion spending shortfall. Banks headquartered in the state racked up a combined $640 million in red ink, not including losses they posted after the downturn was over.
As the operator of a business that relies on discretionary spending, Ron Rawl remembers the last recession all too well. He's in recreational vehicle sales, which are considered a barometer for health of the broader economy.
"It was brutal," said Rawle, general manager of Johns RV Sales & Service/Airstream South Carolina near Columbia. "We lost about 40 percent of the RV dealers and 40 percent of the manufacturers. It was the worst thing I had ever seen."
More recently, he said demand has been strong. He called 2017 as the best sales year in ages and described 2018 as "pretty stable."
The family-owned business and the state's only Airstream dealer recently expanded to a new 83-acre site on U.S. Interstate 20 west of Columbia. It was a $5.5 million investment. 
Rawl said he takes the long view of the economy, preferring not to "talk about gloom and doom."
"You are going to have ups and downs and hills and valleys," he said.