COLUMBIA — After spending some $9 billion on a project heralded as the beginning of a renaissance for America's nuclear power industry, a pair of South Carolina utilities are pulling the plug on two unfinished reactors in Fairfield County.
South Carolina Electric & Gas and the state-owned power company Santee Cooper said Monday they would immediately halt construction on the project. The announcement comes after months of uncertainty about the reactors' future, nearly a decade after work began in 2008.
In the years since, the project's cost has ballooned 75 percent by Santee Cooper's estimate, implying a total price tag of more than $25 billion.
That conclusion set up a bleak decision for the utilities: They could press on and risk even higher costs and ever-escalating electric bills for roughly half the state's residents, or they could walk away after sinking nearly $9 billion into the reactors. 
The ultimate decision appears to have come from Moncks Corner-based Santee Cooper, which supplies power to electric cooperatives around the state. SCE&G's parent company, SCANA Corp., says it was considering the possibility of pursuing one of the two reactors when Santee Cooper backed out.
"Ultimately, our project co-owner Santee Cooper's decision to suspend construction made clear that proceeding on our own would not be economically feasible," SCANA chief executive Kevin Marsh said in a statement. "Ceasing work on the project was our least desired option, but this is the right thing to do at this time."
At a board meeting in Columbia, Santee Cooper executives said several factors had shifted against the project since it was first proposed in 2008.
Manufacturing failures, design changes and other delays had driven up the project's costs. Natural gas prices plummeted from what the utilities had forecast, making other plants that run on that fuel more competitive. Florescent light bulbs, energy-efficient air-conditioning systems and lower-than-expected economic growth reduced the state's electricity needs.
"The winds of time and the economy have certainly changed the way the world looks today," Santee Cooper CEO Lonnie Carter said after Monday's board meeting.
Meanwhile, President Donald Trump's promises to roll back President Barack Obama's policies that would regulate carbon emission in the United States removed the need to cut down on pollution from coal.
"Who would have predicted that gas prices would be a quarter today of what they were then? Had I known that, I promise you I wouldn't have to be standing in front of these cameras today. Nobody knew that," Carter said. "Who would have predicted the outcome that we see today regulatory wise from the administration?"
The failure to meet the original construction deadlines also meant the project would be unable to qualify for billions of dollars worth of federal tax credits that are set to expire at the end of 2020 — at least three years before the reactors would be complete.
In March, the mounting costs forced lead contractor Westinghouse Electric to file for bankruptcy protection and pushed its parent company, Toshiba, to dire financial straits. If they pursued the project, SCE&G and Santee Cooper would be on their own.
The power companies agreed last week to release Toshiba from the project in return for $2.2 billion, but those payments aren't seen as a sure bet given the Japanese company's financial turmoil. SCE&G and Santee Cooper say that money will be used to limit future rate hikes for electric customers. 
Both Marsh and Carter heaped blame for the soon-to-be shuttered units on Westinghouse executives and the other contractors that the utilities hired to help build the plants. Westinghouse, for its part, said it was "disappointed" by the decision.
The decision deals a major blow to the American nuclear industry. The reactors being built north of Columbia were among the first to be in the United States in three decades, and along with a similar project in Georgia, they were seen as the first wave in a nuclear renaissance.
The power companies looked to the federal government to help the ailing project, but Congress was reluctant to extend tax credits meant to spur nuclear building. The House approved a bill extending the deadline, but the measure stalled in the Senate.
Rep. Tom Rice, a Myrtle Beach Republican who had been pushing for an extension, said lawmakers were looking for assurance that the projects in South Carolina and Georgia would be completed if they received tax credits. Rice said outside factors made those guarantees hard to come by.
"Gradually, things were getting ticked off one by one, and I guess they sat down and looked at the balance sheet with as much information as they had and they decided it still wasn't viable," Rice told The Post and Courier. "We tried to do what we could at the federal level, but at the end of the day I guess they felt like even with that it wasn't a viable project."
Back in the Palmetto State, Gov. Henry McMaster's office issued a call for state lawmakers to hold "exhaustive hearings" on the project's failure.
It was the same state Legislature that set the stage for the project in 2007 by passing a law that allowed investor-owned utilities like SCE&G to charge their customers as the large nuclear plants were being built rather than after they were completed.
That law may also allow SCE&G to charge its customers for all of the steel, concrete and labor that has been put into the two units, even if the reactors never produce a single kilowatt of power. The prospect raised the ire of environmental and business groups that called on state regulators to force the utilities repay customers.
"It's absolutely essential that the company and Santee Cooper now be put on the hook for a lot of these costs," said Tom Clements, a local adviser to the Friends of the Earth, an environmental group that has formally requested "reparations" for ratepayers.
Wall Street, however, was unfazed. Fears of a project shutdown sent SCANA's stock plunging last week, and Friday was one of the company's on the stock market. But shares rebounded Monday: Shares rose 5 percent to $64.37 — their best day since 2008.
The two unfinished reactors will be preserved in hopes that the utilities will find another power company to take over the project or that the federal government to step in and underwrite its cost.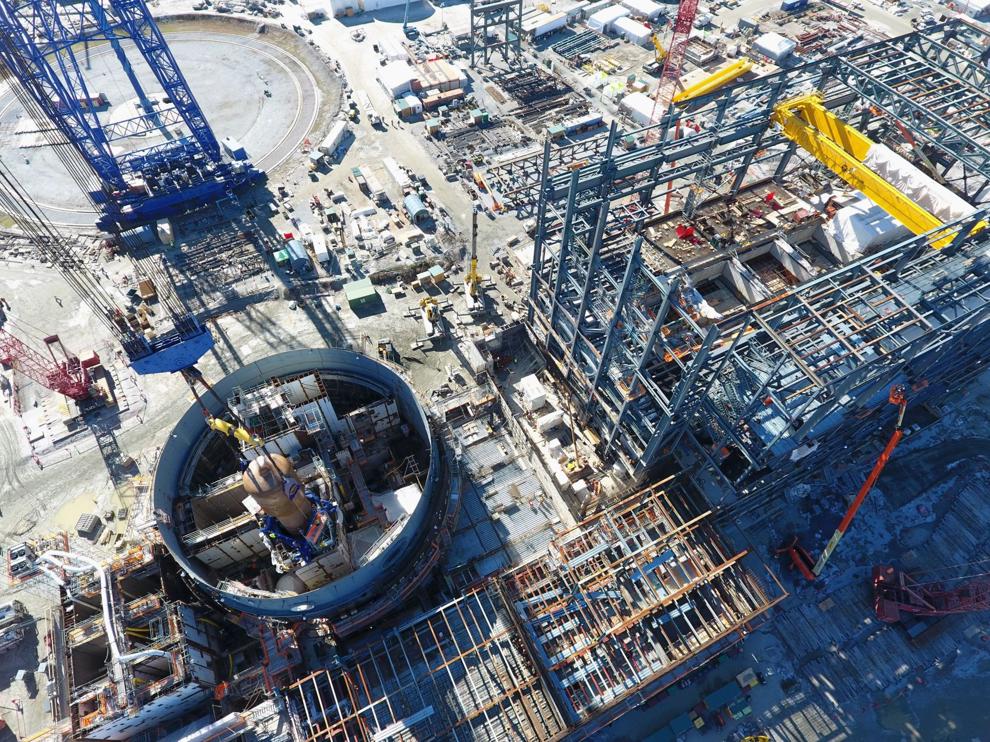 "If somebody's willing to step forward and make it economical, then we certainly would consider it," Carter said after Santee Cooper outlined a case against the project. "But you can see from today's presentation that somebody's got to write a fairly large check. We're not going to ask our customers to do that because it's not in their best interest."
Later in the afternoon, SCANA suggested that such a lifeline was unlikely. As it tried to save the construction project, executives reached out to other utilities and the government looking for a path forward, Marsh said.
By Monday, he said, they hadn't found one.
Andrew Brown contributed to this report from Columbia and Emma Dumain contributed to this report from Washington, D.C.