COLUMBIA — Santee Cooper executives secretly fretted for years that its partner SCANA was incapable of overseeing the construction of two nuclear reactors in South Carolina but continued to forward payment after payment for the now-abandoned project, according to internal records obtained by The Post and Courier.
The state-run utility's small nuclear team called the leaders of SCANA "naive" and lamented their inexperience with big construction contracts. 
They questioned whether SCANA officials were "too nice" to be leading such a huge undertaking — one of the country's first nuclear construction projects in decades.
And they griped that SCANA's passive management style made the company "highly susceptible to being misled" by their nuclear contractor — Westinghouse Electric.
Those concerns, and others like them, were voiced behind the scenes over the course of more than four years as the troubled V.C. Summer nuclear project floundered and collapsed under its over-inflated budget last summer.
Yet for all of Santee Cooper's misgivings, the utility never warned state leaders or ratepayers that the new reactors were being mismanaged as $9 billion was sunk into the project.
Santee Cooper declined to comment for the story. SCANA said it worked cooperatively with Santee Cooper throughout and kept Santee Cooper's executives and the utility's board in the loop.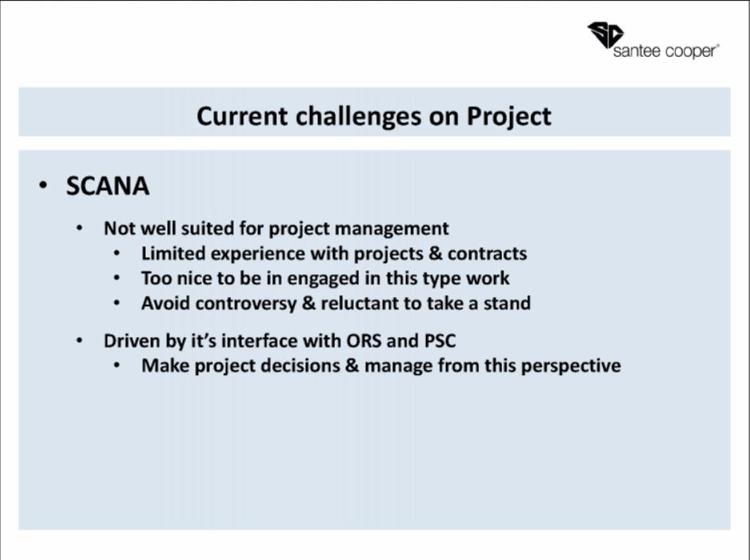 'Status quo group'
Santee Cooper had little ability to change things on its own as it was the minority partner in adding two reactors at V.C. Summer. The utility signed much of its control over to SCANA as the project was being planned in 2008. 
Still, the documents highlight how Santee Cooper's leaders often prodded SCANA to hold their contractors accountable — without publicly revealing SCANA's failures when schedule delays and cost overruns continued. 
Santee Cooper's nuclear team began complaining about SCANA as early as 2013, not long after the first batch of concrete was poured. By that point, stress had already begun to build on the companies and the project's schedule.
Santee Cooper's former CEO Lonnie Carter sent a letter in August 2013 warning SCANA that contractor failure to manufacture vital pieces of the power plant on time were putting the project's "future in danger." 
Then-SCANA chief executive Kevin Marsh followed up with an email in September to the contractors, Westinghouse and Chicago Bridge & Iron, complaining that "continuing delays and cost overruns" were unacceptable.
Less than a month later, Santee Cooper's staff recognized even more construction setbacks. The costly delays left Santee Cooper's team questioning whether anyone at SCANA was paying attention to work on the multibillion dollar project.
"As you stated a few days ago, no one at SCE&G (below Kevin) acts concerned," Michael Crosby, Santee Cooper's vice president of nuclear energy, wrote to Carter. "I've come to learn they are a status quo group."
Santee Cooper leaders believed SCANA was in over its head. SCANA's team didn't ask enough tough questions of its contractors, Santee Cooper's team wrote in a memo. They were "naive" enough to believe Westinghouse's evasive answers and they were "unwilling to take a stand." 
In public, Santee Cooper's leaders put on a calm face. They participated in news conferences with SCANA's executives. They touted progress at the construction site. And when Santee Cooper pulled the plug last July, the power provider didn't mention any issues with SCANA's oversight.
Months earlier, a Santee Cooper memo said SCANA had "consistently demonstrated ineptitude" in keeping their contractor on track.
Santee Cooper's documented concerns could come into play now as it seeks to squeeze money out of SCANA, the owner of South Carolina Electric & Gas. The Moncks Corner utility hired an investment bank last month to help negotiate a settlement — one of the first indications that the former partners ultimately could be pitted against one another. 
It's unclear if Santee Cooper will take the full list of its complaints public as it pursues damages from SCANA. The utility has said little about its legal strategy but its contract with the investment bank Centerview Partners, signed last month, indicates Santee Cooper is seeking a settlement over SCANA's handling of the nuclear project.
Auditor 'doesn't feel welcome'
Santee Cooper tried for years to convince SCANA to get help before their enormous investment failed. The leaders of the state-run utility asked repeatedly to hire a firm to manage the nuclear project, according to a timeline from the company.
Time after time, SCANA demurred. Santee Cooper's proposal didn't gain traction until 2015, when CB&I was negotiating its way out of the troubled project.
By that point, Santee Cooper's staff had warned the contractors had "no credibility" in producing a realistic construction schedule or a viable budget. Santee Cooper's staff later described Westinghouse as "an over-extended equipment manufacturer." They called CB&I's engineering business "incompetent."
The contractors still hadn't finished the engineering for the power plants. The factory in Louisiana that manufactured the building blocks for the reactors was a "debacle" in its own right, Santee Cooper said, because of shoddy construction and endless setbacks.
Santee Cooper used CB&I's exit as a bargaining chip to convince SCANA to pay for a top-to-bottom audit, according to the utility's notes. They hired Bechtel Corp., a giant in the construction and engineering business, for more than $1 million.
Even as Bechtel's staff began its assessment, SCANA continued to throw up roadblocks, according to Santee Cooper's notes. SCANA and Westinghouse reportedly resisted giving Bechtel access to all their engineering and scheduling documents.
"Bechtel doesn't feel welcome on the site by SCANA and (Westinghouse)," Santee Cooper's executives noted in a comprehensive memo.
Rhonda O'Banion, SCANA's spokesperson, said the utility's executives did not resist Bechtel's attempts to assess the project and its schedule. 
"As majority owners of the project, SCE&G could have declined to engage Bechtel, but SCE&G ultimately saw the potential value of this brief engagement and approved the retention," O'Banion said. 
Bechtel's report was a bombshell: The engineering work on the reactors wasn't done, the designs were sometimes unbuildable and the schedule was unrealistic.
The report also dinged the utilities' management. Bechtel said their approach to oversight didn't give them much of a shot of correcting the huge problems at V.C. Summer.
That assertion apparently roiled SCANA. Notes kept by Santee Cooper indicate that Steve Byrne, SCANA's executive vice president on the project, thought the consultants were too harsh in their comments about the company's management skills.
SCANA's lawyer, George Wenick, would later insist that Bechtel tone down its critique of the publicly-traded company before filing its final draft. It's not clear if Bechtel agreed to that demand.
SCANA resisted proposals by Bechtel to advise the South Carolina utilities full time and decided instead to create a new oversight board to help the partners manage the construction. Santee Cooper's board of directors went along, eventually increasing their portion of the project's budget by more than $1 billion.
The concerns among Santee Cooper's employees continued for another year until the project's end.
'Unwilling to proceed'
The fissures between the project partners came to a head last summer when SCANA invited Santee Cooper executives to its headquarters and pitched them on a plan to press on with one reactor.
Santee Cooper insisted on shutting the project down.
In its meeting at SCANA's offices in Cayce, Santee Cooper said it couldn't bear the risk of moving forward without another company taking on the risk of additional budget overruns. But in internal emails, Santee Cooper's executives suggested they were open to keeping the project alive if another utility took the lead.
Among themselves, Santee Cooper leaders suggested SCANA itself was one of the biggest risks to continuing the project.
"(We) need to clearly communicate to SCANA that Santee Cooper is unwilling to proceed in any way (even 1 unit) with SCANA as a senior owner and/or operator," finance chief Jeff Armfield wrote in a June email to the utility's management team.
Crosby, the nuclear executive, wrote back that Santee Cooper would have to put its foot down to bring the project to an end. The only way to do that, Crosby said, was to cut off its multimillion-dollar payments to SCANA. 
"I know of nothing else that will motivate SCANA," Crosby wrote. "I've tried every tool in my box."
Construction was called off a month later.