PINOPOLIS — Santee Cooper board Chairman Leighton Lord says he won't resign unless Gov. Henry McMaster stops accusing the state-owned power company of keeping secrets from lawmakers.
But Lord says he's willing to leave if his political allegiances are causing a rift between the governor and Santee Cooper: Lord is backing one of McMaster's challengers in next year's gubernatorial election.
"It's no secret that I support one of the governor's political opponents," Lord said at a meeting of Santee Cooper's board Monday on the shore of Lake Moultrie. "If the governor feels that my political affiliations don't allow him to trust this board and trust this company, I would be willing to step down."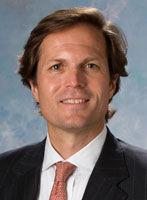 The skirmish between the two men began Friday when the governor asked Lord to resign — or be fired later this month. McMaster accused Santee Cooper of withholding key documents that lawmakers need to assess the utility's failed effort to build a nuclear power plant north of Columbia.
In an interview Friday, McMaster said missing documents were also impeding his efforts to sell Santee Cooper to a private-sector utility. The governor wants a sale to cover the $4 billion Santee Cooper borrowed to pay for the project over the past decade.
The project cost Santee Cooper and its partner, SCANA Corp., more than $9 billion before it was canceled in July.
Among the missing documents was a draft of a highly critical audit of the project, which flagged problems from flawed engineering documents to poor oversight. The Post and Courier reported last month that an earlier version raised doubts about whether the reactors would qualify for billions in federal tax credits — a finding that was deleted from the final report.
"While Mr. Lord may believe he has served South Carolina well, Gov. McMaster disagrees, and we suspect that the hundreds of thousands of South Carolinians stuck paying billions of dollars for this massive failure do as well," Brian Symmes, a spokesman for the governor, said in a statement.
For his part, Lord said he has asked Santee Cooper's staff to release any documents lawmakers request, and he said he never saw the draft audit. He called the governor's allegations "100 percent factually inaccurate," and suggested politics were a factor.
Lord, a Columbia attorney, is one of the highest-profile backers of Catherine Templeton, a Republican who is challenging McMaster in next year's primary. Lord said he has long supported Templeton, even encouraging her to join then-Gov. Nikki Haley's administration years ago.
Lord said he's willing to step down if that's a problem, but only if McMaster withdraws his accusations. Lord said he's concerned that his resignation would otherwise set a precedent that gives the governor too much influence over the board.
If McMaster tries to remove him anyway, Lord said he would "have no choice but to appeal it."
Templeton said McMaster is "looking for someone to blame" in firing Lord, adding: "I just hope he doesn't put us in worse shape."
Lord gave Templeton a $3,500 contribution in March, the maximum allowed for the primary, but he also contributed $1,000 to McMaster in January, according to state election records. Lord also gave McMaster $1,100 when he ran for governor in 2010, and he chipped in $500 when he ran for state attorney general in 2008.
Santee Cooper is one of the state's largest agencies, and it has a history that dates to its founding in 1934, when it was charged with providing electricity to rural parts of the state. Today, it produces power for electric cooperatives in every county of South Carolina.
This year has marked an especially rocky chapter in that history. The public utility is now saddled with a debt as large as the state's annual budget. Most of that bond debt is tied to the unfinished reactors in Fairfield County.
McMaster and other lawmakers are marketing Santee Cooper to some of the country's largest investor-owned utilities. 
McMaster said he will remove Lord on Dec. 18 if he doesn't voluntarily step aside. But other lawmakers want more information. 
Sen. Larry Grooms, R-Charleston, said the Berkeley County legislative delegation will hold a hearing this week to publicly air the governor's allegations. Grooms said he wants to document what lawmakers asked Santee Cooper to provide and what they received.
"The right people should be held accountable for the right reasons," Grooms said.
Andy Shain and Andrew Brown contributed to this report.