Recently retired and widowed, Rose Funsch decided it was time for a change.
Owning a lot off S.C. Highway 41 in Mount Pleasant, the Belle Hall resident decided to sell her house after remodeling it last year and build a new one.
To do that, the former nurse needed to put excess furniture, kitchenware, seasonal items and almost everything in the home in storage to stage her house to sell while the other is being built.
She rented two large units at the newly opened Wando Park Self Storage facility, just across Interstate 526 on Wando Park Boulevard.
"It's a new building and the perfect location," she said. "I may be getting a third unit."
Funsch, a Charleston resident for 29 years, is among the many people helping to nourish a new wave of self-storage investments across the metro area. Several new facilities are in the planning stages or have been freshly built throughout the Charleston region, many of them in Mount Pleasant.
The 500-unit Life Storage, formerly Uncle Bob's, opened in February at Johnnie Dodds Boulevard and I-526. Wando Park Self Storage opened in November with another 503 units.
Across from Mount Pleasant Towne Centre in a new development called Indigo Square, a 626-unit storage facility is rising. On Long Point Road across from Belle Hall Shopping Center, a 652-unit structure is slated to go up while another 535 units in a five-story building will replace a former bank branch on Johnnie Dodds Boulevard.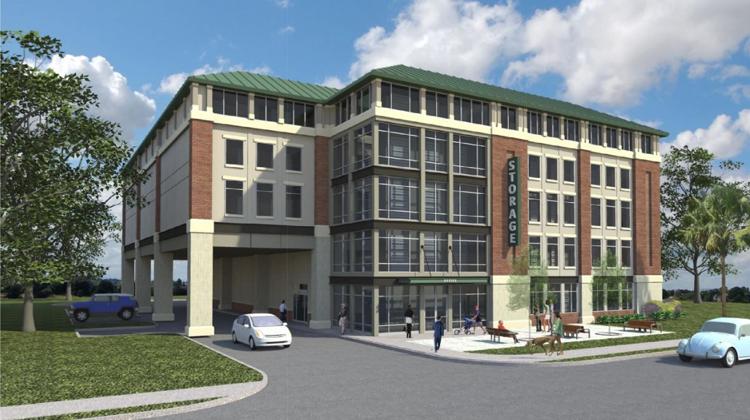 Added to that, the owners of the Super Suds Car Wash site on Bowman Road recently had the property rezoned to allow storage units, though no plans are imminent.

Other large developments are in the works off Folly Road on James Island and off Glenn McConnell Parkway in West Ashley. U-Haul in downtown Charleston has filed plans for a five-story facility on its upper King Street site.
In addition to the new construction, big companies such as CubeSmart are clamoring for existing properties. Last year, the Pennsylvania-based operator invested $49.1 million in seven facilities in Charleston, Goose Creek, Mount Pleasant and North Charleston, taking over management of many of them from American Storage.
To punctuate interest in storage facilities in Charleston, Columbia-based real estate agent Mac Fanning of NAI Avant recently circulated a note among brokers saying he had a client interested in acquiring 1.5 acres to 3 acres suitable for an upscale, climate-controlled storage facility in the Charleston region. Requirements: The site needs to be on a highly traveled road and show a median household income of $70,000 within a three-mile radius.
"I think everybody wants to do something in Charleston because it's such a booming market," Fanning said. 
Room to grow
Propelling the surge in self-storage units are multiple factors, according to real estate professionals and developers.
"It's driven by rooftops and multifamily units," said Charlie Carmody of the commercial real estate firm CBRE Inc.'s Charleston office. "You have all of these people moving into apartments, and they are modern and cool, but it means you don't have enough storage and they have to have a place to move their stuff."
On top of that, he said, "The cost of rent is so much, they can't afford to store their stuff in the third bedroom because they need to rent it out."
Carmody also referred to downsizing by empty-nesters and people holding on to objects they want to pass on to their children as contributors to the rise in off-site closet space.
"They have to put it somewhere," he said.
"It is purely a function of demand," added Fred Whittle of Charleston-based Jupiter Holdings, which was in the self-storage industry years ago but has since divested itself of almost all of its sites. He cited a local statistic that shows an average of 35 residents moving to the region daily. 
"It's driven by population growth and the anticipation of further population growth," Whittle said. "People's desire to live in Charleston has not changed. ... People are making investments, and they are bullish on Charleston."
Almost all the new facilities offer climate-controlled storage.
"That's what people want now," Whittle said. "They don't want their stuff exposed to the elements while it's being stored."
Ryan Hanks of White Point Partners of Charlotte plans to build two of the new facilities in Mount Pleasant — one on Long Point Road and another on Johnnie Dodds. His company also is looking toward Johns Island to build storage units as well, but he said no deals have been finalized.
"It's a lack of general supply in the area," Hanks said, referring the sudden interest in adding storage space in the Charleston market. "People like myself think there is pent-up demand for climate-controlled units."
Hanks also called Charleston's population growth "appealing." He added, "Everyone is paying attention to the number of rooftops."
Ziff Properties of Mount Pleasant owns 8,883 units in 13 storage facilities in South Carolina, Florida, Tennessee, Virginia and Illinois, including a 539-unit business in West Ashley. Together, they make up 28 percent of the company's 3 million square feet of commercial holdings, including retail and office properties. Many of its recently acquired storage facilities, especially in the Upstate, are the result of careful research of market demand and return on investment.
"We invest where we see value," said Christian Chamblee, Ziff's chief operating officer and director of acquisitions. "We are not developers. We are very opportunistic. We do market studies and are very sensitive to the need for it. We have facilities from Chicago to metro D.C. to Florida, so we are reacting to opportunities we see in that Southeastern quadrant where we see demand."
Until recently, he said the storage sector operated mostly unnoticed.
"Because it went under the radar for so long, there was demand that wasn't being met," Chamblee said. "Supply is catching up with demand, but it's market specific. ... Charleston is seeing a lot of development on the self-storage side because it's easy to believe, and rightfully so, that Charleston will continue to grow."
He also said developers once looked on storage facilities as a short-term business on a land investment that would one day yield a higher and better use through redevelopment.
"We have gotten to the point where that trend has stopped and the valuation of the self-storage business is relative to that redevelopment potential," he said.
Chamblee also noted that many facilities used to be either mom-and-pop operations or part of a larger chain of 100 or more sites, but now mid-tier operators with five to 50 facilities are popping up because they consider it a relatively safe investment.
J. Wallace, executive director of the Self Storage Association of South Carolina, also referred to the lack of product propelling the surge in new facilities.
"Like all real estate, we in the self-storage business have seen a recent increase in demand and development nationwide," Wallace said.
"There was a lot of unmet need during the recent recession in many communities around the country and specifically in the greater Charleston area," he said. "We are now seeing development catch up with that demand. Generally, we anticipate development to get back to normal in the near future."
Storage limits
The surge has not gone unnoticed by local planning officials in Charleston.
The city is considering banning mini-warehouses and storage uses in the urban commercial district around the College of Charleston and requiring future mini-storage developments to go through a level of review similar to hotels, mainly to stave off their proliferation near residential neighborhoods in West Ashley.
"This is so folks in our neighborhoods have ample time to give input on mini-storage facilities," city planning director Jacob Lindsey said recently.
The Planning Commission signed off on the new limits in February. City Council will consider the measure March 28.
At Wando Park Self Storage, co-owner Grier Lesslie said all of the units are climate-controlled and the nearby population density supports the need for more storerooms. Near the facility he owns with John Maize Sr. and John Maize Jr. are hundreds of new apartments, condominiums and single-family homes. Another 200 apartments are on the way on Wando Park Boulevard.
"You can't have that many people moving in and they not need storage space," Lesslie said. "The numbers on our due diligence study show it."
Open since November, the 68,000-square-foot Wando Park Self Storage features a ductless air system and is slowly attracting tenants to the first of three floors. Lesslie believes it will take a couple of years before the facility is close to being fully leased. He called the winter the hardest stretch for storage calls, but said the spring home-buying season is expected to ramp up demand.
Secured with code-lock accessibility and 24-hour video surveillance, monthly rents range from $90 to $299 for a unit.
And people don't use storage space just as repositories for furniture between moves. Family heirloom pieces, contractor supplies, art, land-clearing records and just about anything that people want or need to keep can be found in the walk-in lock boxes.
"If you are going to keep it and it's nice, that's who my customers are," Lesslie said. "A lot of people are between homes. Their house sold quicker than they thought, and they have to move into an apartment for a year or two until their new house is built or they find another one."
Lesslie estimates his clients are split evenly between residential and businesses, which he calls a good mix because homeowners and professionals tend to tell others about the site's offerings.
"If you have a brand new facility and it's 100 percent climate-controlled, there is a demand," he said.