NORTH CHARLESTON — Tye Manigault beamed with a smile ear to ear when she heard Roper Hospital was going to build a new medical center right next to the Red Lobster she has managed on Mall Drive for many years.
"Economically, this is phenomenal," she said from the service window inside the restaurant. "Mall Drive has been drab for a while. Our guest flow will now boom in this area." 
Roper St. Francis Healthcare announced Nov. 16 it will invest about $1 billion to build a seven-story hospital, five- to six-story medical office building and a parking deck after paying $57.1 million for almost 28 acres this year on either side of Mall Drive.
The injection of a major new business is likely to jumpstart what was once a thriving retail destination before it became a low-voltage string of office buildings.
Charles Towne Square, one of the region's first enclosed shopping malls, opened in 1976 before shoppers fled to Citadel and Northwoods malls in the growing suburbs.
The retail center later faded away, and in 2020, the last vestige, the Regal Cinemas 18 movie theater, built where now-defunct department store chain Montgomery Ward once stood, was demolished to make way for a new 300-unit apartment development.
The city's new City Hall and other non-retail structures now sit along Mall Drive, where a few restaurants operate just off of Interstate 26.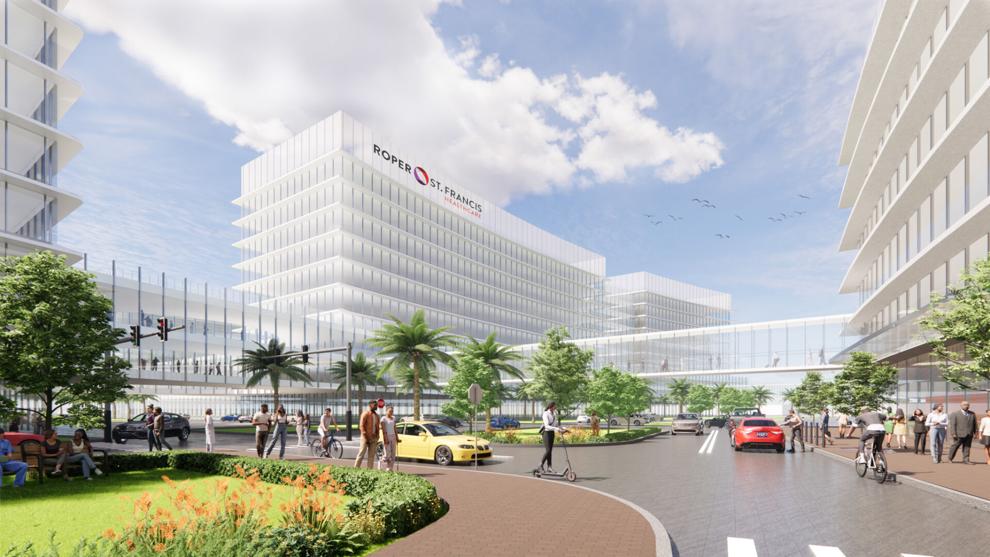 The hospital project essentially is a wholesale corporate relocation from the flood-prone peninsula, after 166 years. Roper's future hospital will sit on roughly 14 acres where the former North Charleston City Hall now stands and an adjoining construction materials site.
The medical office building will be built where a former Verizon call center structure is located, and the garage will go where a pair of buildings now sit on Lacross Road on the west side of Mall Drive, said Charles Fletcher, the hospital system's vice president of real estate and construction.
An elevated walkway over the road is planned to connect the parking deck with the hospital.
Fletcher said he expects the campus to be completed in about five years. Construction will start around 2024, once the design phase is finished. 
When completed, the move will bring about 1,000 employees from the downtown hospital. Fletcher expects new restaurants and other medical offices to follow.
"The spinoff from jobs that will come from this will be amazing," Charleston County Councilman Teddie Pryor said.
When the project begins, a slew of hardhat workers will descend on the site, all looking for a place to grab coffee or a quick meal.
At Hello Deli, which closed Nov. 19 after 14 years next to the future hospital site, co-owner Harvey Nathan called Roper's arrival "a gold mine" for the area and the next tenant that backfills his space.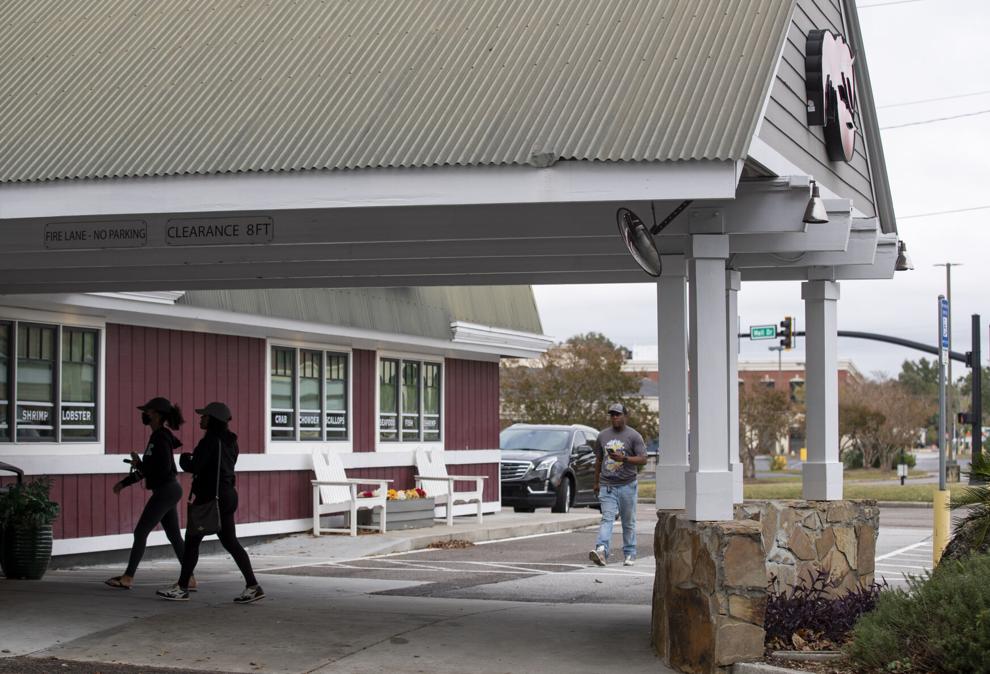 "While they are building it, you will have construction workers and when it's completed, you will have patients being visited," said Nathan, who closed Hello Deli because of health reasons.
He pointed to the recent opening of the nearby 300-unit Monty Apartments as an example of the impact that new development had on his sales.
"That tripled our Saturday business," Nathan said.
Crepes Palace is taking over the Hello Deli space.
"The location is very prime for what is coming there," co-owner Paula Urdaneta said.
She pointed to hospital construction workers stopping by for breakfast and the prospect of special sampler packages for patient visitors once the hospital opens.
"It will be a really great platform for us," Urdaneta said.
Where Mall Drive meets Rivers Avenue, 76 Rivers gas station sits.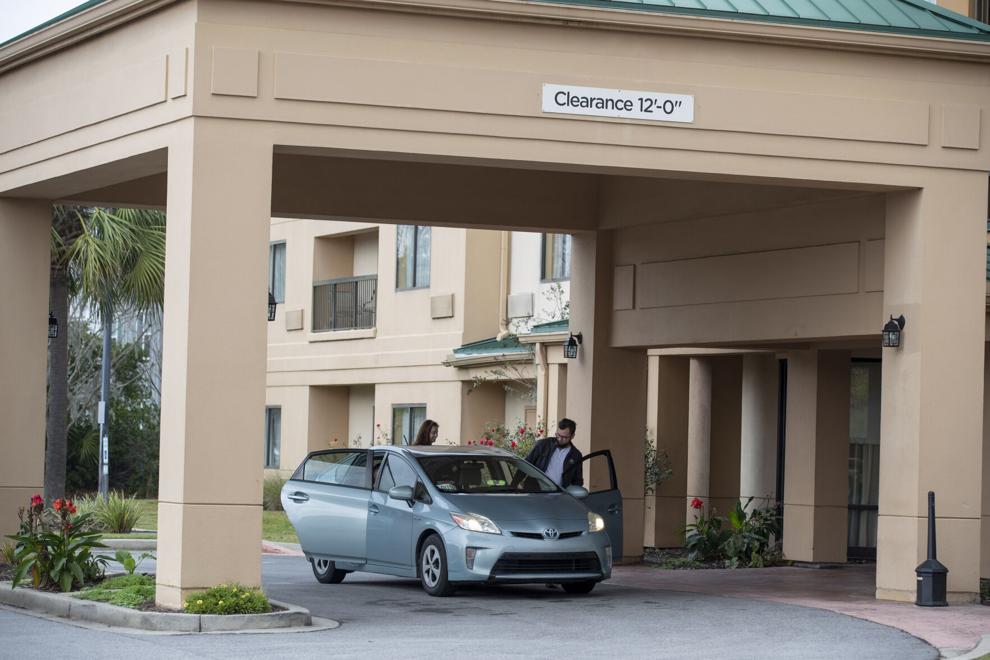 "Big changes are on the way," said shopkeeper Ketan Patel, who has sold soft drinks, beer, snacks and lottery tickets to innumerable customers during his 10 years at the store. "I will see a lot more traffic, a lot more customers."  
Mayor Keith Summey, who has led North Charleston at a time when major companies such as Boeing Co. and Mercedes-Benz Vans have set up assembly plants in his city, is anticipating a jolt of economic activity from the new hospital and campus.
"It will have a massive impact on the food-and-beverage business and even hotels as people from out of town come to see family members in the hospital," Summey said. "Not to mention the number of employees the hospital will bring. It will have a major economic impact on the city."
Land values in the area are expected to rise exponentially now that the hospital has announced it is coming, said Charlie Carmody with the commercial real estate firm CBRE Inc.'s Charleston office.
"It will be an absolute boon for that area," Carmody said. "The intersection of I-26 and I-526 is the center of the universe in Charleston County. It will enhance that area tremendously. I see it spurring on additional medical office space, more restaurants and more retail."
The sixth and final piece of property Roper needed for the deal fell into place last week, when North Charleston agreed Tuesday to sell its former city hall to the health care system for $9.2 million.
Earlier this year, Roper paid $22 million for the former Verizon call center, $13 million for the construction materials site, $10 million for a pair of office buildings on Lacross Road and $2.9 million for a former bank.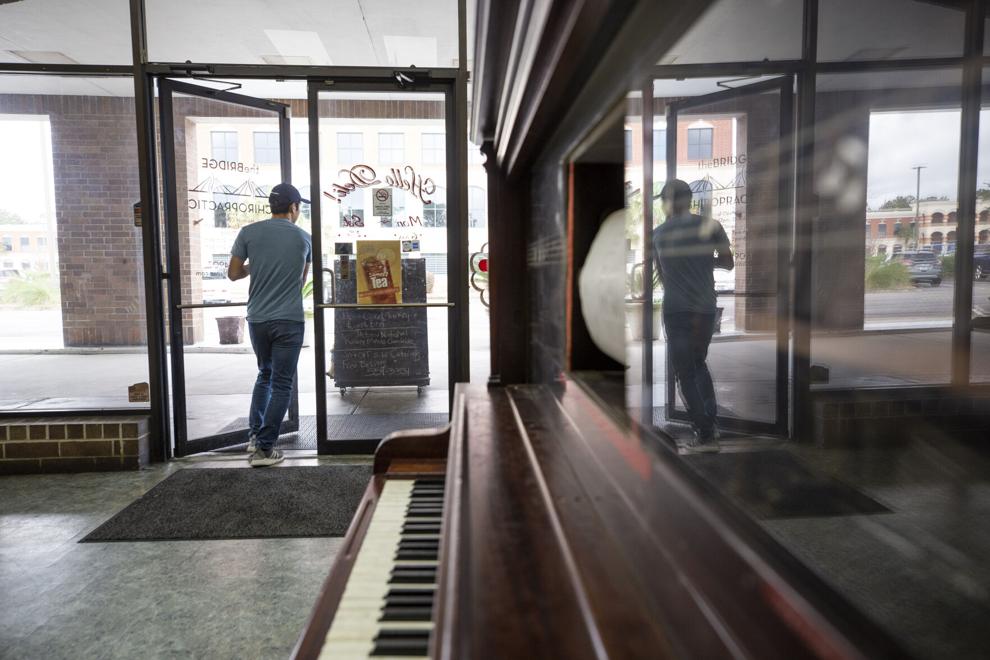 All of the existing structures will be demolished.
Roper also is looking further into the future than five years from now, said Fletcher, the medical provider's construction and real estate executive.
"We will design the hospital to expand over time," he said.
That, said Manigault of Red Lobster, is music to her ears.
"This is going to be amazing," she said. "It's about to be on."