Boeing Co. hasn't said for certain whether it will build a new mid-range commercial plane, dubbed the 797, but that hasn't stopped state economic development folks from competing for the project.
"I've specifically had conversation with Boeing about that, and they are well aware of the advantages that South Carolina offers," Bobby Hitt, South Carolina's commerce chief, said last week.
Hitt acknowledges that it's way too early to talk about things like dollars and cents, but he doesn't want Washington state — which has been lobbying hard for the project, if it ever comes to fruition — to get the upper hand.
Officials in the Evergreen State recently issued a study that shows — surprise — that Washington would be the best place to build the 797. The study, conducted by Teal Group aviation analyst Richard Aboulafia, was based on factors important to aerospace manufacturers, such as availability of a skilled workforce, taxes and global connectivity.
The study considered all 50 states, but South Carolina wasn't even among the contenders — despite being home to Boeing's 787 Dreamliner assembly campus and other aircraft operations in North Charleston. The Palmetto State finished No. 22 on the list, with Aboulafia citing concerns about the local labor pool and the North Charleston site's early reliance on help from the Puget Sound to get it going.
"This isn't a close call," Washington Gov. Jay Inslee said, according to a report in The Seattle Times. "We win this going away."
Not so fast, according to Hitt.
South Carolina has no plans to conduct its own study, choosing instead to pick apart the flaws in the Washington report.
"It's been pretty effective for us to look at the Washington state study and show where we think South Carolina would be better ... whether that study is a reasonable representation of exactly how it would work," Hitt said.
There is speculation that Boeing might announce a go-ahead for the 797 at this week's Farnborough International Airshow near London, typically a venue where major aerospace firms choose to reveal their biggest deals. Boeing officials reportedly were going back and forth on what — and how much — to say about the project as the airshow approached.
One hint that the new commercial plane might become a reality is Boeing's decision to quietly secure a trademark for the 797 name with the European Union Intellectual Property Office. A company called River Light V LP, a subsidiary of luxury clothing and accessories brand Tory Burch, has held the U.S. trademark for 797 since April 2013.
Among the advantages South Carolina could have in landing the project, Hitt said, is the availability of 450 acres of land adjacent to the North Charleston Dreamliner plant where an expansion could easily — and quickly — be accommodated.
"Boeing knows we are very interested and that we can be very competitive," Hitt said. "It's very early in the discussions and I can assure you that at this point, neither state has an edge on the other, irrespective of whether a report has been written or not."
Boeing reportedly has two versions of the 797 that it's considering, both of them single-aisle planes. The first is a 228-passenger jet with a range of 5,000 nautical miles. The second is larger, with 267 seats, and a range of 4,200 nautical miles. 
Orders & deliveries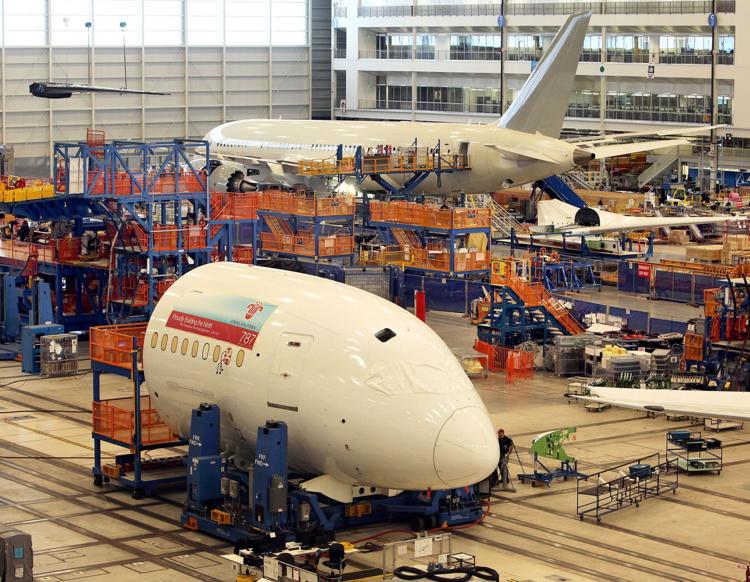 Boeing delivered 38 of its 787 commercial planes to customers during the second quarter of this year, including the milestone 700th Dreamliner that was assembled in North Charleston.
Orders for the twin-aisle plane also are up, to 83 during the first six months of 2018 versus 79 a year ago. 
The 700th plane went to China Southern Airlines on June 26 — the fastest production pace for any wide-body program and putting Boeing on target for 1,000 deliveries by mid-2020.
Through the first half of this year, Boeing has brought 72 Dreamliners to customers. That includes the first 787-10 wide-body that's built exclusively in North Charleston because its fuselage is too big to transport to Boeing's other Dreamliner plant in Everett, Wash. Singapore Airlines took delivery of that plane on March 25.
The delivery totals, which Boeing reported last week, outpace numbers from a year ago when the company brought 33 Dreamliners to customers in the second quarter and 65 through the first six months of the year.
All told, there have been 1,377 orders for Dreamliner models, with a production backlog of 669 planes.
Boeing also reported increased deliveries for all of its commercial jets, with 194 in the second quarter compared to 183 a year earlier. The planemaker's venerable 737 accounted for nearly three-fourths of all deliveries during the first half of 2018.
The company's net orders for all commercial plane programs totaled 460 through the first half of the year, well ahead of France-based rival Airbus' 206 orders for the same period.