A rebranded, big-box sporting goods shop is about to welcome outdoor customers back to North Charleston.
Gander Outdoors, formerly Gander Mountain before it went bankrupt last year and was bought out by Camping World CEO Marcus Lemonis, will open within seven to 10 days, according to a clerk at the store.
An opening date has not been set. The company's website says it is "Coming in February." An opening announcement will be made on Facebook.
Workers are in the last stages of stocking shelves and racks and are awaiting a gun shipment delayed by a snow storm, according to the clerk.
Gander is part of the 317,400-square-foot Promenade at Northwoods Shopping Center across from Northwoods Mall.
Pet project
An outparcel at the Whole Foods-anchored West Ashley Station Shopping Center on Savannah Highway will house a new retailer in the Charleston area.
Memphis-based Hollywood Feed, a natural and holistic pet specialty store, will occupy half of the new building recently constructed in front of Whole Foods. The previously announced Zoe's Kitchen will occupy the rest of the space.
Texas-based Whole Foods is set to open later this year, adding its second upscale supermarket to the region. Its other store is in Mount Pleasant.
Hollywood Feed's only other South Carolina location is in Lexington near Columbia. Texas-based Zoe's operates another Charleston-area restaurant in Mount Pleasant.
Bling thing
A family-owned jewelry chain in Charleston is shuttering one of its three locations to make way for a new one and offering discounts during the consolidation process.
Polly's Fine Jewelry will close its West Ashley store at 2048 Sam Rittenberg Blvd. by mid-April because its lease is expiring. The jeweler plans to build a new location in the Charleston area by this fall. Details on the new shop are still being worked out. The new address has not been disclosed.
In the meantime, to move merchandise out the door so there will be less to relocate when the West Ashley store closes, some items are being offered at up to 75 percent off through March 3 at all three showrooms, according to the company's website.
Owned by Polly and Richard Moore, Polly's opened in 1986 in North Charleston. The company added the West Ashley store in 1989, followed by the Mount Pleasant location in 1991.
Farm fresh
A new farmers market is on the way to the Charleston area.
The planned Lowcountry Farmers Market in North Charleston will accept applications through March 2 from vendors interested in participating. The market at 2216 Otranto Road, off Rivers Avenue, will be open 8:30 a.m. to 1 p.m. each Saturday, beginning April 14. To apply, go to lowcountrymarketsc.com.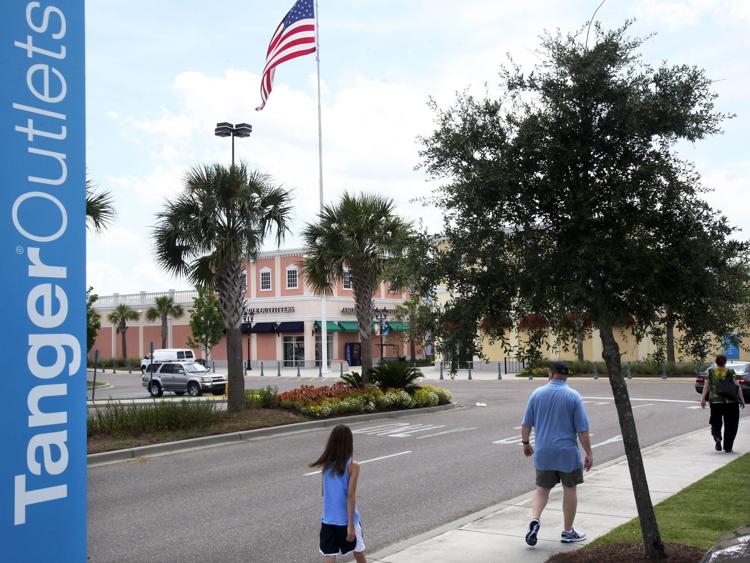 Adding on
A North Charleston shopping center will gain two new stores by this summer.
Handbag and accessories designer Vera Bradley and Charleston-based sports and novelty paraphernalia shop Palmetto Moon are joining Tanger Outlets.
Vera Bradley will be next to Cole Haan and plans to open in early April. The shop offers women's quilted handbags and accessories, luggage and travel items, eyewear, stationery and gifts.
Palmetto Moon will sit across from Lucky Brand jeans with plans to open by early summer. It offers apparel, footwear, specialty gifts and accessories from several Southern brands.
The 15-store Palmetto Moon chain continues to add stores throughout the Southeast and offers four other stores in the Charleston region: at Citadel Mall in West Ashley, Northwoods Mall in North Charleston, Towne Centre in Mount Pleasant and Azalea Square in Summerville.
Plugging in
A longtime photography studio in West Ashley will transform into a new store.
City Electric Supply will take over the St. Andrews Boulevard site once occupied by Tumbleston Photography. In 2016, studio owner Charles Tumbleston bought the former 3.5-acre site of the Coastal Carolina Council of Boy Scouts at 1025 Sam Rittenberg Blvd. and moved the photo studio to the site beside the Ashley River.
City Electric has other shops throughout the region in downtown Charleston, Mount Pleasant, North Charleston and Summerville.
Time to shine
A Greenville-based convenience store chain is celebrating a new arrival in the Charleston area.
Spinx will cut the ribbon at 1 p.m. Thursday for its new tunnel Ride 'N' Shine car wash at U.S. Highway 52 and Cypress Gardens Road near Moncks Corner.
Between 8 a.m. and 8 p.m. Friday, Spinx will provide complimentary car washes at the site at 2801 Highway 52.
Going dark
Carolina Girls and Rich Girl Rags clothing store at 608 Long Point Road in Mount Pleasant will close Saturday. Many items are marked up to 60 percent off. The West Ashley store 1890 Sam Rittenberg Blvd. will remain open.
Window shopping
As part of the Southeastern Wildlife Exposition, M. Dumas & Sons clothing store at 294 King St. will have a window display of puppies for adoption Thursday through Saturday.
The retailer has partnered with Pet Helpers during SEWE, the traditional kickoff to the tourist season in Charleston. All proceeds go to the pet firm.
In addition to a curated gift selection, the shop also will offer several trunk shows during the outdoor sports-oriented weekend. They include showings from Trask Shoes, Madison Creek Outfitters, Southern Trapper and Charleston Shucker.
Seasonal hiring
With some trees already budding and flowers blooming, a couple of big-box home improvement stores are gearing up for the planting seasons.
Lowe's and Home Depot plan to hire thousands of workers to fill seasonal jobs as the spring and summer rush approaches.
Lowe's plans to hire more than 53,000 full-time, part-time and seasonal workers to meet demand at its more than 1,700 stores in the U.S. It will hold a hiring event 10 a.m. to 7 p.m. Feb. 21 at its locations throughout the U.S.
Atlanta-based Home Depot plans to hire more than 80,000 seasonal workers at its more than 2,280 stores.