When it comes to the ugliest building in Charleston, much less South Carolina, there's plenty of room at the inn.
And not just the round Holiday Inn.
This week, readers of Business Insider labeled the round Holiday Inn in West Ashley as the state's ugliest building, but Post and Courier readers made it clear that if ugly is in the eye of the beholder, there's plenty of other buildings to look at.
Many cited the new and controversial Shem Creek office building and parking garage, the empty Charleston Naval Hospital and the North Charleston Coliseum as worthy of the label.
Sarah Stroud Clarke said there are many other competitors downtown, particularly the new building at Huger and Meeting streets. "Who approved those sidewalk setbacks?" she asked. "And the giant grey box hanging off the side? What is that?"
Other buildings labeled lame included Dockside Condominiums, the Ashley House, The Post and Courier's building, the Charleston Museum, most strip malls, particularly the one with the West Ashley Chuck E Cheese. Even the Sullivan's Island Lighthouse — a seemingly beloved landmark used in the island's school logo — was singled out as bad.
A few even cited examples in other cities, such as Greenville's jagged BB&T office tower and Columbia's U.S. Post Office on Assembly Street.
An informal Post and Courier poll asked readers if they agreed with Business Insider's choice of the round Holiday Inn: More than 2,000 responded, and 57 percent said yes, though they might have simply been making a circular argument.
Many readers felt compelled to defend the West Ashley landmark. Some called it "iconic."
"If that's the ugliest thing in town, I'm amazed," Christy Zawatski wrote on Facebook. "Really???? Come on! That's a great hotel with a great restaurant!"
"I like it and the view and the Brunches are great," said Jo Kerry-Fortunato. "It reminds me of a 45 vinyl record holder."
"I love it and was just remarking yesterday how I hope it's never torn down," Kourtnay King added on Twitter.
When it opened in 1971, the 14-story building was hailed as just one of a few Holiday Inns nationally built in the "tower style." In only three years, it will turn 50 and get new protection under city zoning: Any demolition request would need approval from the city's Design Review Board.
While the Holiday Inn might not be historic, at least not yet, it still stirs memories for some, such as Harry Miley.
"As a kid in the 1970's," he wrote, "this was the cool sight that meant we were halfway done sweating in the traffic to get to a beach house on Folly."
And Sonja Deas Reed wrote a Facebook post that paid the round Holiday Inn perhaps the highest compliment for a West Ashley landmark: "It ranks right along with our beloved Coburg Cow!"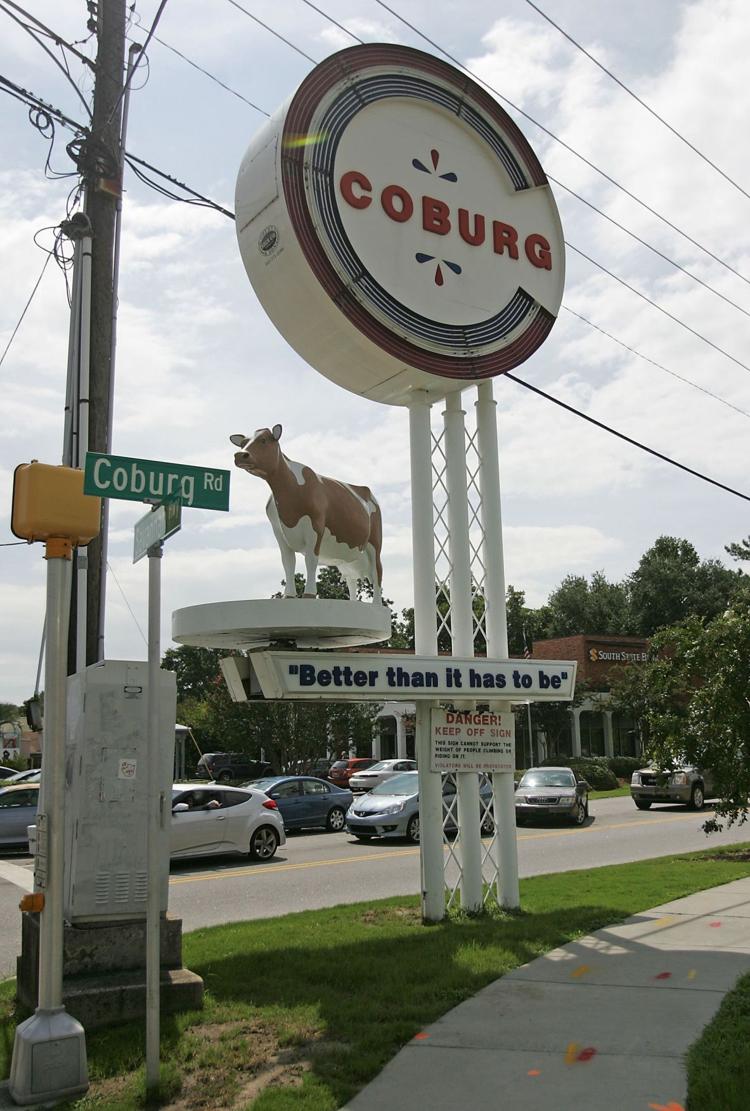 Matthew Clough contributed to this report.