A new housing development coming to what is believed to be the largest undeveloped tract left near Mount Pleasant's Old Village will break ground Wednesday.
Edwards Place, formerly owned by the late South Carolina Gov. Jim Edwards, will feature 10 custom-built residences on the 3.41-acre lot at McCants Drive and Jackson Street. House sizes will start at about 2,400 square feet.
A movement to raise funds to buy the property and save it from development fell flat earlier this year. The developers led by Old Village resident Scott Elferdink are promising to create a community that fits in with the historic neighborhood. Edwards Place LLC paid $3 million for the property on Nov. 19.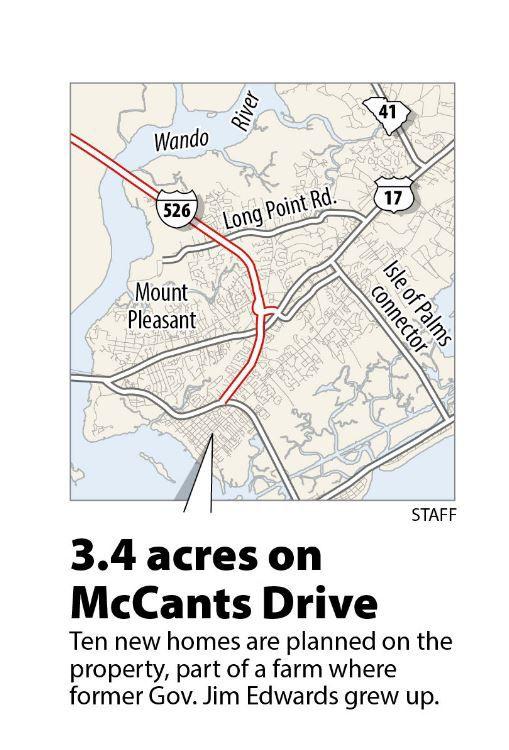 According to the website for the community by Carolina One New Homes, "Edwards Place will be a quiet, unassuming, peaceful retreat with a standard of quality that is expected in the Old Village."
New homes
An Atlanta-based home builder recently snapped up 41 lots in Mount Pleasant.
An affiliate of FrontDoor Communities, which was acquired in 2017 by Virginia-based Stanley Martin Communities, bought the property near Fulton Park off Old Georgetown Road for $7 million in early November, according to county land records.
The home sites, east of U.S. Highway 17 and across from Boone Hall Farms, are along Max and Giles lanes at the end of Fulton Hall Lane.
Changing hands
A seven-building industrial and flex-space portfolio totaling nearly 107,000 square feet near Summerville recently changed hands.
Summerville Industrial Partners LLC, led by Lang Tarrant, acquired three assets in Hensley Commerce Park and four buildings in Varnfield Business Park for $8 million, according to Berkeley County property records and the commercial real estate firm CBRE.
Affiliates of RCB Development were the previous owners.
CBRE managed the portfolio and handled leasing for the sellers. After some capital improvements were completed, occupancy rate increased to 100 percent from 55 percent at Hensley and both locations saw a 20 percent to 35 percent jump in rental rates, the firm said.
"It is a great opportunity when we're able to assist a client full circle and help them achieve their goals," said Brendan Redeyoff, first vice president at CBRE.
He added that the deal drew "strong investor interest in this portfolio with local, regional and national investors showing a strong appetite for flex and industrial assets in the Charleston area."
Under a new roof
A downtown Charleston commercial and residential real estate company has merged with a firm that expanded to Charleston in 2017.
Domicile Real Estate Brokerage at 163 King is now part of Hudson Phillips Properties. Broker Jennifer Davis of Domicile and her team will lead Hudson Phillips' first commercial division. She will retain the Domicile arm under the auspices of Hudson Phillips, which has another office in Ocala, Fla.
The Domicile team recently oversaw leasing of the 4,400-square-foot Lake Pajamas retail store in the former Ralph Lauren space at 153 King.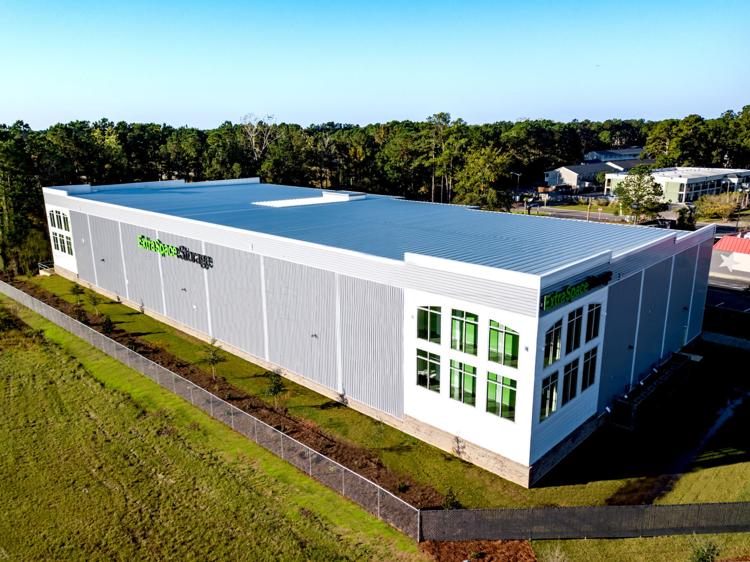 Storing stuff 
A new climate-controlled storage facility is now open in Goose Creek.
Miller-Valentine Group recently completed construction on a three-story, 90,000-square-foot building at North Rhett Avenue and Red Bank Road. Units range from 5 feet by 5 feet to 10 feet by 30 feet. Coastal Storage Group of Charleston was a partner in the development.
Extra Space Storage will oversee leasing and property management.
Acquisition
Mount Pleasant-based Ziff Properties recently acquired a Tallahassee, Fla., self-storage business, another expansion into what it called "strong college markets."
The 51,000-square-foot A Dent In The Attic includes climate- and nonclimate-controlled units on about 2.7 acres. Renovations are planned along with a 4,500-square-foot expansion of the climate-controlled units. CubeSmart Self Storage will manage the facility.