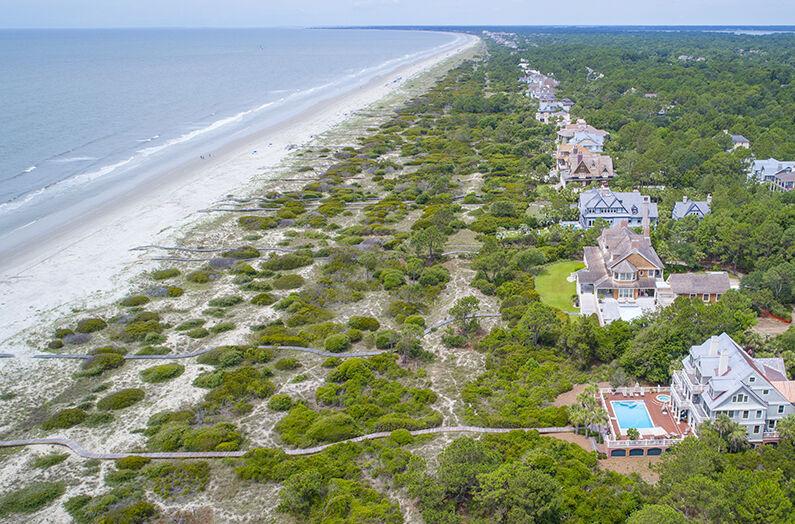 Barrier Islands
From bohemian bungalows to luxury estates, Charleston's barrier islands provide respite for residents and visitors alike
Folly Beach, Isle of Palms, Sullivan's Island, Edisto, Kiawah and Seabrook Islands – from bohemian to relaxed luxury – there is a beach for everyone in the Lowcountry.
When it comes to seaside luxury, few places can compare to the world-class beaches of Kiawah and Seabrook Islands.
Kiawah Island was ranked one of the "Happiest Seaside Towns" by Coastal Living, while neighboring Seabrook Island was voted "Best Restored Beach" by the American Shore & Beach Preservation Association.
The islands are also an ideal locale for anyone looking to live out their professional golf fantasy. The Kiawah Island Golf Resort's Ocean Course has hosted the PGA Golf Championship tournament two times in 2012 and in 2021.
Prefer a more upbeat and energetic atmosphere? Referred to as the "Edge of America," by locals, Folly Beach is between the Folly River and the Atlantic Ocean. The main thoroughfare of Center Street greets beachgoers with sporting shops, restaurants and bars.
Folly's centerpiece attraction, the Edwin S. Taylor Fishing Pier, is currently under construction with completion expected in the Spring of 2023. The gift shop and observation deck are open to the public while replacement construction continues for the remainder of the pier structure. It's also home to the famous Morris Island Lighthouse.
If you want a seaside setting studded with some of the region's priciest homes shielded by the dunes, Sullivan's Island offers some of the area's widest beaches with close-up views of ships entering and leaving the harbor.
Homes on the island also offer convenient access to Middle Street, which sports a number of shops and restaurants next to a town park that offers tennis and basketball courts.
Lined by scores of homes, the windswept stretch of sand known as Isle of Palms beckons families to the coast year-round. On the northern end of the island is the private gated community of Wild Dunes with a hotel and condo, cottage and vacation home rentals as well as amenities such as golf and tennis.
On Edisto Island, the beach is the main event. With 37 public beach access points located along Palmetto Boulevard, there are plenty of opportunities to pick out your just-right spot. Some access points, but not all, provide off-street parking and dune walkovers.
Edisto Island also happens to be one of the most affordable Lowcountry beach communities, with the median sales price for a single-family detached home just $735,000.
Description: Resort, suburban
Median home prices: $590,000 (Edisto Area); $608,500 (Seabrook Island); $665,000 (Folly Beach); $945,000 (Kiawah); $1,250,000 (Isle of Palms); $2,950,000 (Sullivan's Island).
Home sales: 1,283 (MLS). Community high – Isle of Palms, 392.
Schools: Charleston County, Colleton County.
Golf courses: 10
Entertainment: Atlantic Ocean, resorts (Kiawah Island; Wild Dunes on Isle Palms; Wyndham Ocean Ridge; Edisto Beach and Botany Bay; Fort Moultrie on Sullivan's Island, The Windjammer on Isle of Palms.
Retail: Shops, casual and elegant restaurants, nightclubs, a handful of hotels.
Major employers: Resort business, real estate.
Directions: Take Maybank Highway to Kiawah and Seabrook Islands, Wadmalaw Island and Rockville; Isle of Palms connector to Isle of Palms and Sullivan's Island; Folly Road to Folly Beach; S.C. Highway 174 to Edisto island and beach.
Area Highlights
Residents: Retirees, celebrities, second-home owners, executives, college degrees, doctors and lawyers, out-of-town property owners, beachcombers, well-traveled, sociable, offbeat.
Market: High-end prices notably on the oceanfront, or golf courses. Bungalows, cottages and established and new luxury condos, sturdy beach houses. Some inland neighborhoods are wooded and secluded. Higher coastal insurance rates.
Lifestyle: Outdoorsy. Beach and water activities – sailing, jogging, bike riding, water games, tennis, golf, surfing boating, paddle boarding, and fishing.
Conveniences: Residential with commercial strips, casual with some formal places, surfing, pier fishing, beachcombing. Population swells during peak season in the summer, traffic waits at public beaches. Breathtaking sunrises and sunsets.
Perfect for: Surfers, dog owners, active seniors, boutiques, jogging, nightlife, organizational retreats, outdoorsy adventurers, golfers, vacation residences and rentals.