Redevelopment of the 53 acres of West Ashley's Citadel Mall can move forward now that Charleston City Council has approved the developer's vision for the site.
The plans were pared back again after council members last week expressed concern about building heights — specifically along Orleans Road — and the amount of time affordable housing would be available.
Under the new planned unit development vision, buildings along Orleans Road cannot exceed five stories if they are 100 feet from the road.
The next 400 feet of buildings off Orleans Road cannot exceed nine stories.
On the remaining 40 percent of the site, buildings were approved to reach up to 18 stories, seven stories less than the original 25-story buildings developers wanted there. The site will also include about 8 acres of retention ponds.
Council unanimously supported the developer's change to the proposed heights, and several at Tuesday's council meeting said they appreciated the developer's willingness to do so.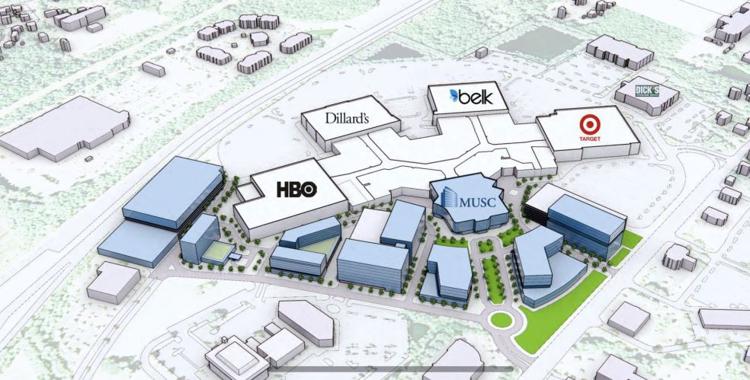 But some council members differed on the new plans for affordable housing.
The planned unit development allows for 1,225 housing units with 184 of those units identified as affordable or attainable housing units. Sixty units will be earmarked for tenants who make 60 percent of the area's median income and the other 124 units will be for tenants making up to 120 percent of the area median income.
If the developer increases the number of housing units from 1,225, they have agreed to set aside 20 percent of units for affordable housing, instead of 15 percent.
During the 40 minutes of discussion, Councilmen Keith Waring, James Lewis, William Dudley Gregorie and Robert Mitchell raised concerns on the length of time those units would be earmarked as affordable units. The plans call for affordable housing on the site for at least 30 years, but if the city wants up to 129 years of affordable housing there the developer wants a city, federal, nonprofit or private partner to help take on those costs. 
Waring was one of two council members who voted against the planned unit development and said he did so because the plans did not include city funding for the affordable housing. Gregorie also voted against the project. Councilman Gary White did not attend Tuesday night's meeting.
Mayor John Tecklenburg said he is ready to start negotiating with the developers and set up a tax increment finance district around the site to assist with funding for affordable housing to stay there up to 129 years. 
Currently, the mall has about 1.3 million square feet of retail space. When transformed, the Epic Center project — as it's being termed — is expected to have more than 4 million square feet of mixed uses, including offices, medical facilities, meeting spaces, residences, restaurants and a world-class sports facility, according to Citadel Mall's lead investor Richard Davis.
The project is on track to be the largest affordable and workforce housing development in Charleston, City Planning Department Director Jacob Lindsey said.
Davis said he was optimistic shovel work could begin as soon as next year. The entire project would take years to finish.
Redevelopment plans do not include the entire shopping center. Belk, Dillard's and Target own their respective footprints, parking lots and buildings at Citadel Mall.