Some of South Carolina's population growth hot spots have cooled, according to just-released census estimates, but new residents continued to pour in to Horry and Berkeley counties, the counties adjacent to Charlotte, and — perhaps surprisingly — Spartanburg.
The Palmetto State has been a fast-growing region for years and that continued through mid-2018. The state added 62,908 residents. More than 80 percent of the growth came from people relocating from other states, the Census Bureau estimated.
The additions raised the state's population to 5,084,127.
The growth has generally been concentrated along the coast and along the Interstate 85 corridor in the Upstate. However, the places with the most rapidly growing populations in South Carolina keep changing, partly due to the availability of jobs and housing.
Berkeley County is an example. The county is home to multiple town-sized housing developments including Cane Bay, Nexton and Carnes Crossroads that are attracting new residents near the Summerville area.
On Berkeley County's Cainhoy peninsula above Daniel Island, the Cainhoy Plantation development is expected to have 9,000 new homes.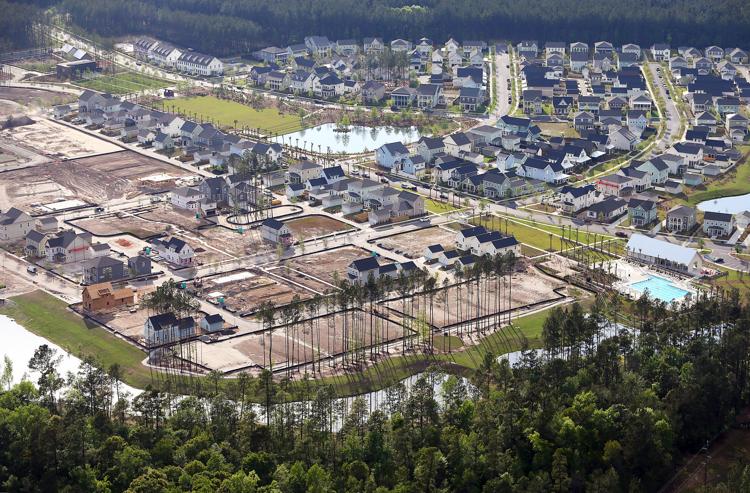 Population growth has slowed rather dramatically in Charleston and Dorchester counties — falling by more than 50 percent since 2015 — while Berkeley has become the second-fastest-growing county in the state. The three counties together represent the Charleston metro area.
In 2015, the Charleston metro area was gaining 50 new residents every day, and Charleston County accounted for more than half the growth. By, 2018 that slowed to an average gain of 34 people each day, with half of those tri-county population gains going to to Berkeley County.
"I have people that I take around Charleston County, Berkeley County and Dorchester County, and they see what (homes) they can get in each place," said Kimberly Lease, a Realtor with Century 21 Properties Plus. "Some people really want to be near downtown Charleston or the beaches, but if that's not an issue, they almost always go to Berkeley out by Cane Bay."
"It's interesting how far people will drive for affordable housing," she said. "There's so much land in Berkeley County that there's a ton of new construction."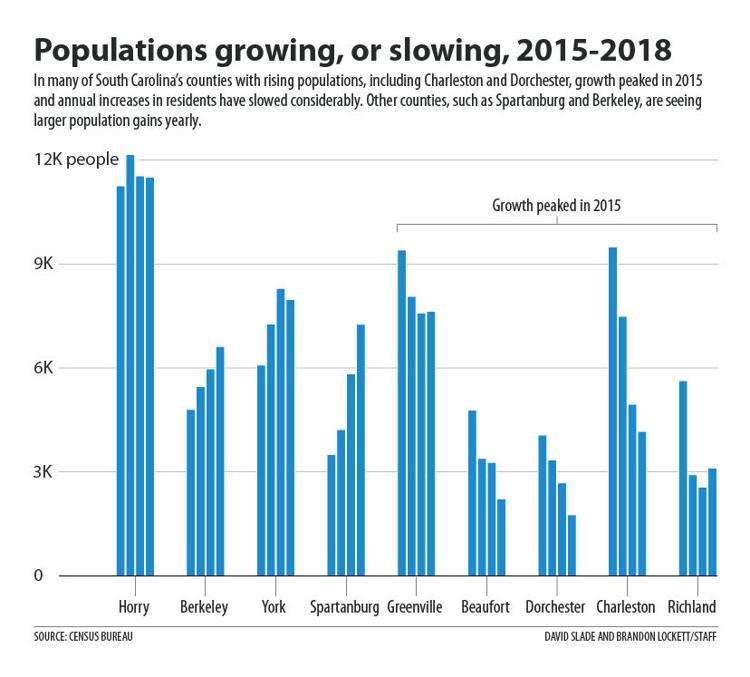 While growth in some areas speeds up, then slows, the Myrtle Beach area has been an exception. It's been growing rapidly without pause. In 2018, it once again was the second-fastest-growing metropolitan area in the nation. Only the Midland, Texas metro area grew faster.
In Horry County, people moving from elsewhere accounted for all of the 11,496 one-year gain in population — and then some. More than 12,000 people moved to the county.
But the county also is home to many retirees and has more deaths than births each year, so its latest increase in population was slightly smaller than the number of people actually moving there.
Other South Carolina counties that have seen strong growth — including Charleston, Dorchester and Greenville — are gaining population from both robust birth rates and from people moving in. About a third of the growth in Charleston and Dorchester counties last year came from the birth rate.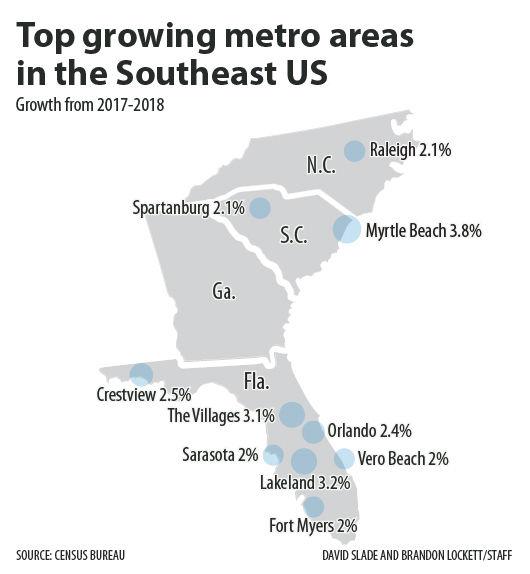 One South Carolina surprise in the latest census report, which was publicly released Thursday morning, was Spartanburg County. 
Through mid-2018, the Spartanburg metropolitan area was the 19th-fastest-growing in the nation out of 383 total. Spartanburg County accounted for all of that growth, and the county was the fifth-fastest-growing in the state.
"That does not shock me, as a local business owner," said Molly Cashman, co-owner of Blue Moon Specialty Foods in Spartanburg. "Our downtown is really seeing a revival."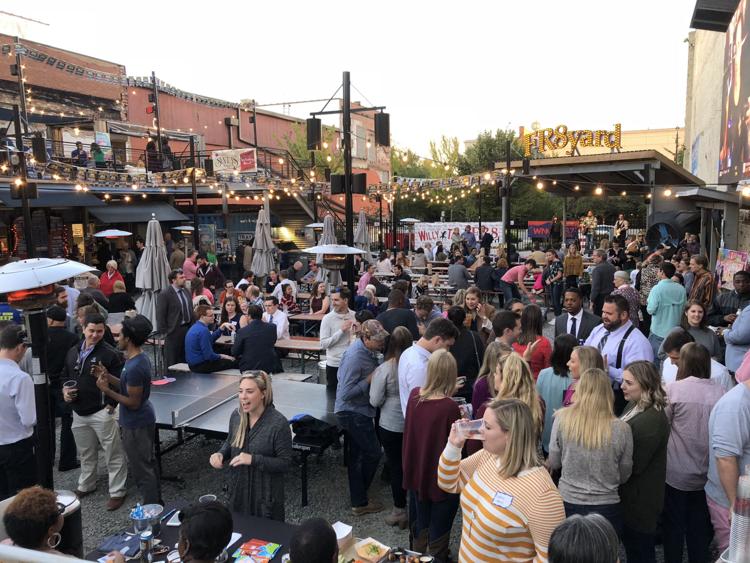 Cashman said that when she returned to her native Spartanburg nearly six years ago after living in Greenville and Charleston, there were lots of empty storefronts downtown. That's no longer the case, she said.
"There's been a lot of emphasis on downtown living, which has really been cool," Cashman said. "There's been a sizable number of new apartments. Really nice, high-quality downtown apartments."
Once known for textile mills, Spartanburg County is now known for manufacturers, including BMW, and it sits along the I-85 corridor connecting Charlotte, Greenville and Atlanta. Spartanburg County gained more population from mid-2017 to mid-2018 than Charleston and Dorchester counties combined — 7,256 people.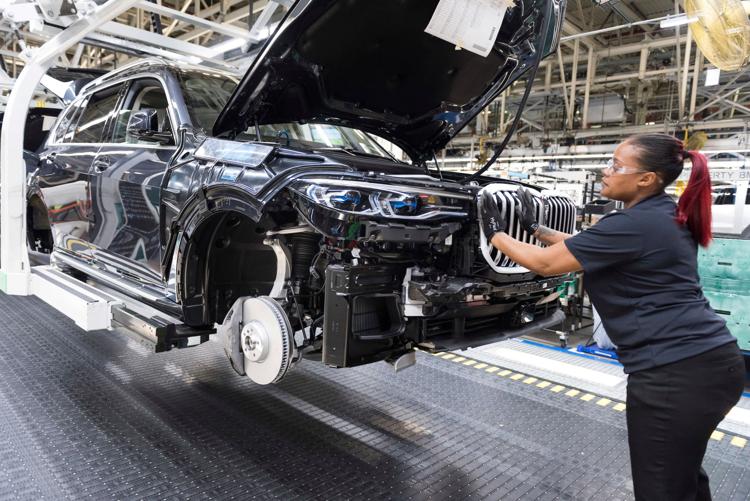 Most residents of the county live outside the city of Spartanburg, which is home to about 12 percent of the county's population, the state's largest private art collection and a growing hospitality industry. Greenville-Spartanburg International Airport is in Spartanburg County, except for a portion of the runways, and so is the State Ports Authority's Inland Port Greer.
South Carolina's York and Lancaster counties are now considered bedroom communities for Charlotte, a metro area that was the nation's 47th-fastest-growing. York and Lancaster were also South Carolina's third- and fourth-fastest-growing counties.
The only other counties that saw population growth greater than the state as a whole were Jasper, Greenville and Lexington.
Of course, not every county has been experiencing a growing population. Twenty of South Carolina's 46 counties lost population during the most recent year; most of them were rural counties facing the double-whammy of a negative birth rate and more residents leaving than arriving.
Combined, those 20 counties lost an estimated 4,348 residents, while the remaining 26 counties gained 67,256.