A three-story home sitting over the edge of Charleston Harbor recently sold for a fraction of the list price eight years ago, but it came close to matching the record for the highest-priced sale on the peninsula.
The former Navy outpost on concrete pilings at 2 Concord St. sold recently for $7.3 million after being on and off the market for the past several years. The former industrial-style structure just north of the Carolina Yacht Club was transformed into a high-end residence in 2010.
The previous owner was a company made up of Blackbaud Inc. founder Tony Bakker and his wife, Linda, and Barbara Eileen Rothwell, according to Charleston County property records. They new owners are Thomas C. Schneider and Alison P. Schneider, the deed shows.
Helen Geer with William Means Real Estate handled the property for the sellers. She said the new owners have a house on the Charleston peninsula, which is now on the market, and own another property in the Northeast.
"The couple who bought it totally understands the quality of construction and are just thrilled," Geer said. "They are a very nice couple."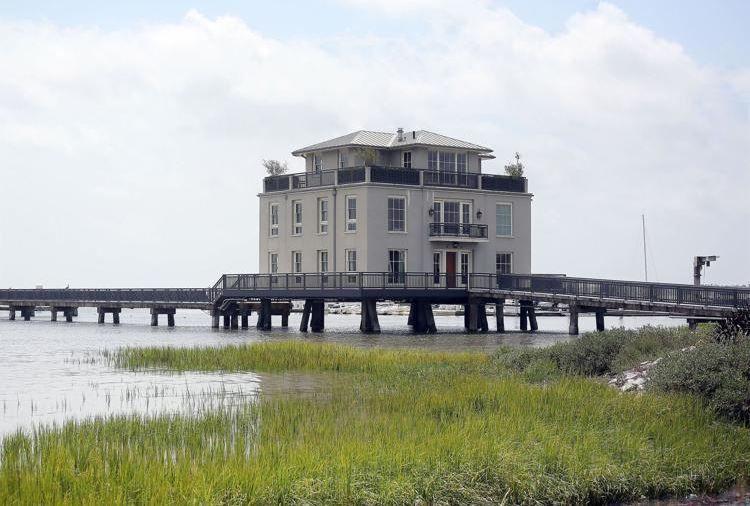 The 2.7-acre site, including the 4,689-square-foot main residence, a smaller guest house and a 240-foot private dock, was recently listed for $7.95 million. Four years ago, the price was set at $8.85 million.
In 2011, the property, listed through another firm, was priced at $17.5 million. Slightly more than half an acre is high land.
The main house boasts a grand staircase, gourmet kitchen and climate-controlled wine room. The first-floor library includes hand-detailed cypress panels while the second floor includes a master suite and three other bedrooms with private baths and waterfront views of Fort Sumter, Patriots Point and numerous other landmarks. A bar and terrace for entertaining are on the third floor.
The structure was built for about $365,000 and opened in 1961. It served until the mid-1990s as a "degaussing" station, where the Navy housed equipment to check the effectiveness of magnetic-neutralizing devices on minesweepers and other military ships.
The Bakkers spearheaded reconstruction of the property into a home nine years ago after buying the property from the State Ports Authority in 2006 for $5.25 million.
The sale is not the priciest for a residence on the peninsula, but it came close. The record belongs to the Colonel John Ashe House at 32 South Battery. Built around 1782, the 10,800-square-foot, four-story mansion fetched $7.72 million in 2015.
The buyers of 2 Concord were represented by Mary Lou Wertz with Hudson Phillips Charleston Properties.