Charleston has been aggressively cracking down on short-term rentals, such as those advertised on Airbnb, but there's one hotel alternative — staying on a boat — that falls outside the city's regulations.
"And, we'd like to keep it that way," said Dave Gugliotti, owner of Carolina Marine Group.
Gugliotti's company rents the four-bedroom yacht Southern Comfort for stays of two nights or more, starting at $400 per night. For that price, the boat never leaves the dock at Charleston City Marina, but the company also runs charters.
"Honestly, it makes more money on the dock than off," Gugliotti said. "I'm booking August and October right now."
In marinas and at private docks in the Charleston area, some boat owners have been renting their watercraft for short-term stays, often charging hundreds of dollars nightly. The city has been taking owners of unpermitted short-term rentals to court — there are thousands of them — but the rules don't cover boats.
"The short-term rental ordinance was designed to regulate rentals in houses, on land, to improve the quality of life in residential neighborhoods," said Jacob Lindsey, director of the city's Department of Planning, Preservation & Sustainability. "Our land-use ordinances generally are not created to regulate boats, on water."
At Seabreeze Marina, on the Cooper River near the Ravenel Bridge, Justin VanBogart has six boats that are used for short-term rentals.
"The kind of person that rents a boat is usually adventurous, interesting, and has had interesting life experiences," he said. "My favorite part about the business used to be the boats. Now, it's the people."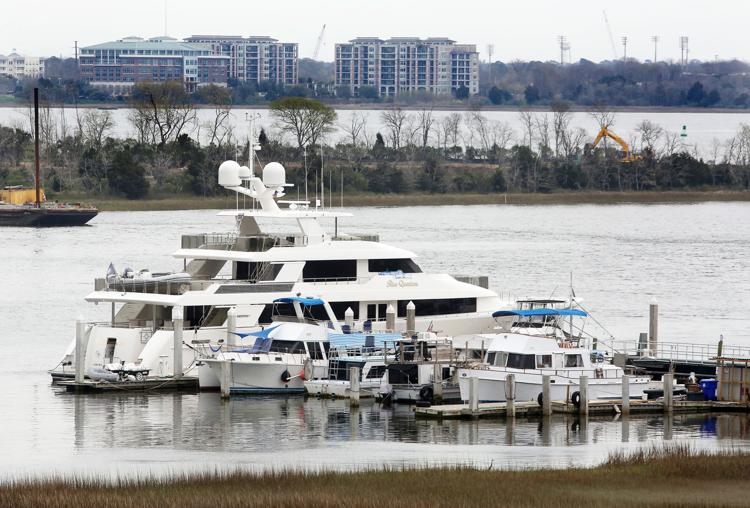 VanBogart said he doesn't think the business of renting boats as sleeping accommodations will grow in Charleston, because large boats and places to dock them are in limited supply. Marinas have increasingly been prohibiting people from staying aboard boats.
At Charleston City Marina, Gugliotti said there's a moratorium on using boats for short-term stays.
"We are really one of only two, maybe three people who are allowed to do this" at that marina, he said.
Marina Managing Director Robbie Freeman confirmed that short-term stays aren't generally allowed there, and people aren't allowed to live aboard boats they own.
"There were a couple of guys who had been doing it (short-term rentals) for years — Southern Comfort was one of them — and they were sort of grandfathered in because we didn't want to put them out of business," Freeman said. "Most marinas don't allow it. The big concern is, you don't have any control over who is renting (staying on) the boats, and most of them are not familiar with boats."
Still, on Airbnb some of the millions of tourists that visit Charleston yearly can find a number of boats offered as places to stay. Most are at local marinas, but some are docked behind private homes.
There are yachts, houseboats and sailboats for rent. Because the guests don't get to take the boats out on the water, they aren't part of a recent crackdown on boats for hire.
They aren't inexpensive, but large families and groups that would otherwise need multiple hotel rooms could find the prices competitive. The Southern Comfort, for example, can sleep eight in four staterooms, and the nightly cost for eight guests would be $850 — just over $210 per stateroom.
"What we do is sell an experience," Gugliotti said. "You're going to stay on a yacht, and most people have never been on a yacht." 
VanBogart said his boats rent for an average of $289 per night.
"Almost all of my boats are in the 40-foot range," he said. "I do house boats, motor yachts, trawlers. People want space."
The Coast Guard doesn't get very involved with boats that don't leave the dock, said Lt. j.g. Phillip VanderWeit, but does check out reports such as a recent allegation that VanBogart's boats were polluting the harbor.
"We did respond to a report, and went to that location two times, and did not see any visible signs of pollution," VanderWeit said. "The second time, we got on board the vessels and did not see any signs of pollution or nefarious activities."
The main constraints on the use of boats as mini-hotels appear to be the restrictions at marinas, and prohibitions imposed by homeowner associations in communities where homes have deep-water docks.
"Now that we're aware of it, we'll be taking a closer look at it," Lindsey said. "It's a new issue for us."