As construction cranes march up the Charleston peninsula planting new apartment buildings, a 175-acre waterfront property just north of the Arthur Ravenel Jr. Bridge awaits their arrival.
Laurel Island has long been seen as a prime location where the peninsular city could grow, despite the island's industrial past as a dredge spoil site and two municipal landfills. Beneath its grassy surface sits household garbage up to 19 feet deep, creating methane gas as it decomposes.
"Charleston has been building on landfill since the 1670s," said Robert Clement III, the local consultant for Laurel Island owner Lubert-Adler of Philadelphia. "None of these are new problems."
Environmentally challenged properties known as brownfields are common in the area and can be remedied, although that can be expensive and time-consuming.
"For the developer who figures it out, we think it would be very rewarding," said Jacob Lindsey, director of Charleston's Department of Planning, Preservation & Sustainability. "Everything can be built upon — at a price."
Laurel Island isn't really an island. It sits at the east end of Romney Street behind Charleston County's recycling center, just off the fast-growing Morrison Drive corridor that's become home to trendy restaurants, tech businesses and new apartment buildings.
Several would-be developers of Laurel Island have already come and gone.
A grand plan was rolled out in 2008, dubbed "Promenade" by Charleston-area developer Bobby Ginn. His company proposed 1,500 hotel, condo and townhouse units; a large amphitheater; stores; offices; and boat slips along Town Creek.
Within a year, as the Great Recession arrived, the Ginn Co. plan was dead. Clement, who has been involved with the property for at least a decade, then pitched a plan to use the site as a rail yard for the new North Charleston port.
The rail yard plan went nowhere, and next came Lorelei, a proposed $1 billion development of Laurel Island announced in 2016.
"This could be a pivotal project for the nation," Andres Duany, a master planner hired for the project, said at the time. He estimated 12,000 people could live there.
The Lorelei plan was scrapped by mid-2017. A disagreement with the city about road access was a key reason.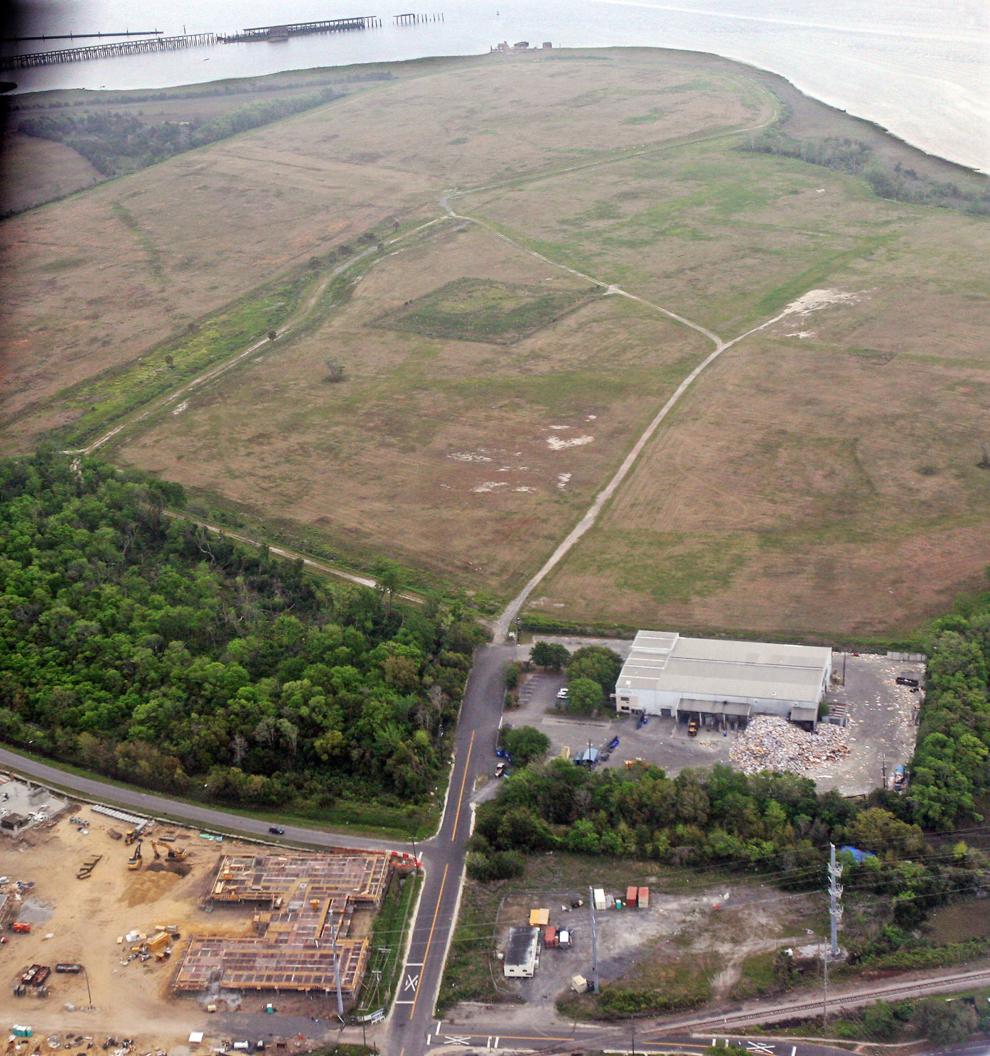 To avoid problems with a rail line, where freight trains could block road access to the island at times, the developer wanted to build a four-lane bridge from Laurel Island to Cool Blow Street. The city said a two-lane bridge would be OK, but not four.
"A four-lane bridge is just too much," Lindsey said.
Laurel Island has challenges, but not unique ones, and it sits within walking distance of property along Morrison Drive that's been selling for more than $1 million per acre. Laurel Island was last sold for $34.2 million in 2006, just over $195,000 per acre.  
The S.C. Department of Health and Environmental Control inspects the former city and county landfills on Laurel Island. Recent reports found elevated levels of arsenic in the groundwater, though not necessarily due to the landfills, and methane gas below the "lower explosive limit," meaning not enough methane to cause an explosion.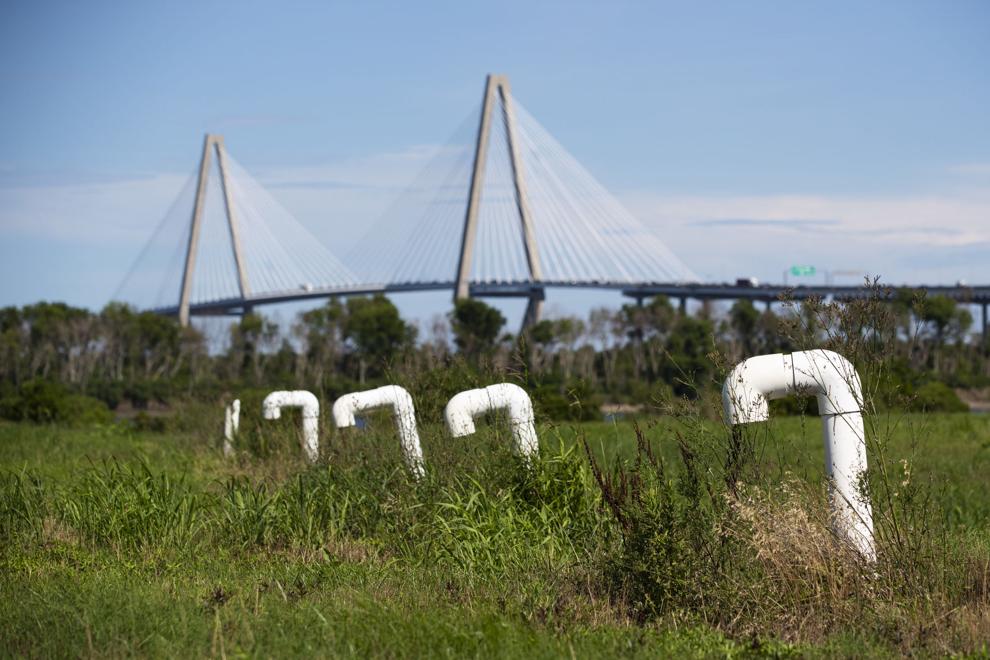 The agency denied three weeks of repeated requests to interview regulators familiar with the site. A spokeswoman said developing the site would require an environmental remediation plan.
"We have come a tremendous distance, but we still have a long way to go," Clement said.
Charleston's brownfields
Laurel Island is one of three large environmentally challenged sites in Charleston between the Ashley and Cooper rivers, where homes and businesses are expected to rise on land fouled by household waste, fertilizer production, wood treatment and other industry.
Near the Medical University of South Carolina and Joe Riley Park baseball stadium, the WestEdge development sits on a former city garbage landfill. Today, the site is home to the first of many building expected to house 2,500 people, more than 50 retail businesses and up to 200 companies.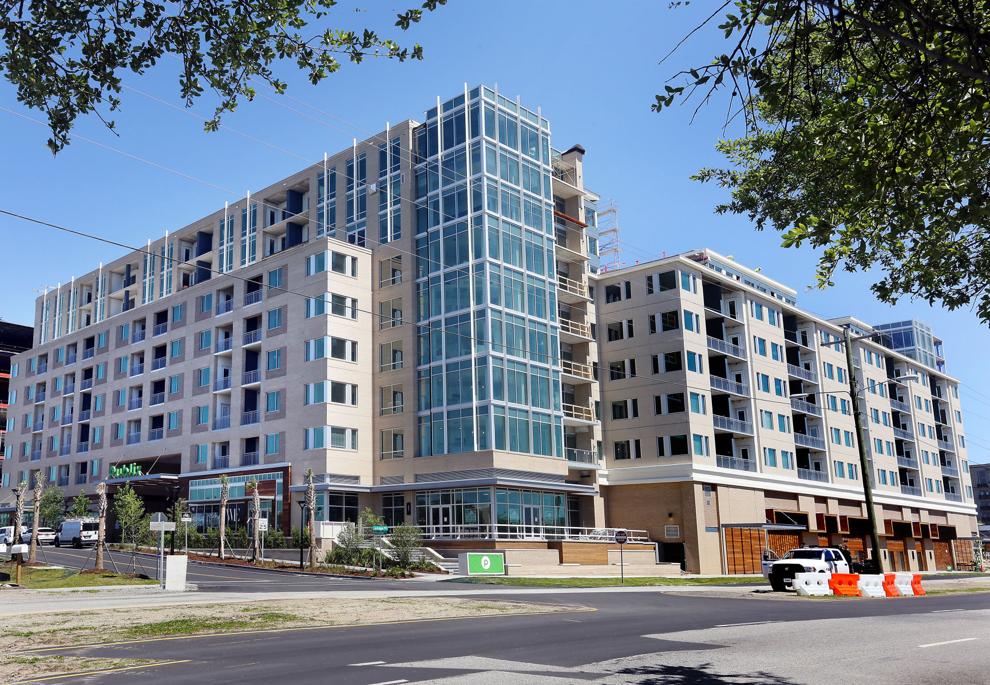 All the buildings are on deep pilings and the roads at WestEdge rest on soil that's been expensively compacted, reinforced and raised. 
"Everything WestEdge was built on was a municipal dump, from 1952 or 1955 until the 1970s, so it is an apt comparison (with Laurel Island)," said WestEdge CEO Michael Maher. "The fact of it is if there's a large piece of land in Charleston that has not been developed, there's a reason."
"In our case, even though our landfill is older it's still settling," he said. "All of the buildings do have to have methane monitoring and methane venting systems."
North of WestEdge, up the Ashley River is the Neck Area — the mostly industrial land between the Charleston peninsula and the southernmost neighborhoods in North Charleston. Much of the waterfront land there has long sat vacant because of contamination from wood treatment and fertilizer businesses.
"At Magnolia we faced arsenic, lead and creosote. At Macalloy, we faced hexavalent chromium," said Clement, citing two Neck Area brownfield redevelopment projects he has been involved in.
Efforts to clean and develop Neck Area land have been going on for many years, with some help from the city of Charleston. Among other things, the city built a $8 million bridge from Heriot Street to the Magnolia development site.
The bridge was nicknamed "the bridge to nowhere" when development plans stalled during the recession and the land went through bankruptcy.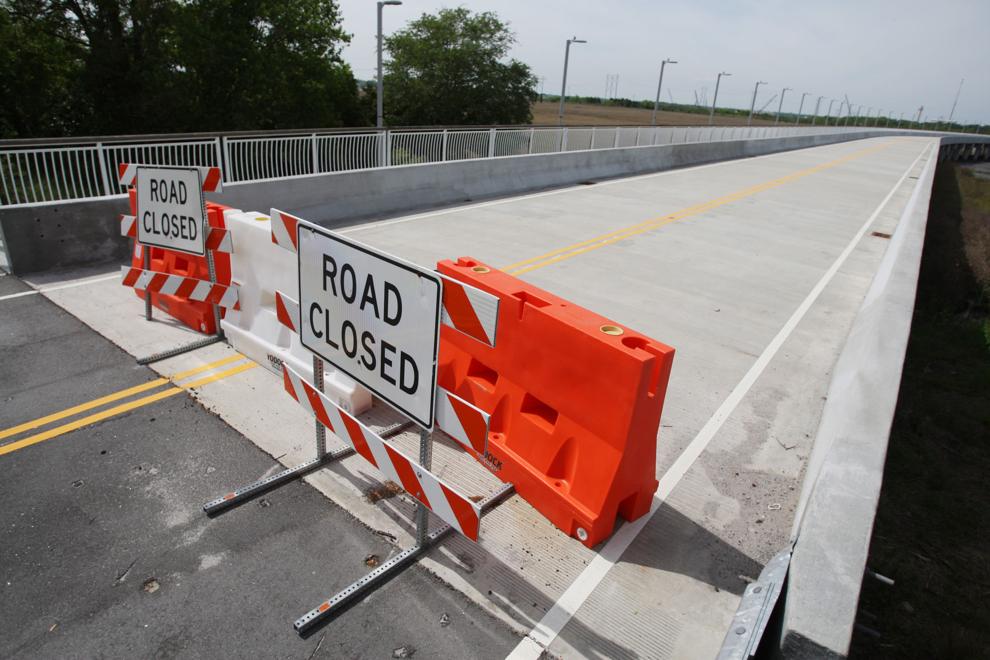 The Magnolia plan was announced more than a decade ago and called for building thousands of homes and millions of square feet of commercial space. The project has changed ownership and developers but this summer the current developers are expected to start building roads there.
"It's going to be a bridge to somewhere soon," Lindsey said. "Fundamentally, the plan is still similar to what it was 10 years ago, to be developed into a dense, mixed-use neighborhood.
"We're very much encouraging the development of these locations," he said. 
A bridge to somewhere
Laurel Island will also need a bridge, and that's a challenge that has complicated past and present efforts to develop the island.
A bridge connecting the land to Charleston's street grid is needed because freight trains carrying BMW vehicles and other cargo to the Port of Charleston's Columbus Street Terminal cross Romney and Brigade streets — the only roads to Laurel Island.
"The site is very constrained in terms of access," Lindsey said. "The bridge itself would need to run through (Charleston County's) 995 Morrison property, over a state highway and private property, and over a marsh with flowing water."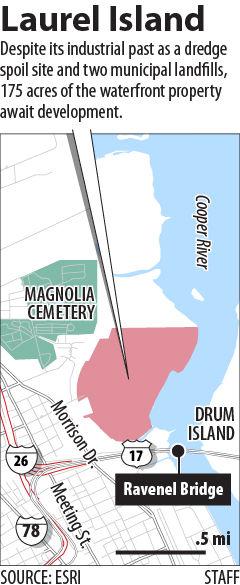 Aside from a bridge, Laurel Island would require special ground preparation or pilings for every building and road. At WestEdge, Maher said the ground was prepared for road-building with a special system he likened to "an upside-down bed of nails."
To support a road that would not sink as the ground beneath it settles, as nearby Lockwood Boulevard does, the WestEdge developers used a system that works like this: Every 6 to 8 feet, in a grid pattern, an 18-inch diameter "displacement auger" was drilled 60 feet into the ground. That compressed the soil between the drill points and then the hollow drill was removed and the hole filled with concrete.
On top of that compressed soil and concrete, several feet each of engineered stone, soil and graded stone were added — that's where utility pipes and lines go — and then the roads were built on top.
Maher said at WestEdge that system had the added benefit of raising the roads, making them less likely to flood.
Clement said Laurel Island has one big advantage for a Charleston peninsula property. It's in an "X" flood zone, high enough above sea level that federal flood insurance isn't required.
"It's not as difficult a site as Magnolia because that had all sorts of contamination," Clement said. "I think we have a great story of land reuse."
Neither a DHEC permit application nor a city development plan has been submitted for Laurel Island, but both Lindsey and Clement said initial plans could be coming within months.