A pair of new restaurants opened this week in downtown Charleston while another in Mount Pleasant is eyeing a change of location to a darkened dining spot.
Big Bad Breakfast opened Tuesday at 456 Meeting St., across from a former Bi-Lo supermarket. It's open 7 a.m.-2:30 p.m. every day.
A couple of blocks away, Mexican meets Japanese at the new Mesu restaurant at 570 King St.
After a grand-opening reception Wednesday at the new dining option near the dual-branded Hyatt hotels at Spring and King streets, it will be open to the public 4-11 p.m. daily with live music from 11 p.m. to 2 a.m. Reservations can be made starting Thursday, according to its Facebook page.
Meanwhile, a firm called Naples Inc. has applied for a permit to sell alcoholic beverages in Fairmount Shopping Center at 1035 Johnnie Dodds Blvd. in the former site of the restaurant Congress that closed last year after a three-year run. It turns out Italian restaurant Cuoco Pazzo, which leases a neighboring space, is looking to move into the shuttered former Congress site. The current site of Cuoco Pazzo is expected to become a pizza restaurant later this year called Pizza Pazzo under the same owners.
Cuoco Pazzo is expected to open in the new location in late October or early November, according to General Manager Caisy Rosado. 
Floor it
Charleston-area customers will soon be walking all over a new big-box retailer, and someone could win $1 million as part of its grand opening.
Atlanta-based Floor & Decor is set to open its doors on a new 75,000-square-foot flooring store and design center on Oct. 3, offering "showroom-quality selections at warehouse prices."
The North Charleston location — the company's first in South Carolina — is at Rivers and Aviation avenues. Jason Holland, the store's chief executive merchant, will lead a team of about 50 employees.
With shops nationwide, the retailer carries more than 1 million square feet of in-stock flooring and offers free design services.
Following the grand opening, the new store will host a family-friendly "Super Saturday" event starting at 10 a.m. Oct. 5. The event will start with interactive games such as "Connect FLOOR," jumbo Jenga, and "Plinko," open to all ages. From noon to 2 p.m., BKED Shop will provide complimentary food to the first 200 customers.
The event also includes a chance to win $1 million. Beginning at noon, up to 200 adult visitors can roll a set of six customized dice, each marked with one letter: "F, L, O, O, R and S."
Participants who roll either four or five of the letters will get a store merchandise card valued at $100 and $1,000, respectively. A six-letter roll that spells out "floors" will win the grand prize.
A private event for industry professionals in the Charleston region is set for Oct. 9, the same day a ribbon-cutting is set for 4 p.m.
Running on Dunkin'
A new doughnut and coffee shop is now open in Summerville. Dunkin' unveiled its newest Charleston-area location, complete with a drive-thru and seasonal outdoor seating, earlier this week at 1605 Central Ave. in Knightsville Crossing Shopping Center.
The operator is George Ross of Coastal Franchising. He opened another shop earlier this summer in Carnes Crossroads in Goose Creek.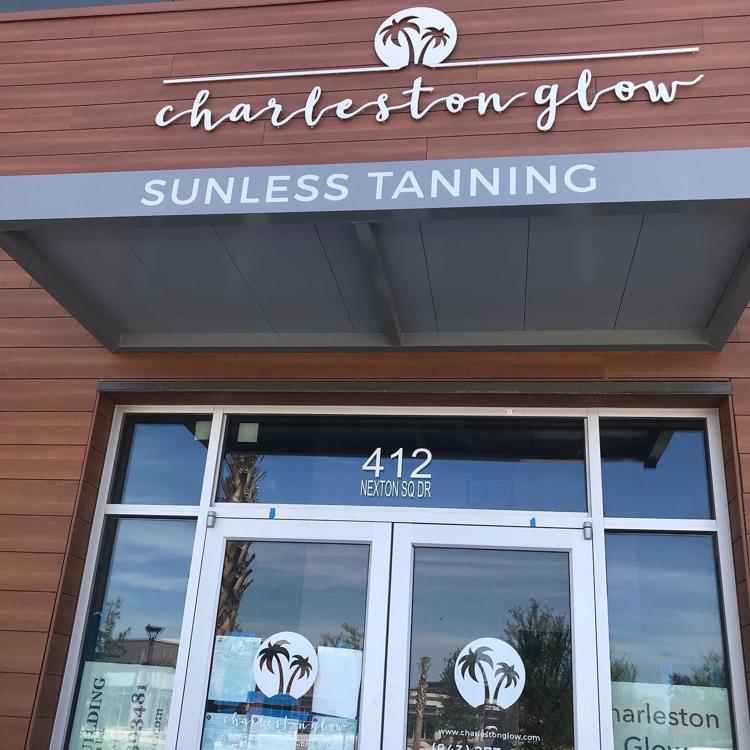 New at Nexton
Four new shops can now be found in the new Nexton Square Shopping Center near Summerville.
Women's apparel shop Bey + Eloise, boutique and gift retailer Simple to Sublime, sunless tanning business Charleston Glow and Chinese restaurant Wok N' Roll are part of the 135,000-square-foot retail center at U.S. Highway 17-A and Brighton Park Blvd. at the entrance to the Nexton community.
Bey + Eloise was previously in downtown Summerville. It occupies 1,272 square feet at 305 Front St. Next door is the 1,114-square-foot Simple to Sublime at 307 Front St. Wok N' Roll is in 1,423 square feet at 410 Nexton Square Drive close to Charleston Glow's new shop at 412 Nexton Square.
They join Halls Chophouse, Taco Boy and Southern First Bank as some of the first shops to open in the new retail site.
Branching out
A patio furniture shop now has a second location in the Charleston region. Palm Casual recently opened at 1024 N. Main St. across from Earth Fare grocery store in Summerville. It's where the Army Navy Surplus Store operated before moving to Dorchester Road in North Charleston over the summer.
"We manufacture our own furniture and are 35-50 percent below retail at our factory stores," owner Aaron Beasley said. "People have a month to try it, and if they don't like it, we pick it up."
The furniture store's other local shop is at 605 Johnnie Dodds Blvd. in Mount Pleasant. Beasley's other stores are Myrtle Beach and Bluffton. The Summerville location is open 8 a.m.-6 p.m. Monday through Saturday.
Coffee day
As part of National Coffee Day on Sunday, Biggby Coffee will offer freebies of its standard brewed offering up to 24 ounces while Bojangles' is offering cups of any size of its Bo'Town Roasters brew for $1, a deal that will extend through the end of the year at participating restaurants. 
East Lansing, Mich.-based Biggby has more than 230 cafes across nine states, including three locations throughout the Charleston area in Goose Creek, North Charleston and Summerville. Another is coming to 903 St. Andrews Blvd. in West Ashley, according to the company's website.
Charlotte-based Bojangles', with more than 750 restaurants across the Southeast, has 10 locations across the Charleston area.
Popping in
A Dallas-based handcrafted boot company will visit a downtown Charleston shopping venue Thursday and Friday to feature special footwear designed through a collaboration with the shop.
Fieldshop by Garden & Gun at 334 Meeting St. in the Dewberry Hotel will hosts the founders of Miron Crosby, a line of boots for men, women and children. Co-founders and sisters Lizzie Means Duplantis and Sarah Means will welcome guests 10 a.m.-7 p.m. Thursday and 10 a.m.-3 p.m. Friday.