A national home builder is staking a larger claim in Berkeley County for a new housing development with hundreds of homes.
An affiliate of Atlanta-based PulteGroup Inc. recently paid $1.687 million for 53 acres on Sheep Island Road at Leisure Lane, just west of the sprawling Nexton tract, according to Ben Chase of real estate firm William Olasov Co.
The site is also across the road from another 24-acre parcel Pulte picked up last June for $1.23 million, according to Berkeley County land records.
That tract abuts the new Nexton Parkway, which connects Interstate 26 with U.S. Highway 176 at Cane Bay Plantation. Both properties sit on the northern part of Sheep Island Road just south of its juncture with U.S. 176.
The two parcels and a third off Leisure Lane yet to be acquired by Pulte will make up a 141-acre subdivision with 357 houses called Bradford Pointe, said Charlie Tipton, coastal Carolinas division president of the PulteGroup.
The Centex-branded homes with seven floor plans will be priced from the low $200,000s. Site work on the 24-acre parcel has already begun, and development of the 54-acre tract will begin this summer, Tipton said. Construction on model homes is expected to start in March with selling beginning in July. Pulte bought Centex in 2009.
While a little farther west than most recent housing developments in the area, the parcels are just south of the 2,000-acre Wildcat Tract where 5,700 homes have been approved next to the 4,500-acre developing Cane Bay Plantation off U.S. 176.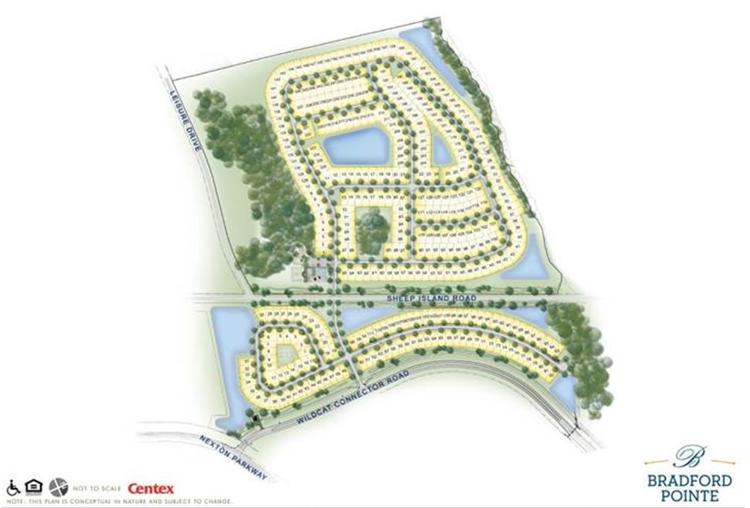 The development also is indicative of the push father westward into Berkeley County for new housing developments. A future street called Wildcat Connector Road will border the new housing development and extend toward the Wildcat Tract, which Gramling Brothers Real Estate and Development Co. acquired in 2016 for $21 million. Gramling also controls the Cane Bay development.
Just south of the planned new subdivision, PulteGroup Inc. is developing the Charleston region's second Del Webb community for the 55-plus set. When completed it will have more than 1,000 homes on 350 acres.
The entire part of Berkeley County just north of Summerville is undergoing a transformation, much of it announced before Volvo Cars decided to build an auto assembly plant just west of three huge housing developments in what was once forest land owned by paper giant WestRock.
Volvo's arrival has accelerated interest in the area.
Besides Cane Bay, the 2,300-acre Carnes Crossroads development at U.S. 17A and U.S. 176 in Goose Creek has seen its first few hundred houses rise along with a developing hospital and the arrival of retailers and restaurants.
Nexton, between U.S. 176 and Interstate 26, also is developing rapidly. The 4,500-acre tract near Summerville already has apartments, retailers, restaurants, hotels, office buildings and several hundred homes, in addition to the developing Del Webb site. 
A retail center is under construction in Nexton's southern end while a Charleston developer recently purchased two tracts on the northern side of Nexton across from Cane Bay, where retail and other commercial uses are planned.