More rooftops soon will rise on an expansive Berkeley County parcel after the nation's largest home builder purchased several hundred acres near Charleston.
Arlington, Texas-based D.R. Horton recently paid $25.2 million for about 604 acres in the Wildcat Tract adjacent to the Cane Bay development off U.S. Highway 176, according to Berkeley County land records.
The large undeveloped parcel is part of the 2,031-acre property bought by an affiliate of Gramling Brothers Real Estate & Development of Charleston in late 2016 for $21 million.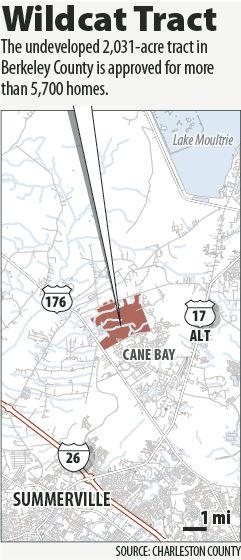 The wooded land between Black Tom Road and Cane Bay Plantation has been approved for 5,700 homes, but Gramling Brothers President Ben Gramling does not believe that many eventually will be built because of wetlands and lot layouts.
"I don't think we will reach that number," he said.
D.R. Horton's purchase represents about 30 percent of the acreage in the Wildcat Tract, which comes out to about 1,700 homes based on the total number allowed on the large parcel. 
A D.R. Horton representative did not respond for further comment about the number of homes planned for the newly acquired property or when construction will begin.
The home builder's purchase is the largest segment of the Wildcat Tract purchased to date, Gramling said. Less than 25 percent of the land set aside for residential use remains available. About 50 acres on the tract are reserved for commercial use.
Gramling said D.R. Horton is familiar with the area since it's involved in building homes in different parts of the 4,500 Cane Bay community, where roughly 10,000 homes have been approved. Just under 4,000 are on the ground or rising, Gramling said.
"All of the builders we have in Cane Bay are excellent builders, and the bulk have been there a good many years," he said. "D.R. Horton is doing well in another section of Cane Bay right now, and they just completed one section with 300 units. They should do well on the Wildcat Tract as well."
Gramling doesn't have another home builder immediately lined up for the next Wildcat Tract purchase, but he said  interest is high.
"We get phone calls on a regular basis from home builders," he said. "It's a great location with three schools, a YMCA, Publix supermarket, and it's still very reasonably priced."
Other builders, including Lennar and Ashton Woods, also have purchased land in the Wildcat Tract over the past few years.
D.R. Horton ranked as the top home builder in the U.S. in 2018 with $14 billion in housing revenue and 47,135 closings, according to housing industry journal Professional Builder. Lennar came in second with $11 billion in housing revenue and 29,394 closings last year.