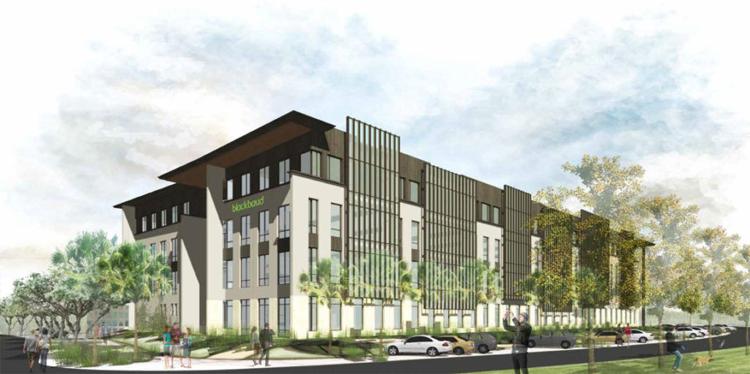 Once a vast expanse of woods and fields, Daniel Island kicked off development in the 1990s at a speedy clip -- it had no place to go but up and out.
The town-like slice of Charleston surged ahead and slowed down periodically construction-wise for 20 years. Arguably, the island's broadening ways pulled back in the past few years as residential space tightened, while large developments such as Volvo Cars and MUSC Health stadiums and Bishop England High School and eight distinct "park" neighborhoods established themselves.
Judging from a ride past the island on Interstate 526, those recent years of more modest growth are ending.
"If you've taken a stroll through downtown Daniel Island lately, you've no doubt seen a lot of construction activity," according to the latest Daniel Island Real Estate online newsletter.
The sale sand marketing company updated the latest projects, while noting "the landscape of downtown Daniel Island is changing." Citing fresh new shops and restaurants, office space for businesses of all kinds and new urban living options in the works, the real estate agency says the island's "vibrant offerings of businesses, services and conveniences for residents and visitors continues to grow."
The list includes the following:
Central Island Square: This center for upscale urban living, shopping and dining is rising in downtown Daniel Island on Island Park Drive. "Residents of the apartments at Central Island Square will enjoy both the convenience of downtown living and amenities such as a fitness center, resort-style pool, outdoor living areas, clubhouse and business center."
Refuel Market & Gas: Nearby on Island Park Drive, the Refuel development is expected to open later this fall. It includes a locally owned convenience store and gas station offering "fresh, healthy food," gas, indoor and outdoor seating, beer and wine, premium steaks and locally-made treats.
Blackbaud: Described as "the world's leading cloud software company for nonprofit and 'social good' organizations, Blackbaud plans to build a new global headquarters on a 13-acre site in the central downtown Daniel Island to accommodate ongoing growth. Blackbaud, headquartered on Daniel Island since 2000, has started site work on the new campus at the corner of Fairchild and Central Island streets. Construction should be complete by early 2018. The company is seeking LEED certification for the environmentally sensitive facility.
Wharf 7 Apartments: Near the entrance to Daniel Island Park, the newly completed Wharf 7 Apartments are available for lease, the real estate agent says. Residents of the 312 apartment home community can enjoy a saltwater pool, dog park, screening room, outdoor living and entertainment areas and a clubhouse, all nearby Governor's Park and Daniel Island's more than 25 miles of trails.
Daniel Pointe: The senior living community rises next to at Wharf 7 Apartments. Resort Lifestyle Communities designs Daniel Pointe as "a friendly community that's luxurious, safe and comfortable." Residents can choose from one- to three-bedroom unfurnished apartments including in-home health care services. There's a community dining room, on-site banking,  salon, general store and pharmacy.
Also in the works are Dockery's, a 10,000-square-foot restaurant that will offer live music and its own on-site brewery on Island Park Drive and Daniel Island Performing Arts Center, a performing arts facility featuring a 400-seat Proscenium Theatre, rehearsal halls and spaces for social events.