Old Charleston is legendary for being wary of change, and decades of economic stagnation after the Civil War certainly helped with that.
But today, that increasingly seems like a distant past, as Charleston's region is growing so fast it's often hard to keep track.
With its metro area sprawling over three counties and including five of South Carolina's 10 largest cities, many places are rapidly transforming into something new.
Recent Census estimates have told part of the story, as the Lowcountry is home to some of the nation's most rapidly growing cities and counties. But there's more to the story than numbers alone; there's the changing feel of places.
Here are six of the most obvious as selected partly from subjective, visual impressions (such as the arrival of many tall new buildings) but also from a desire to touch on the variety of changes taking place:
The base of the bridge, Mount Pleasant
A generation ago, there was little but wetlands where the Cooper River bridges entered this town. But after the Ravenel Bridge opened in 2005 and the pilings of an old bridge were used to create a popular park, many of the town's tallest buildings began popping up.
The most dramatic might be the new Ferry Wharf Hotel and garage, an 80-foot-tall building going up seemingly within an arm's length of the bridge.
Chris Nickels, who lives in the Tides condominiums on the other side, recently jogged the bridge and noticed a big change.
"In the past ... there was nothing interfering with your vision until you got to the other side 2 miles away," he said. "Now, when you hit the bottom of the bridge, you have to go up a mile or so until you get past that building. It's still beautiful, but it's different."
The town's politics have been roiled by concern over development — Nickels, a former Town Council member, lost his 2015 re-election bid because of it — but most of that debate has focused on smaller buildings along Coleman Boulevard, particularly near Shem Creek.
Meanwhile, the bridge's footprint gets more urban by the day.
"If we're going to have tall buildings in Mount Pleasant, it's a much easier fit coming in off of a gigantic bridge where you're coming downhill and they look small, so to speak," he said.

But that's not to say development gets a clear green light here. Bennett was turned down in a bid for more height in his Ferry Wharf project, and plans for a tall Medal of Honor Museum at Patriots Point have drawn flak.
Speaking of which, the changes here are expected to keep coming, even if the museum is never built. Bennett, who is building Ferry Wharf, has much larger plans for nearby Patriots Point property, plans to make it one of the grandest destinations on the East Coast.
Meanwhile, the town is looking to upgrade the intersection where Coleman, Magrath Darby and Patriots Point boulevards intersect. A public meeting will be held Thursday.
Upper Meeting, peninsular Charleston
Old Charleston is dominated by church steeples. The new city taking shape just north of its Old and Historic District, mostly on upper Meeting and King streets, is dominated by buildings far taller than anything possible in antebellum days.
Two decades ago, Charleston's skyline didn't include any construction cranes. Now it's dotted with them, and those arriving via Interstate 26 can have trouble spotting a steeple.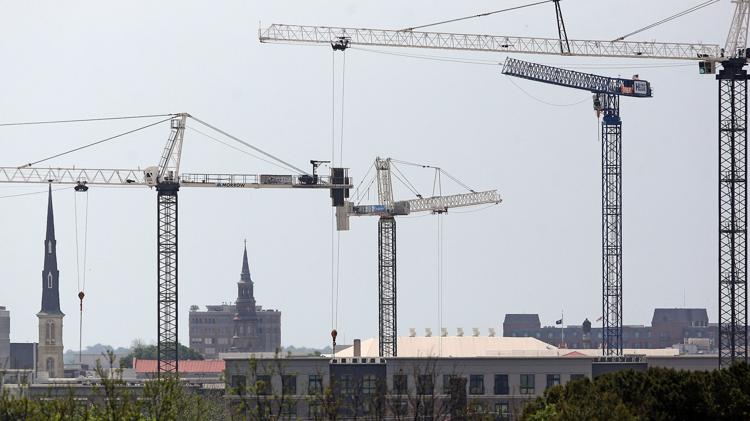 Adam Monroe, a developer with Middle Street Partners, is working on two upper peninsula projects, 55 Romney St. and Foundry Point on Brigade Street. He's well aware of why this area has begun to pop.
"It's easier to get there, easier to park," he said. "It's not overrun by tourists. It's more of a local vibe."
From a developer's standpoint, it's close to downtown but with lower land prices, more liberal zoning, and fewer regulations. It's also in a new federal Opportunity Zone. So the changes could keep coming.
"We may be looking at some projects for the area that might be more in the 8- to 12-story range," he said.
The new buildings line up with the city's zoning rules, which call for the tallest buildings along the peninsula's spine. Meanwhile, the city recently split its Board of Architectural Review into a board for large building and one for small ones, all the better to try to ensure these larger buildings are designed as well as they can be.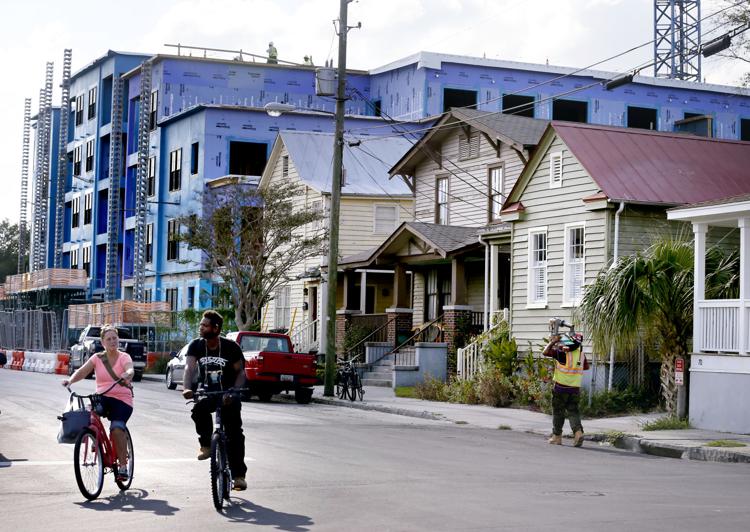 While most call the area the "upper peninsula" (or NoMo for its north Morrison Drive stretch), it's becoming a new part of urban Charleston, complete with its share of famous restaurants.
"Something over time emerges as a popular name for a neighborhood," Monroe said. "We usually call it 'Upper Peninsula.' Sometimes we half joke and say it's the 'barbecue district.'"
Maybank Highway, Johns Island 
Mark Brandenburg, like many people, moved to Johns Island years ago because he liked its rural feel.
As more people follow suit, that rural feel is changing fast.
It's not all for the bad. Brandbenburg likes to visit Wild Olive and Low Tide Brewing, and he hopes the island's growing population will bring another grocery store soon.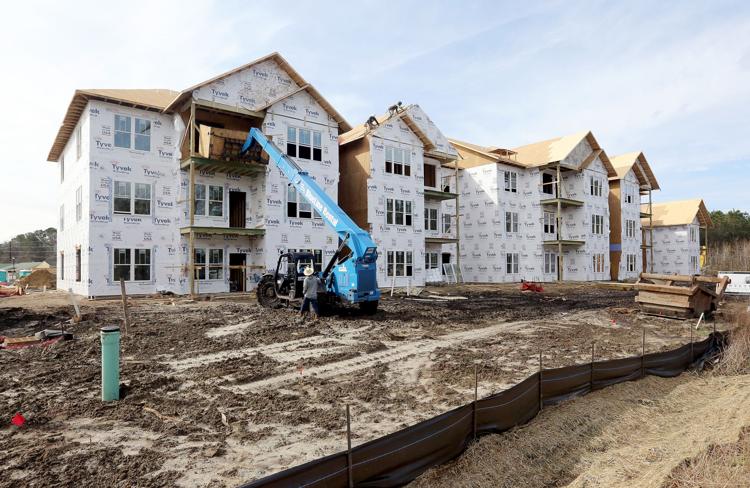 But the wave of new residential development, particularly along Maybank Highway between River and Main roads, remains a big concern. At Crowne Commons, a new four-story apartment complex can be a jarring site along a stretch of Maybank where buildings were seldom more than one story.
Brandenburg, who also serves on the Johns Island Growth Management Committee, said he knows about 10,000 new units already have been approved, and beyond the pressing concerns over traffic congestion and poor drainage, many fear the island is losing what drew many there in the first place.
"If you want to live in an area where there are dozens of those close-packed subdivisions and Old Navies and Starbucks and everything else, we have Mount Pleasant," he said. "That is not why I moved to Johns Island. It was rural, It was quiet, It was a slower kind of life."
The Remount Road area
Not all rapidly changing areas are defined by tall new buildings. Some are defined by new people and energy.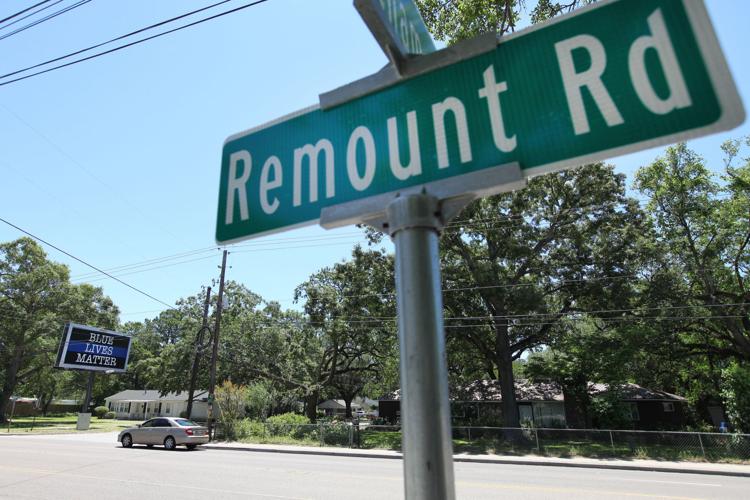 Since 2010, there has been a 22-percent growth of South Carolina's Hispanic population, adding about 50,000 residents to the state. Last year, Hispanic residents made up almost 6 percent of the state's population, and more than 10,000 live in North Charleston.
The Remount Road area, which includes parts of North Charleston and Hanahan, is one place where their presence can be clearly seen.
Taco stands, food trucks, restaurants, bakeries, grocers, repair shops and other Hispanic-owned businesses are credited with revitalizing an area of the city that has suffered from blight after the Charleston Naval Base and Shipyard closed two decades ago.
Spanish-speaking immigrants seeking a better life see opportunity in commercial real estate affordability and the chance to make a living supporting a diverse cast of residents with shopping opportunities.
Dorothea Bernique, executive director of Increasing Hope, has seen the transformations since her nonprofit opened shop on Remount Road about six years ago.
"There are new businesses up on this end, and you see a little bit of increased activity," she said. "It's really stretching the length of Remount in general."
While these new businesses and residents haven't necessarily transformed the road, they have given it new life. "I believe it's in the beginning of that transformation stage," Bernique said.
There's even concern about gentrification occurring in Charleston Farms, which sits south of Remount and has been one of North Charleston's most crime-ridden neighborhoods. Many greeted a new community park there but are wary about rising rents. 
Last year, the city of North Charleston held its first course of the Citizens Public Safety Academy offered entirely in Spanish. It aimed to build deeper trust and connections between the city and its communities, especially those who might be wary about trusting authorities.
Berkeley's 'mega-cluster' 
Berkeley County's mega-cluster, including the Cane Bay, Carnes Crossroads and Nexton planned developments, are in the process of creating a new urban area roughly the size of present-day Mount Pleasant.
And the nearby Volvo car plant hasn't even opened yet.
The Charleston metro area has grown rapidly to the west for decades, fueled by proximity to Interstate 26. These mega-developments continue that trend (and led to the addition of a new interstate interchange, just west of Summerville's).
For Tim Stephenson, chief of the Whitesville Volunteer Fire Department since 2002, "It's been exciting but extremely challenging at the same time."
"We started with nothing but woods and dirt roads and now we have a massive housing projects and three large schools already filled to capacity, along with commercial properties," he said.
Things are changing quickly at Nexton, where the population could reach 30,000 once fully built out. Another 30,000 residents could live in Cane Bay, and about 15,000 more in Carnes Crossroads. These three adjacent developments cover an area about the size of the town of Summerville. Meanwhile, the area increasingly is becoming a medical hub, and the county is scrambling to widen roads, particularly U.S. Highway 176.
Whitesville is scrambling, too: The department has seen its number of volunteers rise from 27 to 47 during the past decade, Stephenson said, but its number of calls have tripled. It has two stations and is eyeing as many as three more. It's roughly doubling its number of full-time and part-time employees.
"Of course, all of us are trying to play catch-up," he said.
Knightsville, Summerville
Dorchester County Sheriff L.C. Knight doesn't know exactly when Knightsville took on its current name, but he knows it was well before he was born there 76 years ago.
Knight is far more sure of how this once-rural crossroads, where Orangeburg Road crosses Central Avenue on Summerville's western edge, is a very different place than what he remembers growing up.
His father's store and related strip mall are long gone, replaced with a Walgreens.
In fact, Knight said the area used to be known as Knightsville but also Sweatsville and Slandsville, until it all grew together.
"As a young man, I rabbit hunted," he said. "Now, if you shoot a gun, you'll hit a house. It's grown to the point where there's no place at all where you could any kind of hunting."
Residents here used to farm, work at a sawmill or catch a bus to work at the Navy Yard. "At one time, when I was running our little store, the delivery drivers would stop there to find out who lived where."
During the past 15 years, a rash of new subdivisions has led to a surge of new residents and new businesses to serve them. Today, they work all over, and Knight said where he used to know where 90 percent of local residents lived, he probably knows fewer than 10 percent today.
But occasionally, folks in Knightsville can get a glimpse of the area's rural roots.
Like the day earlier this month, when a goat showed up at Zaxby's and chased an employee around restaurant before a police officer arrived and apprehended it.
Cleve O'Quinn, Brenda Rindge, David Slade, and Gregory Yee contributed to this report.