Two of peninsular Charleston's many high-profile construction projects are wrapping up, and the first apartments soon will be available.
First, initial leasing of some of the 350 units in the nine-story 10 WestEdge building at Lockwood Drive and Spring Street will begin May 1 with move-in set for later in the month, according to Michael Maher, CEO of the WestEdge development on the western side of the peninsula.
The building also includes the recently opened Publix supermarket on the ground floor along with other retail tenants and 870 parking spaces on several floors upstairs.
Rental rates range from $1,579 to $2,054 for studio apartments, $1,623 to $2,070 for a one-bedroom unit, and $2,137 to $7,063 for a two-bedroom apartment. Some of the one- and two-bedroom units come with dens, according to Ed Schellenger, community manager for 10 WestEdge.
Construction will continue on the building and is expected to be completed by late summer.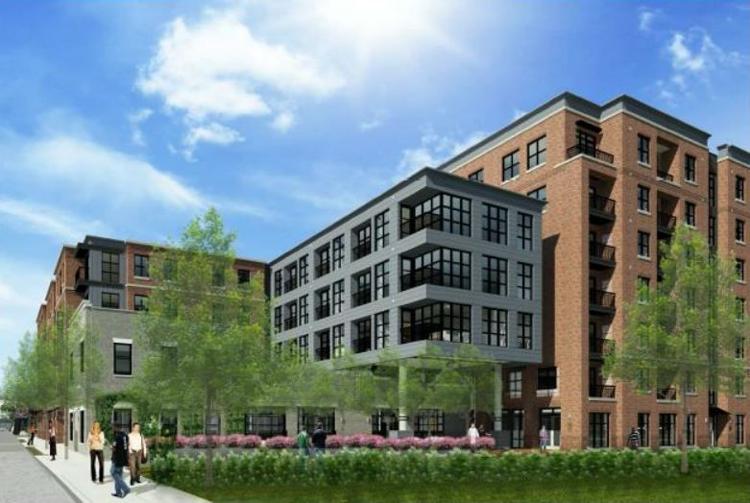 The other apartment development nearing completion is on the upper peninsula.
Named for its address, the mid-rise Five Eleven Meeting's 221 units are set at the end of the Interstate 26 off-ramp to Meeting Street. It will open July 1 and includes on-site parking and "the most common space of any apartment community on the peninsula," according to the developers.
Units range from 439-square-foot studios to 1,168-square-foot apartments with two bedrooms and two bathrooms. Prices start at $1,639 and go to $3,466, according to rental website apartments.com.
The apartments are built around what was originally a Charleston grocery store. Elements of that structure remain and will house two studio apartments and select retail.
The complex includes a fitness center and yoga studio, a dog-washing station, bike storage area, pool, double-sided fireplace, prep kitchen and bar, community cafe and lounge, private conference rooms, al fresco dining on two floors and communal work and play space.
Custom playlists and a signature scent will help create the atmosphere unique to the project.
"This whole area is coming to life," senior property manager Dan Boyle said.
The project is a joint venture of Origin Investments of Chicago, Spandrel Development Partners of New York and Charleston, Aspen Heights Partners of Texas, and equity partner Northwestern Mutual of Milwaukee. CF Real Estate Services of Atlanta has been selected as the property manager.
Spandrel also is a partner with Virginia Beach-based Armada Hoffler Properties in two nearby student apartment developments under construction. They include the 74-unit Hoffler Place at 595 King St. and the 114-unit Summit Place at 530 Meeting St., diagonally across from Five Eleven Meeting.
Topping out
Topping out, a tradition of celebrating the placement of the highest beam on a building, traces its roots back to an ancient Scandinavian religious rite of placing a tree atop a new building to appease the tree-dwelling spirits displaced in its construction.
The practice eventually spread to England, then northern Europe and later America, where it is still celebrated in different forms, such as workers signing a beam painted white that's then hoisted into place. To not do so is believed to bring bad luck.
At the latest WestEdge building under construction on the Charleston peninsula — the 22 WestEdge mixed-used office, retail and laboratory structure rising beside the nearly completed 10 WestEdge anchored by Publix supermarket — a topping-out ceremony is set for 4:30-6:30 p.m. Thursday.
Among the tenants lined up to move into 22 WestEdge are the S.C. Research Authority, the Medical University of South Carolina, the City of Charleston, WestEdge Foundation, Heritage Trust Federal Credit Union and the Harbour Club.
Work is expected to be completed next year.