MONCKS CORNER — Google's South Carolina data center will be one of its five largest when the technology giant finishes work on three behemoth buildings next year, renewing questions about the company's plans to cool banks of new servers with millions of gallons of groundwater.
Questions about Google's water use have simmered for years. It's allowed to use half a million gallons a day, and it asked for permission in 2016 to take even more — to the tune of 1.5 million gallons daily.
That plan fizzled out under pressure from environmental groups and state regulators, even as the company broke ground on a $600 million expansion that will make the Berkeley County data center one of its largest.
But the water issue threatened to return to the fore Friday when Google once again asked the S.C. Department of Health and Environmental Control to update its water permit. DHEC confirmed late Friday that it was reviewing the application, but details weren't immediately available.
Google, for its part, doesn't appear to be backing off its original plan. The company continued to call for 1.5 million gallons a day in a request provided to The Post and Courier, and it continued to point to analysis of the aquifer that runs beneath Berkeley County.
It describes its water use as "insignificant," saying the data center would take in less than 1 percent of the 200 million gallons that flow daily from the Midlands to the ocean.
Its new pitch opens with the same premise as one it floated years ago: "As we seek to expand our data center in Berkeley County ... we anticipate needing more power to run the services, and more water to cool them."
But this time, the expansion is imminent. Construction has been underway for months off U.S. Highway 52, and it's expected to keep going through the middle of 2020, according to Jason Jenkins, who's managing the project. The site in Mount Holly Commerce Park is staffed with more than 1,000 workers, who are scheduled to finish a pair of new data center buildings this year.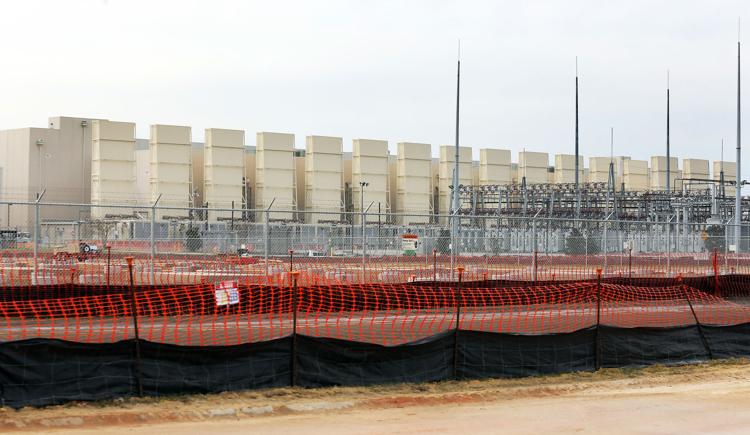 Google hosted a delegation of elected officials at the site on Friday in a rare public display of a tightly secured facility. Speaking in front of a huge construction site, Gov. Henry McMaster touted the cachet the company's plans lent to South Carolina, and county supervisor Johnny Cribb boasted about what Google's tax bill could pay for, such as 60 emergency medical technicians.
News of the South Carolina expansion were first reported last fall, when Berkeley County approved a property tax deal for the new additions.
The event dovetailed with Internet giant's national push to expand the infrastructure that powers the services that have made it ubiquitous — pulling together search results, running email, finding directions and serving ads. And it highlighted how the Lowcountry has burrowed deeper into that infrastructure.
Google CEO Sundar Pichai said this week that the company would spend $13 billion on real estate projects, including a handful of data center projects like the one in Moncks Corner. He said the company would employ tens of thousands of construction workers nationally, including the crews working here. The company says it's building or expanding seven data centers, from Nevada to the East Coast. 
The local expansion plans call for an investment of $600 million, bringing the company's total spending in South Carolina to $2.4 billion in the decade since it first arrived.