The first of 10 convenience stores planned for the Charleston region in a $50 million investment will welcome customers this week.
Savannah-based Parker's Kitchen will launch its first area location at 5 p.m. Friday at 115 S. Highway 52 in Moncks Corner. Two more stores are in the works for the Berkeley County seat.
Other planned locations include two in Summerville and Goose Creek, and one each in West Ashley, North Charleston, and Cane Bay in Berkeley County. 
Most are slated to open by year's end. The company recently applied for a permit to fill about three acres of wetlands near Ancrum Swamp on College Park Road near Interstate 26 for a second Goose Creek area store.
The 17-acre parcel sits near Treeland Drive. The other site in the city is under construction on Red Bank Road.
Parker's also is initiating a new program called DailyPay for its employees that allows them to draw money from their paycheck as it's needed. On pay day, employees will receive the untapped balance. It launches Monday.
The retailer plans to employ about 1,200 people in the Charleston region once all of the announced stores are built. A regional office may be in the works as well as the company expands up the coast.
Parker's currently operates 57 stores in Georgia and South Carolina, mainly around the Savannah area. It has 14 in Beaufort County. Another is under construction in Walterboro, just outside the Charleston metro area. It's expected to open this fall.
Opening giveaway
Want a free pizza Friday? Download the Blaze Pizza app for a giveaway all day Friday.
As part of the new Mount Pleasant pizzeria's opening celebration — it actually opens Thursday — the LeBron James-backed dining concept will give away its signature item 11 a.m. to 11 p.m. Friday, and it's trying to break a record with the gratis grub.
"Our record for free pizzas given out is 2,700, and we'd love for our new Charleston-area restaurant to beat that," company spokesman Joshua Levitt said.
Blaze Pizza, so named for its open-fired offerings, can be found in Indigo Square Shopping Center next to Publix supermarket's recently opened GreenWise Market.
James, the NBA superstar star now playing with the Los Angeles Lakers, expressed interest in the chain in 2012 shortly after its founding.
The 2,800-square-foot, open-kitchen restaurant at 1701 Shoremeade Road off U.S. Highway 17 seats 80 on the inside, offers a shared exterior patio, uses eco-friendly packaging and was built with recycled and sustainable materials.
Customers can customize a personal pizza from the menu or create one of their own for about $8. Pizzas feature made-from-scratch dough every day and all-natural meats and vegetables. They are finished in an open-flame oven, which cooks pizzas in three minutes.
The restaurant will employ 50 workers and said it will be involved in the community through fundraisers.
"Our mission at Blaze is really simple — we're taking pizza back to its roots," CEO Jim Mizes said in a statement. 
The chain has two other locations in South Carolina. Both are in Columbia.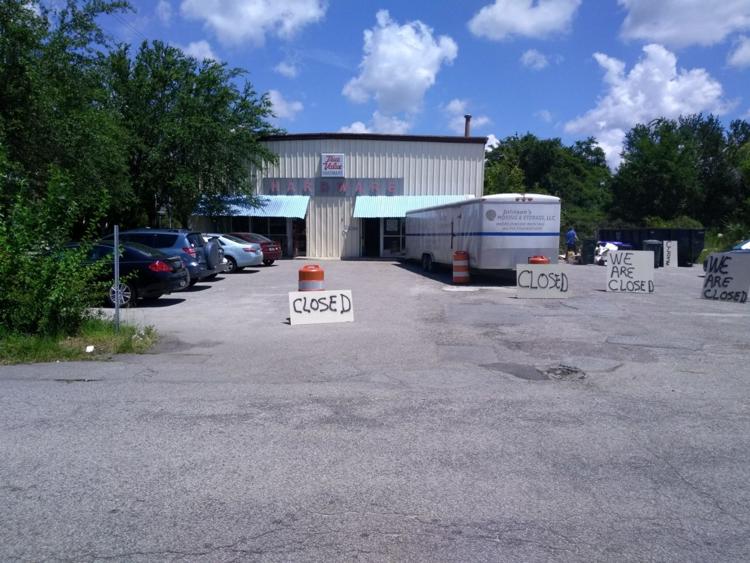 Making a move
Downtown Charleston's last conventional hardware store is moving northward.
East Bay True Value Hardware closed Wednesday to move from its corner spot at Society and East Bay streets to its new location at 1409 King St., according to shop owner Kimberly Hines.
The new 8,500-square-foot store site, formerly occupied by Blu Gorilla Tattoo, will reopen one day next week, pending city inspections and a certificate of occupancy, Hines said. Once the hardware store move is completed to upper King, the store will have a grand opening event, probably in late summer or early fall, Hines said.
Buck Investments Limited bought the hardware store property and the adjacent buildings along East Bay housing Domino's and Delta Pharmacy in 2016 for $3.5 million. Domino's plans to move to 99 WestEdge across from Joe Riley Stadium while Delta's lease has been extended, according to building owner Eddie Buck.
Buck has said he has no immediate plans for the East Bay Street property.
Cool treat
Downtown Charleston's newest ice cream shop will arrive just ahead of the usually steamy Fourth of July holiday.
Off Track Ice Cream will open at 1 p.m. Saturday at 6 Beaufain St., according to owner Alissa Zera.
In its initial launch the shop will offer soft hours 1 p.m.-8 p.m. through July 4. Normal business hours of 10 a.m.-10 p.m. Sunday through Wednesday and 10 a.m.-11 p.m. Thursday through Saturday will begin July 5.
Auto overhaul
A West Ashley luxury automobile dealer plans to upgrade one of its facilities.
Wilmington-based Monteith Construction Corp., which has an office in Charleston, recently filed a notice to modernize the Baker Infiniti building at 1513 Savannah Highway. The notice calls for construction of a two-story, 7,550-square-foot automobile showroom.
Now serving
Fast-casual seafood restaurant A.W. Shucks is now open at 208 King St. in downtown Charleston. It's open 11 a.m. to 8 p.m. every day, according to owner John Keener.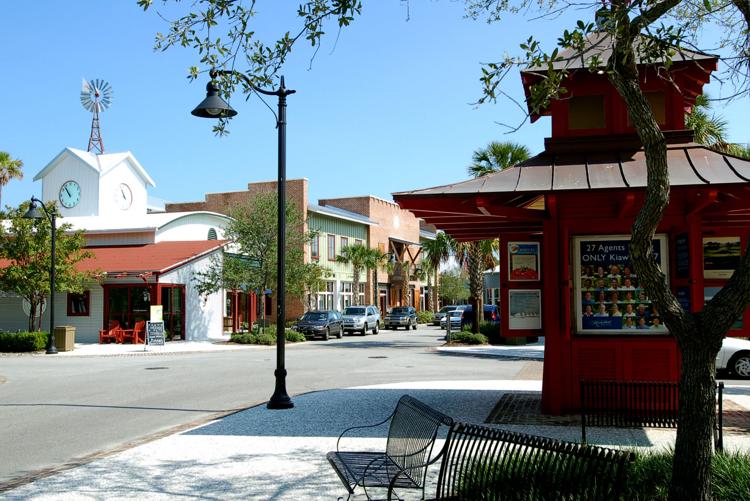 Pet project
The upscale shopping center between Kiawah and Seabrook islands has made room for Fido and his furry friends.
Freshfields Village will launch DogSpot on Thursday next to the Harris Teeter supermarket. DogSpot is an air-conditioned and heat-equipped shelter for dogs that accompany their owners to the shopping center.
The dog house has an inside puppy cam so owners can keep an eye on them via a phone app. It also has an auto-sanitizing feature using UV light to kill bacteria and is remotely monitored around the clock. 
In a related note, several shops at Freshfields now feature decals in their windows letting customers know where pets are allowed.