The list of tenants coming to a developing shopping center on the edge of Charleston continues to grow.
In addition to several retailers and restaurants previously announced, such as Halls Chophouse and Taco Boy, Nexton Square near Summerville has lined up 20 other businesses to take space in the 140,000-square-foot retail destination opening next summer.
The expanding merchant list brings categories in clothing, accessories, restaurants, entertainment, beauty, fitness, healthcare and finance to the area.
Among the recently signed tenants are Poogan's Southern Kitchen, Southern First Bank, Tropical Smoothie Cafe, Vicious Biscuit, Bad Daddy's Burgers, DB's Cheesesteaks, Wok N Roll, Bar Louie, Guinot Skincare, Title Boxing, Simple to Sublime, Bey + Eloise Apparel, Wild Birds Unlimited, Sportsbook and Trident Dentistry.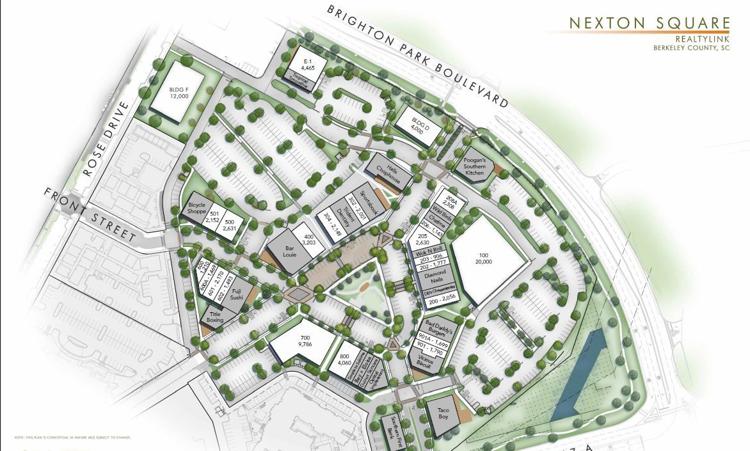 In addition to Halls Chophouse and Taco Boy, tenants previously announced include Fuji Sushi, Optical Impressions, Chatime & Ice Cream Cafe, The Bicycle Shoppe and Diamond Nails.
"Summerville is poised for continued growth, and Nexton Square provides a shopping and dining destination for people that live and work in the area," said Charles Fitzhenry, who is handling leasing for developer RealtyLink of North Charleston. "Because of this, it's important that Nexton Square offers a walkable and interactive experience for guests."
Twenty-three spaces remain to be leased in the $40 million shopping center on 17 acres at U.S. Highway 17A and Brighton Park Boulevard. The retail site is made up of different buildings instead of one large enclosed shopping area. Build-out is expected in 2020.
The shopping center is being built on the edge of Nexton, a 4,500-acre, mixed-use development that will have more than 6,500 homes eventually. A few hundred houses, along with apartments, hotels, office buildings and restaurants, are already on the site near the juncture of Interstate 26 and U.S. Highway 17A.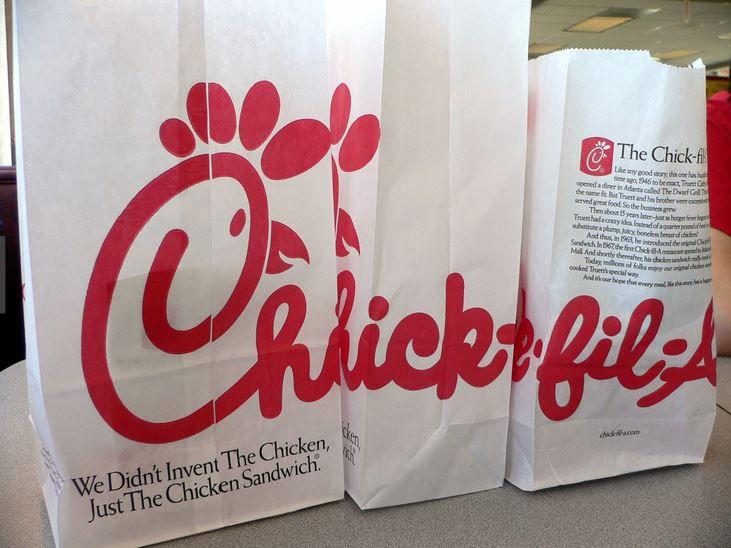 Pecking at the door
For customers tired of waiting in long lines at Chick-fil-A, doorstep delivery is on the way in some markets.
The Atlanta-based restaurant chain on Wednesday rolled out delivery from more than 1,100 locations in the U.S. through a partnership with delivery service DoorDash.
To mark the occasion, Chick-fil-A is giving away 200,000 free chicken sandwiches in participating cities through Tuesday when an order is placed through DoorDash.
The giveaway is available through the DoorDash app or website with a $5 minimum order, using the promo code CFADELIVERY. It's available after 10:30 a.m. Deliveries will be made within a 10-minute radius of participating locations.
A Chick-fil-A spokeswoman said several Charleston-area locations are participating. Check with local restaurants to determine if they are included.
What's cooking?
High-end cookware maker Le Creuset will open its first outlet location in South Carolina on Monday at Tanger Outlets in North Charleston. The grand opening, with special savings and a free tote bag with any purchase, will run through Nov. 21. Customers also can register to win a Dutch oven.
Store hours will be 9 a.m.-9 p.m. Monday through Saturday and 10 a.m.-7 p.m. Sunday.
The new store is located near American Eagle in Suite 421. The France-based company has its U.S. sales and marketing office in Charleston.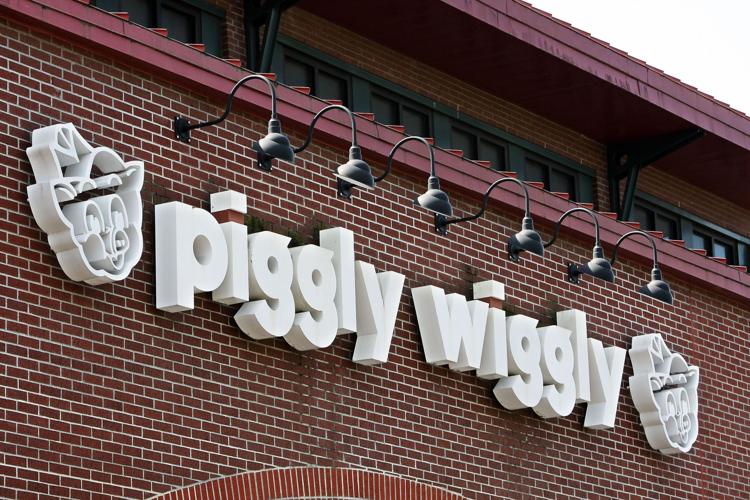 On the shelf
The Pig continues to nudge its way back into the South Carolina grocery industry.
A new Piggly Wiggly opened this week in a former 21,000-square-foot Bi-Lo store in St. Matthews as the only supermarket in Calhoun County. It follows the recent addition of two Piggly Wiggly supermarkets in former Bi-Lo stores in the Charleston area.
The franchise owner in St. Matthews is Gary Jones, who once operated a store for the now-defunct Piggly Wiggly Carolina Co. of Charleston. All of the new Piggly Wiggly stores in South Carolina are independently owned.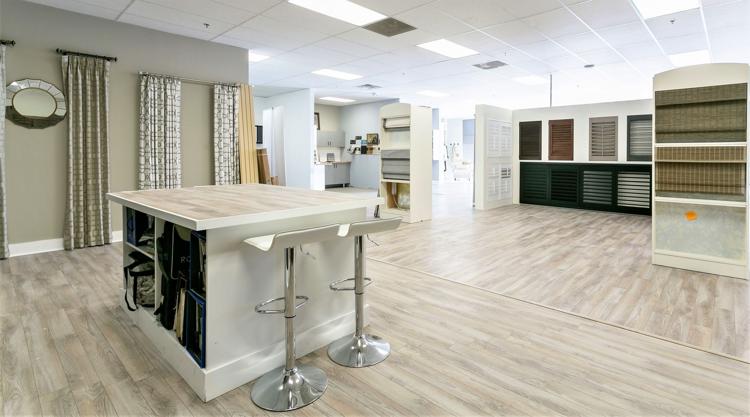 Window treatment
A window-covering retailer is consolidating two suburban locations into a new site in North Charleston.
Budget Blinds recently opened a 7,500-square-foot showroom and design center at 4950 Centre Pointe Drive, Suite 136, across from Tanger Outlets and behind Chick-fil-A.
The company, started in 2004 by local franchisee Merv Epstein, whose son Adam Epstein is now a co-owner, will move its showrooms in Summerville and West Ashley to the new location while initially keeping its Mount Pleasant site open.
The new showroom will feature several product displays, offering design ideas and more than 100 product samples for all types of blinds, shutters, shades and other window treatments. Design consultants also are on hand to help customers with styles and budget options.
A new division of the company, Tailored Living, will feature innovative storage and organization solutions for the home, office and garage. It will operate out of the new showroom, and Polly Epstein (no relation) will oversee the storage solutions business.
Cutting the cake
Summerville welcomed a new sweet shop Wednesday.
Nothing Bundt Cakes cut the ribbon on its new location at 1202 N. Main St., Suite 101. The bakery has another site in the Charleston region in Mount Pleasant.
Lights out
An Upstate-based dining chain recently closed one of its two North Charleston locations.
The Denny's restaurant at 5270 International Blvd. has a hand-written sign taped to the front door that reads, "Closed." It's other diner at 2280 Ashley Phosphate Road remains open.
The parent of the Denny's chain is based in Spartanburg.
Getting fit
A new nutrition site recently leased space in Belle Hall Shopping Center in Mount Pleasant.
Profile by Sanford offers nutrition, activity and lifestyle coaching to help members lose weight and keep it off, according to shopping center developer American Asset Corp.
Grand opening is set for 4-7 p.m. Thursday. The first 150 members will be offered a $50 introductory membership rate.
Silver celebration
A women's clothing store in downtown Charleston is celebrating its 25th anniversary.
Worthwhile at 268 King St. will offer a meet-and-greet 1-6 p.m. Saturday with local designers Erin Reitz and Leigh Magar and, from Paris, Marc leBihan and Jean Francois Mimilla.
The store will donate a portion of its profits in November to The Halsey Institute and Lowcountry Local First. Worthwhile's owner is Robben Richards. 
Trunk show
Maris|DeHart women's clothing boutique will offer a trunk show 1-4 p.m. Saturday at 32 Vendue Range in downtown Charleston.
Hart Hagerty of Hart Studio will be on hand to feature her tassel earrings and other creations.
Holiday happening
Mount Pleasant Towne Centre will light up for the holidays at 6 p.m. Saturday.
The 12th annual event on Belk Drive will include a laser light show, live performances by the East Cooper Baptist Church Orchestra and Choir and the Showstoppers Troupe from Musical Theater Center, giveaways from Towne Centre, the lighting of the 40-foot-tall Christmas tree and a visit from Santa. Food and drinks will be available along with children's activities and giveaways.
Also, the shopping center has partnered with the Leukemia & Lymphoma Society to raise funds. Volunteers will be selling foam glow sticks and blinky rings.
Local focus
The holiday season is rushing in, and shoppers are reminded to support locally owned businesses once again.
Buy Local Month returns Thursday through Dec. 15. It's a Lowcountry Local First initiative to encourage people to buy local and keep holiday dollars flowing within the community.
Look for "Buy Local" badges on participating storefronts and utility pole banners on King Street, in Park Circle and other venues.