A five-story office building under development in Mount Pleasant is nearly half leased.
Portside, a 120,000-square-foot project of Atlanta-based Holder Properties, will house Serendipity Labs Coworking of New York in 30,200 square feet and Merrill Lynch Wealth Management in about 25,000 square feet, according to a source familiar with the project.
The waterfront building near Patriots Point will share a parking deck with a proposed 165-room Embassy Suites Hotel under construction nearby in Ferry Wharf. The office building is expected to open next spring.
"Holder Properties is excited to be a part of this unique community and deliver one of the few waterfront office buildings in the Charleston area," said John Holder, CEO of Holder Properties.
Among Holder's other Charleston-area projects are Blackbaud Inc.'s new corporate campus on Daniel Island and the River Oaks Center Office Building in North Charleston.
Serendipity Labs also will open a 33,000-square-foot space in Garco Mill at 4854 O'Hear St. in North Charleston.
Millions for multifamily
Three more apartment communities around Charleston recently changed hands for a combined total of nearly $95 million, extending a long run of horse-trading in the region's multifamily sector.
The largest of the bunch by dollar value was in North Charleston, where the 290-unit Latitude at Wescott at 9580 Old Glory Lane sold last week in a deal valued at $41.5 million, or about $143,100 per key, according to Dorchester County land records.
The buyer, Latitude at Wescott Investments LLC of Salt Lake City, assumed about $25.7 million in existing debt as part of the deal. Locally based Chartwell Holdings affiliate Chartwell Wescott was the previous owner. It paid $39 million for the now-10-year-old property, formerly called Avana at Westcott Plantation, in 2015.
Next up also was in Dorchester County. Arbor Village Apartments at 10825 Dorchester Road in Summerville fetched $35.4 million, or $147,500 for each of 240 dwelling units. The buyer was The Mark at Dorchester LP of Lake Park, Fla. The sale was part of a $275 million deal involving six properties and 1,863 units in four Southeastern states. The new owner is affiliated with Tampa, Fla.-based American Landmark Apartments.
 On James Island, Sawgrass Investment Properties LLC recently sold the 144-unit Sawgrass Apartments at 35 Crosscreek Drive on James Island for $18 million, or $125,000 per unit. The purchaser was Burlington Capital Group, according to Berkadia, a joint real estate firm of Berkshire Hathaway and Jefferies Financial Group. Over the past few years Sawgrass, which was built in 1975, has undergone a significant renovation on more than 60 percent of the interiors. The new owner will continue the work and improve the common areas. 
More offices
Charleston's upper peninsula is getting a little more crowded.
A North Carolina development firm wants to build a five-story office building and parking deck at 1940 Algonquin Road. That's off Meeting Street behind the new US Foods Chef'Store opening Sept. 13 near the Pepsi plant.
Charlotte-based White Pointe Partners will ask the city of Charleston's Design Review Board Tuesday to consider its proposal.
Also, the board will consider preliminary approval to build a new eight-story apartment building with ground-floor retail at 1304 Meeting St.
The 323-unit structure is planned for the site of Charleston's Rigging and Marine Hardware, which is moving to the former Navy base in North Charleston.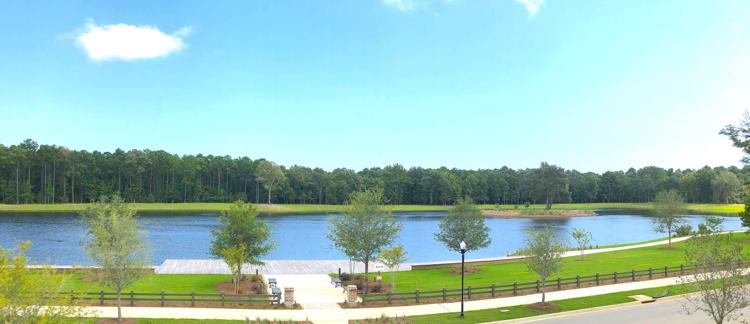 Water attraction
A developing northern Mount Pleasant mixed-use community recently completed construction of a 20-acre lake where pricey homes ranging from the $600,000s to more than $1 million will rise.
Bolden Lake will serve as the centerpiece of custom homes in the Riverside neighborhood of Carolina Park. It features an expansive boardwalk extending out over the lake, a landscaped park, an island and waterfront living. Eventually, a nearly mile-long nature trail will encircle the lake.
More than 250 acres, nearly half of the Riverside development, will be set aside for green space.
"The park and the lake enhances that," said Brian Keels, chief operating officer of Carolina Park. "They'll provide a place for people to meet, fish, kayak, paddleboard and enjoy the great outdoors together, while also serving as a home and habitat for birds and aquatic life."
Work has already begun on several of the custom homes that will overlook Bolden Park.
The 1,700-acre master-planned community features a newly opened Costco Wholesale, schools, fire and police station, and a hospital.