You're seeing the Post and Courier's weekly real estate newsletter. Receive all the latest transactions and top development, building, and home and commercial sales news to your inbox each Saturday here.
Charleston among best places in SC to secure a mortgage, study says
So where is the best place in South Carolina to borrow money and buy a house?
Charleston County comes in at No. 2 on a list compiled by online financial advisor SmartAsset. Horry County, home to Myrtle Beach, is No. 1. Lancaster County, near Rock Hill and Charlotte, rounds out the top three.
SmartAsset analyzed data on mortgage approval rates, interest rates, average five-year borrowing costs and property taxes on a $200,000 loan with a 20 percent down payment. The coast, the Upstate and the Piedmont dominated the top 10.
Horry is just above Charleston in the loan funding rate with 64.3 percent, but it has the lowest property taxes in the state, at under $5,000. Its overall mortgage market index is 54.5 percent.
Charleston's loan funding rate pushes a full 64 percent, but the tax burden is higher at $6,300. Its mortgage market index comes in at 53.6 percent.
Greenville County comes in fourth with the highest loan funding rate among the top 10 at 65.7 percent, but it has the highest property taxes in the group at more than $9,000. Its mortgage market index is 52.9 percent.
Others in the top 10 include York (Rock Hill), Oconee (Walhalla), Pickens, (Clemson and Easley), Beaufort (Hilton Head), Anderson (near Greenville), and Aiken (near Augusta, Ga.)
The loan funding rate for all of South Carolina is 50 percent. The loan funding rate for all of the top 10 is 60 percent or higher.
---
Want to receive this newsletter in your inbox every Saturday? Sign up for free.
---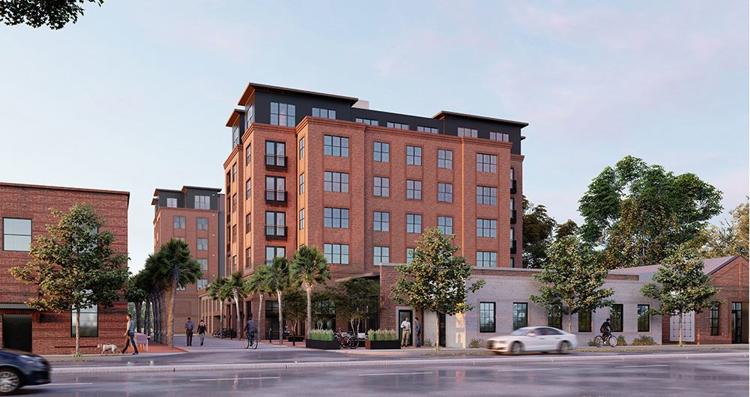 A seven-story building with 118 units will soon rise in a new apartment structure to be called The Porter at 577 Meeting St. It sits in the middle of several other mid-rise multifamily buildings near the Ravenel Bridge.
By the numbers
83: Number of seats in Charleston International Airport's new passenger lounge that opened earlier this week.
14: Number of Publix supermarkets now in the Charleston area after the latest grocery store opened earlier this week in Point Hope Commons Shopping Center in Cainhoy Plantation off Clements Ferry Road in Berkeley County.
22: Number of jobs being added in a $2 million expansion of Smithey Ironware Co. in North Charleston, where the firm designs and manufactures premium cast iron and carbon steel cookware.
This week in real estate
+Land lease rules: Military-based tourist attraction Patriots Point in Mount Pleasant adopts new rules for nonprofits looking to rent some of its waterfront property. 
+Affordable housing: Cities test many solutions for the affordable housing crisis unfolding across the nation. Charleston is no different.
+Buried treasures: A city project helps to keep College of Charleston students' tossed-out furnishings off the streets by sorting and donating some items.
In the heart of a rapidly developing part of the upper peninsula, Bridgeview Village Apartments is home to some 300 low-income families. It's privately owned by a California company that plans to sell the complex. Charleston officials are worried about the potential loss of affordable housing.
Home owning workshops: Origin SC offers free seminars on home ownership, credit and budgeting Aug. 6-17 at various times and places.
Fair housing class: Attorney Chris Loebsack will lead a class on fair housing noon-2 p.m. Aug. 15 at Crowne Plaza Hotel in North Charleston. $59/member, $109/non-member.  Includes lunch. RSVP by Aug. 6
Charleston-area transactions
Did a friend forward you this email? Subscribe here.
Craving more? Check out all of the Post and Courier's newsletters here.