The longtime home field of the Charleston Battery has been sold and will be redeveloped after the professional soccer team closes out its 2019 season on Daniel Island.
An affiliate of Atlanta-based Holder Properties Inc. purchased MUSC Health Stadium for $6.475 million on Friday, six weeks after buying the neighboring former Blackbaud Inc. headquarters building for $35.5 million.
The latest deal kicks off a minimum six-month master planning process for the newly acquired 11-acre site, CEO John Holder said Wednesday.
"We're going to take a big-picture look at it and create, hopefully, a village kind of concept," he said.
The redevelopment project would likely include a mix of townhomes and commercial buildings where the 20-year-old outdoor sports and event venue now stands.
"Were looking at retail space. We're looking at more office space. And there's a lot of greenspace potential," he said.
The Battery plays its last home match of the season Oct 19. It can stay at MUSC Health Stadium until the end of the year, which Holder said gives his company ample time to flesh out a development plan for the 37 acres it now controls at and around the site.
"We think it's important to do something well and right because it's rare that you can find that much property inside the perimeter in Charleston, and we want to make sure we do it properly," he said. "It important to something interesting, that people will want to come to."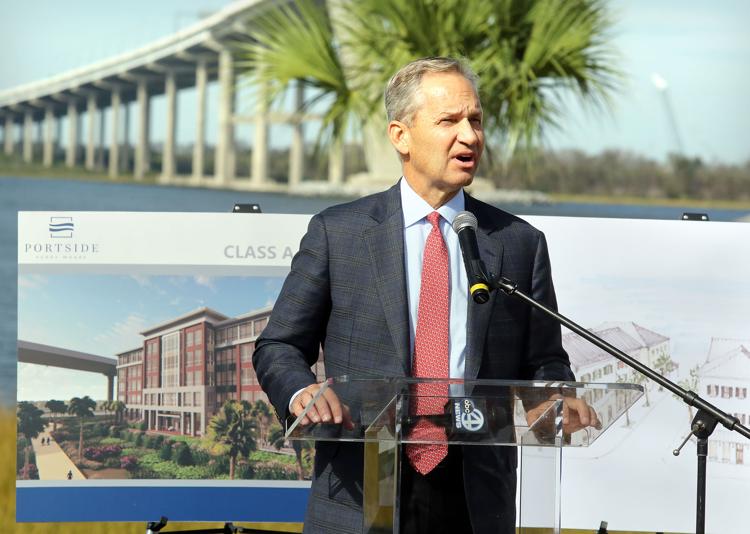 The Battery hasn't finalized a location for a new home field, but it's been in talks to return to its original 1993 venue next year: Stoney Field near The Citadel on the Charleston peninsula. 
"That's our preferred option," team representative Melissa Britton said Wednesday.  
The USL club moved to its current home pitch just off U.S. Interstate 526 in 1999, when the since-renamed Blackbaud Stadium was completed as the first soccer-specific venue in the United States.
Holland Park LLC purchased the 5,100-seat property for $8.5 million in 2016, when Eric Bowman's B Sports Entertainment bought the team.
The Medical University of South Carolina acquired the naming rights to the stadium in 2015. Its $185,000-a-year agreement expires at the end of this year.
The sale of the property came up at a Berkeley County Council meeting in March during a discussion of public tax incentives the stadium owner received years ago.
The buyer has been an active developer in the Charleston region for years.
Among other projects, Holder's firm has completed two large office buildings on Daniel Island. They include Blackbaud's new global headquarters, which the technology company moved into about a year ago.