Parking at South Carolina's busiest airport has gotten a little more tight in recent years as new flights, new destinations and new airlines add to the growing passenger counts.
On Thursday, Charleston International Airport officially kicked off its latest massive construction project — a five-tier, 3,005-space parking deck soon to rise behind the existing three-level garage.
A new parking structure is needed because of the airport's exceptional passenger growth in recent years.
"We are starting to run out of parking three or four times a week," airport CEO Paul Campbell said in a previous assessment of the need for more parking. "We are having to park people in other places. We have exceeded our growth projections and continue to exceed our growth projections."
In November, Charleston International, the state's busiest terminal, reached a milestone by surpassing 4 million passengers arriving and departing for the first time ever.
"We have doubled the number of daily passengers in the past eight years," said Walter Hundley, chairman of Charleston County Aviation Authority. "In my observation, people are not going to quit coming here."
The region's growth with new industries, more tourists and more newcomers moving to the area is driving the airport's move to create more parking spaces.
Several times during the past year or so, the existing deck has been closed when it reached capacity. During heavy holiday travel periods, the airport has had to rely on outlying lots and shuttles as the surface lot filled up as well.
Business and leisure travelers parking in the surface lot will have to maneuver around the upgrade for much of the next two years.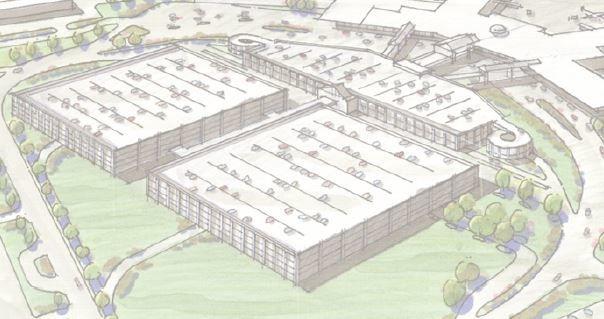 The $88 million structure is being built by Mississippi contractor Roy Anderson Corp. of Gulfport.
Work will include a covered walkway leading to the existing 1,268-space parking deck.
"Right now, we are happy to be on schedule and extremely excited to be part of this project to bring it to completion on time," Chris Monsour, the contractor's project executive, said after the groundbreaking ceremony Thursday.
The company is starting to install pilings for the garage. Vertical construction should begin by the end of May, he said.
The contractor is no stranger to the Charleston area. It's working on the visitors' quarters at Charleston Air Force Base and was involved in construction of the Hilton Garden Inn near the Medical University of South Carolina.
Roy Anderson, a subsidiary of Los Angeles-based Tutor Perini Corp., also has been involved in several airport projects, including terminals, parking decks and runways across the country, according to Monsour. Some of the work included airports in Los Angeles, New Orleans, Las Vegas, Birmingham and Newark.
Parking for about half of the surface lot behind the existing deck has been relocated to the remote lots, where free shuttles to the terminal are operating. The surface lot currently accommodates 2,344 cars. The outlying lots can handle 1,476 vehicles.
Other space is available behind the police department building, and the airport can shuttle people in from Boeing Co.'s parking lot if necessary, Campbell said.
To prepare for the new parking deck, the airport completed overhauls last fall to outlying lots where new spaces were added.
Work on the new parking facility is expected to be completed before the busy holiday travel period next year.
"Before Thanksgiving in 2020, we will have a 3,005-space parking deck," Campbell said. "We are going to be on schedule."
It costs $15 per day to park in the garage and $10 a day for the surface lot and remote spaces. Valet parking is $21 a day. Shuttles are free.
Airport passengers are encouraged to use public transportation and ride-sharing while construction is underway.
The airport's board raised fees for the surface lot by $2 and valet parking by $3 in 2016 to begin banking money for the new parking deck's construction.