An iconic building in a high-traffic area of West Ashley could soon get a makeover and a slew of new tenants.
Plans are in the works to transform the nearly 10,000-square-foot building housing a 20-year-old Avondale thrift shop that supports children with cancer into a mix of restaurant and retail space. The thrift store is looking for a new home.
Owned by an affiliate of real estate investment firm Twin Rivers Capital in partnership with the Rodenberg family, who once operated a grocery store in the building, the 1950s-era structure with a sign jutting above the roof sits along a busy stretch at 835 Savannah Highway.
It's across from Triangle Char & Bar in a revived section of Charleston with new restaurants and shops. The Harris Teeter-anchored St. Andrews Shopping Center is down the street and not far from the new Whole Foods Market that opened last year. 
Conceptual plans presented to the city include dividing the space into at least five shops, with possibly a restaurant on the corner under the protruding sign structure.
The building features 100 feet of street frontage that is set to be renovated with huge storefront glass and includes about 2,000 square feet of second-floor space across the back, where office space is envisioned, according to a site plan of the project on Twin Rivers' website.
With parking on site, it has the potential for sidewalk dining and a rooftop deck, according to the owner.
"The plan is to ultimately have one large user or several different ones," said project manage Andrew Smith of Twin Rivers. "It's kind of conceptual at this point."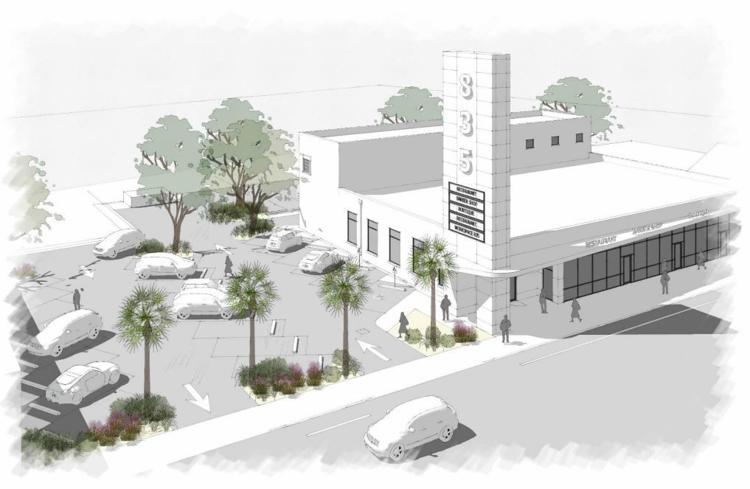 Depending on site plan approval and the lease, Smith believes work could begin in about six months on rehabilitating the site.
"It's an iconic building," he said. "We are planning a lot of sitework improvements including redoing the parking lot and landscaping it with islands."
Smith said Twin Rivers has been working with the city on the redevelopment project and officials are excited about it.
"I think it will be a big improvement to the area," he said.
The thrift store's lease expires this fall, according to shop owner Adria Lanier, who took over the store two years ago when longtime owners Conrad and Marianne Tuza stepped aside.
She has known changes were coming once she acquired the shop and has been looking for a new location without much success.
"I knew I was on borrowed time," Lanier said.
She wants to keep the store in West Ashley on a corner spot of a high-traffic artery, with drop-off access in the rear and parking on site. Though nearly every square inch of the current site is used, Lanier believes something smaller of about 5,000 square feet to 8,000 square feet will fill the need.
A lot of her customer base is through-traffic or people taking a break from a visit to see patients at hospitals on the peninsula.
"If you get off the main road, you lose the passerby traffic," Lanier said.
She called the shop a melting pot of customers.
"The store brings all walks of life into this space," she said while walking around the aisles of clothing, shoes, furniture and various other items donated to what is officially known as the National Children's Cancer Society Thrift Store. "It's part of the fabric of this neighborhood.
"I will do my best to find the next location when that time comes," she said. "I won't let this close down."
The proposal will go before the city's Design Review Board on Monday for preliminary approval.