Old school buildings often become new homes, but sometimes the reuse flows the other way.
That's the case at 89 Warren St., where a sizable 19th-century home is the newest corner of Ashley Hall's campus.
The school already was on a roll, having recently renovated the mansion at 179 Rutledge Ave. as its Elizabeth Rivers Lewine House for Global Studies, a dormitory, classroom and student center for its international boarding students. And the historic McBee House just across Rutledge is one of Charleston's finest Regency style homes and has long served as the heart and soul of girl school's campus. 
The renovation of the circa 1820 home on Warren Street for a humanities hub proved to be a greater challenge, as it had fallen into disrepair after its extensive use as six separate apartments.
The building also came with a historic easement, so the Preservation Society of Charleston, along with the city's Board of Architectural Review, would have to sign off on any major exterior changes.
For the school, the first challenge was figuring out whether the four-story home could reasonably be brought up to modern codes and reimagined as a mix of classroom and office spaces without overly compromising its historic feel.
"I really believe in making a place a really big part of our curriculum," says Ashley Hall Head of School Jill Muti. "We want to be an active, vibrant part of the neighborhood."
The school turned to architect Joseph Schmidt for help.
The house's structure was solid. It was built with four wythes of brick from the ground to the top (unlike other 18th- and 19th-century brick buildings here, its walls didn't narrow on the upper floors), he says.
Its large polygonal bays on the east and west were added a few decades after its construction. Schmidt says even though the addition's bricks weren't feathered into the original home, they survived the 1886 earthquake with few problems.
"They should have just fallen away during the earthquake," he says, "but they didn't."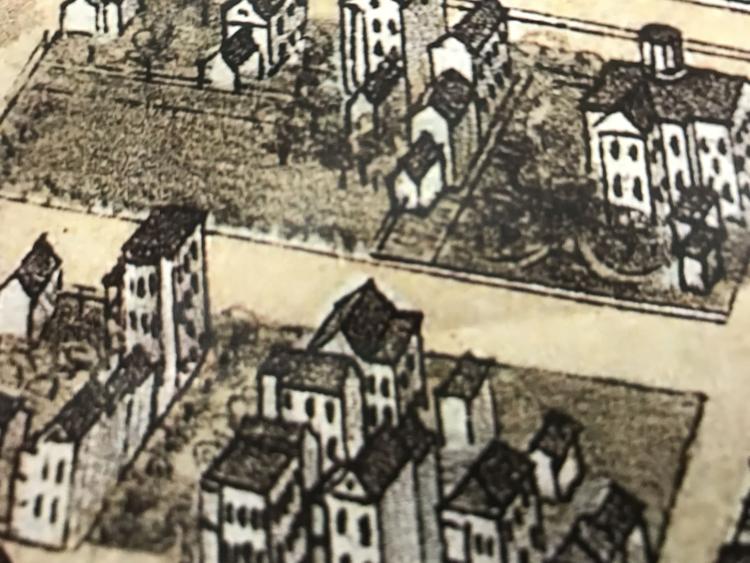 The inside was another story. Schmidt says it was "well Band-Aided" over time, adding, "We had to gut it."
Fortunately, the house's largest rooms were a good size for classroom space, while the smaller rooms off that worked well for faculty offices. Its ground floor also worked as an admissions suite, a welcoming first-stop for families considering the school.
Robert Gurley of the Preservation Society had worked with the previous owners on easement issues and worked through Ashley Hall's proposed changes, too.
That included enclosing the rear ground-floor piazza space to make room for the new admissions rooms and other offices.
And it included an exterior addition that accommodated a new elevator and a metal stair, as well as a slight ramp and handicap rail on the second floor piazza.
The elevator was not brought to the fourth floor, and that area is being used as a new guest apartment and a culinary space that functions as a sort of learning laboratory.
The stair survived, as do the original closets, which by today's standards are almost laughably shallow (only about 8 inches deep): barely look-in, much less walk-in.
The house was built around 1824 by Justice Benjamin Dunkin, a descendant of Boston's Faneuil family. He bought six lots here and later sold off three, according to "The Buildings of Charleston" by Jonathan H. Poston.
The house's orientation has changed multiple times, as seen by the impressive brownstone door surround with engaged columns on Warren Street that survives but is no longer used.
Like many houses in Charleston, it has cycled through impressive periods where it has seen periods of grandeur and periods of neglect ("The Buildings of Charleston" notes it fell into disrepair after World War II until it was renovated in the 1980s, but even that lasted only so long before Ashley Hall needed to help it yet again).
It survives, albeit in a slightly different form.
"We thought this was a successful adaptive reuse," Gurley says. "We appreciated the light touch."