The flurry of new apartment developments on Charleston's upper peninsula shows few signs of abating as another is set to rise.
A $34 million, seven-story project called The Porter at 577 Meeting St. will offer 118-units and sit next to the 191-unit apartment complex under construction behind it and just off Huger Street. The larger of the two is called New Market Square.
A warehouse behind a row of single-story buildings along Meeting Street was recently demolished to make way for the new development, which is just north of the multistory Summit Place and Five Eleven Meeting apartments, both under construction. The project is south of Meeting Street Lofts and what was called East Central Lofts.
The Porter and New Market Square are being built by the same developer, Madison Capital Group, which has offices in Charlotte and Charleston. Patterson Real Estate Advisory Group of Atlanta is a partner.
"The site's proximity to our Huger Street development ... made 577 Meeting St. the ideal location for this project, said Ryan Hanks of Madison Capital. "The two apartments abut one another, creating a seamless integration of communities."
The project is also in a federal Opportunity Zone, defined as an economically depressed area where developers and investors are eligible for tax breaks.
"The Opportunity Zone designation allows us to take a long-term perspective of continuing to invest in the community," Hanks said.
The new development will include mainly studio and one-bedroom units. Completion is expected in early 2021.
It will be Madison Capital's eighth multifamily development in the Charleston region.
New Market Square is set to be completed in November.
Townhome sale
An affiliate of The Beach Co. in Charleston recently sold a townhome development in North Charleston for $5.64 million. 
Summerbend Properties LLC of Mount Pleasant bought the Colonial Chatsworth Circle property in Summers Bend on the Ashley off Dorchester Road in late July. The seller was Ashley River Town Homes LLC.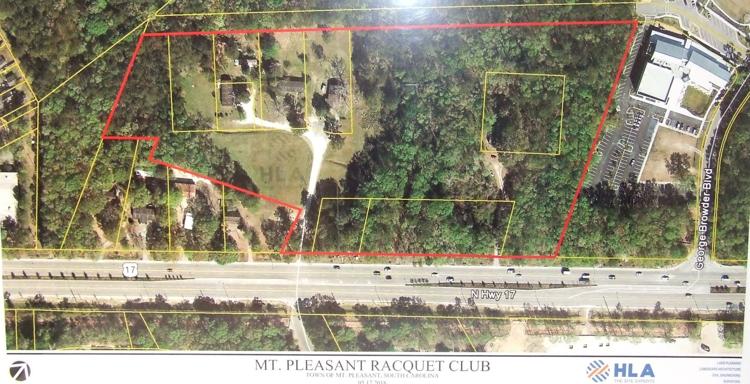 Club purchase
An affiliate of Mount Pleasant Racquet Club recently purchased nearly 15 acres on U.S. Highway 17 across from Charleston Fun Park for $6.695 million, according to the commercial real estate firm Avison Young. The buyer's official name is D&T Williams Property LLC. Multiple parties sold the site.
The club with 32 clay courts will be built behind 30,000 square feet of retail space spread over four buildings that will house up to five tenants each.
Scheduled for completion in 2020, The Shoppes at Mount Pleasant Racquet Club will be at 3236 Highway 17, just south of George Browder Boulevard.
Home sales
The Ponds development near Summerville sold more homes in January through April than any other community in Dorchester County, according to a report in Real Estate Information Service.
Kolter Homes and Ryan Homes, the two active builders in the 1,950-acre development, closed on 65 new homes during the first four months of the year. Only Cane Bay in Berkeley County reported more homes sold during the same period.
"The continued growth of our area, and on the east side of Summerville in particular, is exciting to see," said John Manrique, vice president of marketing for Kolter Homes.
"REIS's latest numbers show that more and more new home buyers find value in the location and outstanding lifestyle benefits The Ponds offers versus other communities in the market," Manrique said. "Whether it's active adult or traditional new homes, The Ponds has great options for everyone."
Kolter Homes is the lead developer of The Ponds, and offers new homes in both the traditional neighborhood and Cresswind Charleston, a 55-plus community. 
A third entity, Dan Ryan Builders, recently bought 31 home sites in The Ponds, giving buyers another option in the developing community.