As the greater Charleston area grapples with a home affordability crisis, many efforts to create housing that people can afford have been left to nonprofit groups with limited government support or funding.
There are some notable exceptions, such as the city of Charleston's $20 million housing plan. But in many places, the creation of affordable housing amounts to just a handful of houses or apartments yearly. That's across three counties where more than 18,000 homes were sold last year.
"This is not a North Charleston or Charleston issue, it's a regional issue," said Omar Muhammad, president of the Lowcountry Alliance for Model Communities in North Charleston. "It's an issue in Mount Pleasant because people can't afford to live where they work."
Within the region, affordability problems are acute in Charleston County, where rents are high and the median price of a home sold in 2018 was $345,000, according to the Charleston Trident Association of Realtors. The median price — the point where half are higher and half are lower — was lower by more than $105,000 in both Berkeley and Dorchester counties.
"Approximately 33% of homeowners and 50% of renters are living in housing they cannot afford," a Berkeley-Charleston-Dorchester Council of Governments study said. That was in 2014, and prices have soared since then.
Substantial amounts of the area's traffic congestion are tied to home affordability because countless thousands of people who work in high-priced areas, including Mount Pleasant, barrier islands and the Charleston peninsula, can't afford to live there.
Faced with high rent costs, those who want to become homeowners struggle to save up a down payment.
North Charleston now has one of the highest eviction rates in the nation, and nonprofit groups seeking to buy homes or land for affordable housing initiatives are competing with investors for lower-priced properties.
"I live in Chicora," said the Rev. Bill Stanfield, who leads the North Charleston community development organization Metanoia. "Until about two years ago, I never got anything in the mail saying, 'I want to buy your house.'" 
"A few years ago, when we called about (buying) a house, we were the first person to call in 15 years," he said. "We're working with our partners to try and stay ahead of it."
Relatively affordable North Charleston communities may be "the last, best chance to get it right," said Stanfield, but he concedes that current efforts amount to a drop in a bucket.
"If the problem is that people can't live where they work, it's solving the problem for maybe five or 10 families a year," he said.
Across the metro area, many efforts to create affordable housing face challenges, including: 
Some cities and counties have access to federal Home Investment Partnership funds, but the money is limited. For example, this year in North Charleston three nonprofit groups will share just $206,000 in HOME funds dedicated to affordable housing creation.
In Awendaw in 2009, developers of a massive property known as the King Tract gave the town 25 acres where the town plans to create affordable housing. The town is still studying how to make that happen. Wetlands issues and a lack of public waterlines have been key issues, Administrator Bill Wallace said.
In Mount Pleasant, the Town Council eliminated previous incentives to create below-market-rate apartments, then formed a town task force to study affordable housing. That led to the recent creation of a nonprofit group, Mount Pleasant Housing For All. The group has no land and no direct source of funding.
In North Charleston, the State Ports Authority gave the Lowcountry Alliance for Model Communities $1 million for housing initiatives as part of an agreement to mitigate the negative impacts of a new port. LAMC, run by community volunteers, has acquired land but produced no housing.
In Charleston, a $10 million government loan that helped create Charleston Place and revitalize King Street in the 1980s was repaid two years ago — plus $12.8 million interest — to the Charleston Citywide Local Development Corp. The city planned to use $10 million for affordable housing but discussions between the city and the LCD broke down and a lawsuit has ensued.
Federal tax incentives have spurred some affordable housing but rules only require such housing to remain affordable for 15 years. As a result, some housing created with taxpayer assistance was later sold on the open market or demolished, notably the Shoreview apartment complex in Charleston's Wagener Terrace and a low-income apartment complex at Cannon and Coming streets that was converted to for-profit student housing.
In North Charleston a 72-unit apartment building for seniors, privately built using tax credit incentives, was declared unfit for habitation shortly after it opened. The Osprey Pointe complex on Baker Hospital Boulevard has now been sitting vacant for more than a decade.
Across the region, and particularly in Charleston County, real estate investors have been purchasing affordable apartment complexes and raising the rents. Some were among a limited number that accepted federal housing vouchers for low-income renters.
Despite the many challenges, though, affordable housing is being created.
Charleston leads, few follow
In the tri-county area, Charleston is the only city that's directly committed tens of millions of dollars to creating homes and rental units residents can afford.
In 2017 voters in Charleston cleared the way for the city to borrow $20 million to finance affordable housing. The money, which the city plans to borrow this year, is expected to create more than 800 rental units serving people with a range of incomes.
"Without funding, you can't produce it," said Geona Shaw Johnson, director of Charleston's Department of Housing and Community Development. "We know that we need more than federal dollars."
It will be the city's second multi-million-dollar housing effort. Charleston launched a $10 million plan to build more affordable housing and an ongoing city initiative to create below-market-price homes for first-time buyers after creating the Gentrification Task Force in 2000.
The city's homebuyer initiative is unusual for the area and the state. In addition to creating housing and helping people buy it, Charleston ties financial assistance to buyers with 90-year deed restrictions, assuring that the affordable homes the city creates will remain affordable.
Buyers of such properties agree to limits on future selling prices, and future buyers must meet the city's guidelines on income eligibility.
According to the city, Charleston's housing programs have so far created 952 affordable homes for ownership and 2,247 rental units, and helped rehabilitate 3,877 existing homes — helping lower income owners with repairs.
"Almost everything we have currently is spoken for," Johnson said.
Another 944 homes, and more than 800 rental units, are planned. Some will come in small numbers, such as the seven homes the city is building in Maryville-Ashleyville financed by $1.4 million fees Charleston collected from developers in exchange for permission to build with greater density.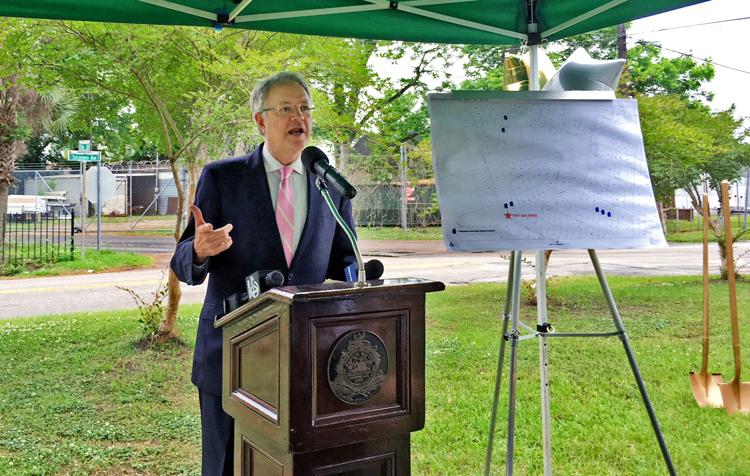 And when those homes are sold, the city can use the proceeds to build more.
The largest numbers of affordable housing, though, are expected to come in large developments that agreed to give the city land during the approval process. The Long Savannah development west of Bees Ferry Road is expected to include 400 affordable homes, while the Magnolia development in the Neck Area could have 238, although neither property is yet ready for home construction.
Initiatives, not 'projects'
Housing authorities manage most of the Charleston area's low-income housing but in recent years they have also been creating housing for people with moderate, middle-class incomes. 
The Charleston Housing Authority has more than 2,000 low-income apartments on the city's peninsula but also has built or purchased rental properties that — with no federal funding, but also no profit motive — are rented for less than the going rate.
The authority is currently building Grace Homes on the peninsula at Nassau Street. There will be 62 apartments, some of them available to low-income residents with housing vouchers, and just over half earmarked for residents with incomes right around the mid-point for the area.
"Our problem (in Charleston) is that we don't have enough rental stock, and what we have is not affordable," said Don Cameron, executive director of the Charleston Housing Authority. "We have people come into our office or call all the time."
North Charleston's housing authority has also taken on costly initiatives.
The authority's last large-scale effort was Horizon Village, an early 2000s plan to replace the World War II era North Park Village public housing complex with a mix of more than 500 rental homes, apartments for seniors and homes for sale.
It was a $71 million venture that created modern, affordable housing off Spruill Avenue not far from Park Circle.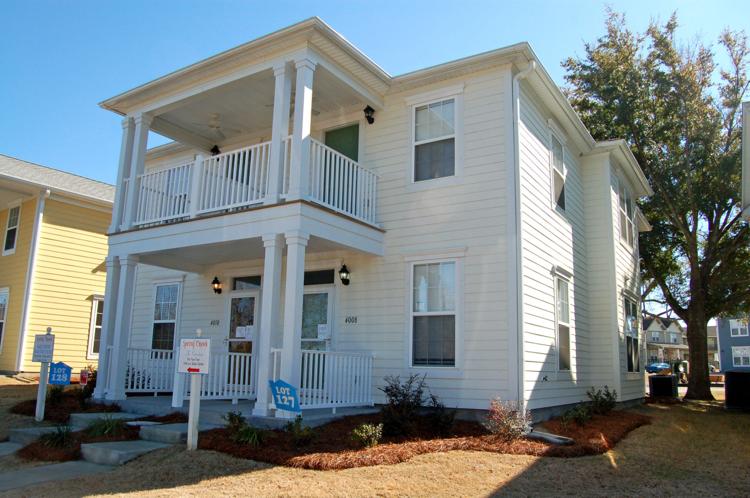 The last part of Horizon Village is just now being completed by a private developer that bought the last 99 building lots from the housing authority after a prior developer failed.
Hunter Quinn Homes is now selling new townhomes there, starting in the under-$200,000 price range — a price-point possible because the company was able to buy building lots with roads and utilities in place for less than $15,000 each.
Market forces
The city of North Charleston, like many others, distributes federal funds to nonprofit groups that work on housing issues. The city has not launched its own multi-million-dollar housing plan, as Charleston has, but recently gave some city-owned land to the Charity Foundation, an organization that plans to create affordable homes in Liberty Hill.
"We are still in the fortunate position that the market is still providing a reasonable amount of homes and rentals at affordable prices," said Ryan Johnson, North Charleston's spokesman and the mayor's assistant on economic development. "That doesn't mean we aren't concerned about future prices and where they are going."
Among the three counties in the Charleston Metropolitan Area, Dorchester County has the most affordable homes, but many residents there commute to jobs elsewhere. 
While Charleston County communities aim to create affordable housing, Dorchester aims to attract jobs to a county where homes are more affordable.
"For a long time, Dorchester County has been considered a bedroom community for Charleston and has offered affordable homes to people that work outside the county," the county's Comprehensive Plan says. "Continued efforts to reverse this reality and to locate jobs closer to where people live is one of the highest priorities articulated by the citizens and leadership in the community engagement process."
What next?
Whether it's Charleston's plan to create hundreds of homes that first-time buyers can afford or a joint effort in North Charleston by Metanoia and LAMC to develop housing on land the community organizations own, the common challenges are funding and keeping housing affordable for the long-term.
Charleston uses long-term deed restrictions to keep people from buying subsidized homes and then flipping them for a profit. Metanoia has done the same but a different method has been gaining interest.
The idea is that a community land trust could own the land a house sits upon, allowing the home to be sold at a reduced price, likely through a long-term lease. It's an idea that's being used more across the U.S., including a plan in Houston to create 1,100 homes in five years.
Charleston created a land trust prior to the recession but funding was a challenge. It eventually became the SC Community Loan Fund, a nonprofit lender.
"What they didn't have was a sustained source of funds," said Stanfield, who was a board member.
Now, new land trusts are getting underway in North Charleston and in Charleston.
"The land trust owns the land and the home owner owns the improvements," said Muhammad of LAMC. "That insures that the property is affordable in perpetuity."
However, to own lots of land, land trusts will need lots of money. That was the problem with Charleston's first attempt, and it's still a problem going forward.
"I would like to see our municipalities develop an affordable housing trust fund," Muhammad said. "As citizens of this region we need to encourage our local governments to create a fund and make annual contributions."