The Charleston-based developer of Cane Bay Plantation has sold off a small piece of a neighboring property he acquired in 2016.
Ben Gramling of Gramling Brothers Real Estate and Development recently collected $3.948 million from JMH at Berkeley I LLC for 61.3 acres in the 2,000-acre Wildcat Tract just west of Cane Bay. The sprawling 4,500-acre Cane Bay tract lies just north of U.S. Highway 176 in unincorporated Berkeley County.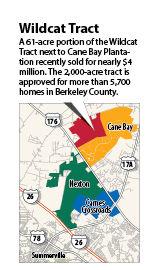 Last year, Miami-based Lennar Homes bought 184 acres in the Wildcat Tract for $7.72 million. In a separate deal, Roswell, Ga.-based Ashton Woods paid $6.52 million for 134 acres in the tract next to Cane Bay.
Gramling paid $21 million for the 2,013-acre Wildcat Tract, which is approved for more than 5,700 homes.
Changing hands
Beachwalker Rentals of Kiawah Island has a new owner.
Vacasa South Carolina, a subsidiary of the national vacation rental management company Vacasa LLC, has acquired the luxury home rental company.
Beachwalker Rentals has managed vacation rentals in the area since 1984, mainly on Kiawah and Seabrook islands. Vacasa South Carolina began operating last year. Its parent company was founded in 2009 and is based in Portland, Ore.
Alison Barker and her mother, Gail Vandall, bought the company in 2005 from the original owners.
Vandall retired from the company last year with health-related issues, and Barker decided it was time for a change.
"It just seemed like the right move," Barker said.
Vacasa will retain all of Beachwalker's employees and maintain the Freshfields Village office.
"The vacation industry has been getting way more competitive," Barker said. "It's harder for the smaller guy to be involved in that. The national company has the added benefit of giving it more exposure."
Barker remains a partial owner of the Church Street restaurant Tommy Condon's, which she purchased with her brother, Allan Vandall, and her ex-husband Ken Barker, last year. She also has three rental homes that will be managed by Vacasa South Carolina.
Craft space
A new flex-space structure is coming to northern Mount Pleasant.
Fred Moore, the owner of retail store Indigo at 4 Vendue Range in downtown Charleston, plans to build an 8,100-square-foot warehouse with six units near the intersection of S.C. Highway 41 and U.S. Highway 17.
Moore plans to use two of the units as workshop space for his metal art creations such as steel flags and sea creatures sold at the downtown shop. The remaining four units will be available for lease.
Moore and his wife have owned and operated Indigo for about 22 years while renting workshop space in Mount Pleasant for inventory, shipping and a studio for craftsmanship for about as long.
Construction is expected to begin in July and be finished by early 2019.