You're seeing the Post and Courier's weekly real estate newsletter. Receive all the latest transactions and top development, building, and home and commercial sales news to your inbox each Saturday here.
Architectural magnetism
The Navy once had a degaussing station maybe 100 yards into Charleston Harbor to electronically cancel out ships' magnetic fields, rendering them undetectable from certain tracking devices.
The building's still there. But in 2010, it was totally revamped. It's 2 Concord St., a posh mansion "uniquely positioned" above water by concrete pilings.
The property includes the water-encircled main house and landlocked guest quarters covering close to 6,000 square feet as well as a 240-foot private dock. It's priced for sale at $7,950,000 after going off the market for a time.
Charleston-based William Means Real Estate holds the listing. The 86-year-old downtown agency is affiliated with Christie's International Real Estate -- a wing of the famed auction house.
Views take in Charleston Harbor, Fort Sumter, the Yorktown, Ravenel Bridge and the peninsula.
---
Want to receive this newsletter in your inbox every Saturday? Sign up for free.
---
The 2.7-acre grounds are landscaped with area materials and stormwater is managed via on-site tanks that supply irrigation. Solar roof panels are a first for the historic district and double-sided solar panels on the roof railing take advantage of reflected light from the white tabby walkway and water below.
William Means calls 2 Concord St.'s 4,689-square foot main residence a "statement house" boasting a grand staircase, gourmet kitchen, and climate-controlled wine room. The first-floor library touts hand-detailed cypress panels. The second level includes a master suite and three bedrooms with private baths and waterfront views. A bar and terrace for entertaining mark the third floor.
Situated above a three-car garage, the 1,234-square-foot guest house features antique chestnut floors, open kitchen, living and dining area, two bedrooms with their own baths and private terrace.
Blackbaud founder Tony Bakker and his wife Linda -- who owned 2 Concord St. -- spearheaded the thorough reconstruction eight years ago. The property listed for $8,850,000 as recently as summer 2015.
Slam dunk
Retired NBA star David Robinson is among the investors purchasing The Factory at Garco apartment home community near Park Circle. Robinson, a graduate of the U.S. Naval Academy, played 14 years with the San Antonio Spurs. He co-founded Admiral Capital Group, one of the buyers, and said his interest stems from the "exciting" revitalization of North Charleston.
---
By the numbers
24: Number of lanes in a new bowling alley being built on the site of a former Ladson-based Kmart.
2,098: Square footage of The Cracked Egg LLC's new lease in Indigo Village in West Ashley.
5,800: Square footage of property leased by Coastal Conservation League at the corner of Spring Street and Rutledge Avenue.
---
This Week in Real Estate
+ Homeowning veterans: Military ties can lead to business for local real estate agents, some of whom were once active duty.
+ Flowery arrangement: The Coastal Conservation League is moving into the 131 Spring St. space formerly occupied by a florist.
+ A new neighborhood off U.S. 17: Pulte Homes' new project is slated to house 71 residences.
---
Featured Home: 318 Arlington Drive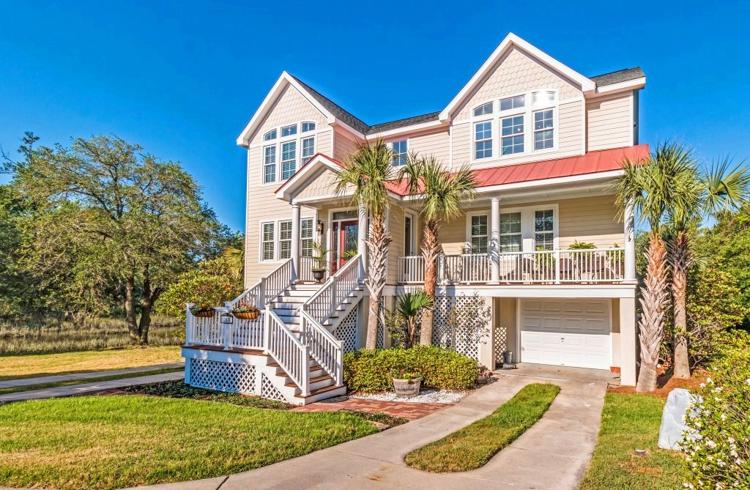 Think water. The two-story house for sale in Stonecreek west of the Ashley was constructed by a builder as a personal home. Featuring five bedrooms, multiple decks and open interior, the residence includes a dock on a tidal creek leading to the Stono River. It's priced at the alliterative $774,774.
---
Upcoming real estate events
First-time homeowner workshop, Saturday, Nov. 17: Origin SC will hold a 9 a.m.-4 p.m. home buyer event at its office at 4925 Lacross Road in North Charleston.
Investor to address apartment group, Tuesday, Nov. 27: Patrick Morin of Richmond, Virginia-based Transact Capital Partners will speak to the Charleston Apartment Association.
For the full calendar, click here.
---
Charleston Area Transactions
---