Publix wants shoppers to know it is not going to the dogs.
The Florida-based supermarket giant is reinforcing its long-standing policy of allowing only service animals in its stores, and it's alerting customers that dogs are not allowed inside shopping carts.
Signs at entrances remind customers of its no-pet and service animal policy, but some locations across the South recently posted new signs that go a step further, according to a report in The Orlando Sentinel.
"For food safety reasons, only service animals that are specifically trained to aid a person with disabilities are permitted within the store," the signs state. "Service animals are not permitted to sit or ride in shopping carts. Thank you for your help!"
The company's policy on service animals has not changed, but the signs are meant to raise awareness to ensure a pleasant shopping experience, Publix spokeswoman Kim Reynolds said Wednesday.
Service animals, or those claimed to be for special needs, have come to the forefront lately, mainly among some airlines as they tighten regulations to stem the surge of service and emotional support animals and avoid flight disruptions. Some states have begun cracking down on dog fraud since fake service animal vests can be bought online.
What's cooking?
A new restaurant chain is coming to the Charleston area.
Primo Hoagies, a Philadelphia-born Italian specialty sandwich franchise, will open in September at 2755 Highway 17 in Mount Pleasant. In addition to other menu items, the new eatery promises "authentic" Philly cheese steaks.
It's the first of three dining spots in the chain planned by franchisees Jim and Michele Wright for the region. They, along with their son, Chris, will manage daily operations.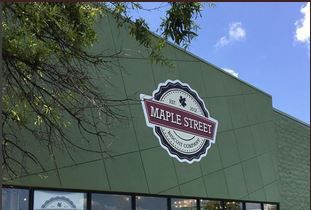 Also, a new breakfast-and-lunch spot is now open on James Island.
Maple Street Biscuit Co. welcomed diners Tuesday at 1739 Maybank Highway in James Island Center.
The Jacksonville-based chain's specialties include freshly made biscuits, never-frozen chicken and newly ground beans every day for fresh coffee.
The restaurant is open 7 a.m. to 2 p.m Monday through Thursday and 7 a.m. to 3 p.m. Friday and Saturday. It's closed on Sundays.
Maple Street Biscuit Co. also can be found in Greenville and Simpsonville in the Upstate.
Tax break
Reminder: It's time again to save a bit on back-to-school purchases.
South Carolina's annual Tax-Free Weekend kicks off at 12:01 a.m. Friday and runs through midnight Sunday.
Thousands of items from clothing to computers will be exempt from state and local sales taxes at retailers.
Many merchants will offer specials during the period, so check with individual retailers for sale items that qualify for the tax exemption.
For a full list of what's exempt and what's not, go to: https://dor.sc.gov/taxfreeweekend.
New threads
A new women's clothing shop is coming to Mount Pleasant Towne Centre.
Traveling Chic Boutique, named for an Airstream trailer that launched the company, will open in late fall at 1242 Belk Drive near Zoe's Kitchen.
The 951-square-foot store will feature designer clothing, jewelry, handbags and accessories not found in department stores. The boutique continuously rotates its merchandise to provide fresh offerings. Franchisee owner is Kelli Thomas.
The Mount Pleasant store will be the third location in South Carolina. Other shops can be found in Greenville and Hilton Head.
Last days
The last remaining big-box Sears department store disappears this weekend from the Charleston market.
The once-mighty retailer will shutter its 132,000-square-foot store Sunday at Citadel Mall in West Ashley. In addition to saving a few cents on sales taxes during the state's tax-free holiday this weekend on qualifying items such as clothes or shoes, merchandise has been marked down significantly to clear the floors before the lights go out.
The store at Northwoods Mall closed last year.
A couple of smaller Sears options remain in the region. A Sears Outlet store can be found at 5101 Ashley Phosphate Road in North Charleston, and a Sears Hometown location is at 1013 Old U.S. Highway 52 in Moncks Corner.
New tenants
A West Ashley shopping center has landed two new tenants: Marco's Pizza and Diamond Nail & Spa are joining the lineup at Ashley Landing between Sam Rittenberg Boulevard and Old Towne Road.
Birthday special
Yogurt chain TCBY is offering a limited-time deal to celebrate its 37th birthday.
Customers can buy one soft-serve yogurt and get one for 37 cents from 3-7 p.m. Tuesday.
Participating stores in the Charleston region include those on James Island and in West Ashley and North Charleston (The Corner at Wescott location). Look for specialty flavors and coupons. Cakes and pies are not included in the special pricing.
Giving back
BJ's Charitable Foundation will donate $50,000 Thursday to Lowcountry Food Bank.
The contribution will go toward the food bank's summer food program.
The donation will take place at 9:30 a.m. at BJ's Wholesale Club in Summerville.
Also, Bottles Beverage Superstore in Mount Pleasant is donating a portion of sales of Freehouse Brewing crowlers and growlers through Labor Day to Charleston Waterkeeper to help keep the region's waterways clean.
The store can be found at 610 Coleman Blvd. in Moultrie Plaza Shopping Center.