During a Labor Day weekend when terms like "the great resignation" and "quiet quitting" reflect the growing power of rank-and-file workers, another pro-employee trend is taking shape: a resurgence in the popularity of unions.
A new Gallup poll shows 71 percent of Americans have a favorable view of labor unions — the highest rate since 1965. The figures are from Gallup's annual Work and Education Survey, which was conducted Aug. 1-23.
"The latest approval figure comes amid a burst of 2022 union victories across the country, with high-profile successes at major American corporations such as Amazon and Starbucks," Gallup said in announcing its findings. "The National Labor Relations Board reported a 57 percent increase in union election petitions filed during the first six months of fiscal year 2021."
While residents of all 50 states and the District of Columbia were surveyed, the poll doesn't break down state-specific results. South Carolina has long been seen as an anti-union state, where right-to-work laws favoring employers have led to the nation's lowest percentage of workers covered by collective bargaining agreements.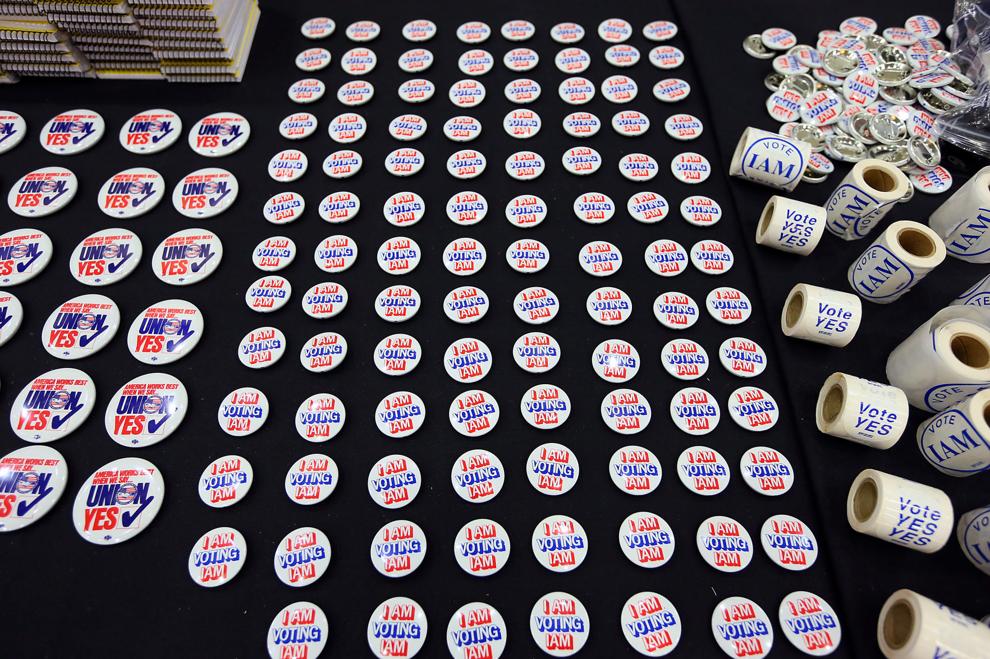 Still, interest in unions appears to be picking up in the Palmetto State, which has the third-lowest median wage of all 50 states, according to the U.S. Bureau of Labor Statistics. For example, employees of a Starbucks coffee shop in Greenville this year became the first of that chain's South Carolina locations to unionize. Two more Starbucks cafes, in Anderson and Columbia, followed.
"The growing approval of unions is playing out on the ground, with more workers seeking to exercise their collective bargaining right," the pro-union Economic Policy Institute said in a statement, adding "workers have increasingly felt empowered to fight for what they want."
Low unemployment and a glut of unfilled jobs have given workers the upper hand, and many are rethinking their priorities as the economy emerges from the pandemic. Some people seeking a better work-life balance have quit their jobs altogether as part of what's been dubbed the "great resignation." Others are taking at least one foot off the workplace treadmill by "quiet quitting" — doing the bare minimum required for their jobs while refusing to work nights and weekends, volunteer for time-consuming projects or otherwise doing the tasks American workers have traditionally been told they need to do to get ahead.
The pandemic has exposed decades-old anti-worker dynamics, EPI said, adding the Gallup poll and recent data that shows an increase in strikes and union organizing indicates "workers today are rejecting these dynamics."
Public support of labor unions peaked in the 1950s, Gallup said, when three in four Americans said they approved of them. Support dipped below the 50 percent mark in 2009 but has consistently improved since then.
That support doesn't necessarily translate into a recruitment coup for organized labor. The Gallup poll shows 58 percent of non-union workers are "not interested at all" in joining a union, with only 11 percent saying they are "extremely interested."
"It is a challenging environment for employers — and many are pushing back against unionization efforts despite unions' improved public image," Gallup said. "While most non-union workers are uninterested in joining a union, an increase in unionization efforts is still taking place, and employers of these unionized workers will need to find ways to improve their engagement."
Despite organized labor's apparent public image boost, South Carolina employers probably have little to worry about, according to business litigation law firm Haynsworth Sinkler Boyd.
"Businesses can breathe easy knowing South Carolina remains the state with the lowest unionization rate in the country — and the likelihood of employee unionization remains relatively low," the statewide firm said last month in a blog post, adding the Palmetto State remains a business-friendly site for start-ups, domestic and international businesses looking to locate here.
"Private employers in South Carolina should not be unduly concerned about union activity within their ranks," the law firm stated. "Although there may be an additional push by labor organizers to encourage employees or multinational companies to unionize, South Carolina's business-friendly attitude seems here to stay."
Orangeburg gateway
A large addition is coming to the area near a key crossroads of the South Carolina's interstate highway system. 
Greensboro, N.C.-based DG Real Estate said it plans to build a 677,160-square-foot distribution center in Bowman as the Charleston area's industrial properties move farther inland along the I-26 corridor.
The Bowman Industrial Center will feature 36-foot ceilings, 184 trailer parking spaces and 309 employee parking spaces. It is scheduled for completion during the third quarter of 2023 near the I-95 interchange.
The commercial real estate firm Colliers will market the speculative project, meaning it does not yet have a waiting tenant. Matt Pickard, senior brokerage associate with the company, said the location is within a two-day drive of 70 percent of the U.S. population and "offers a logistical advantage for any large-scale distribution user in business-friendly Orangeburg County."
The county has a workforce of nearly 705,000 people within a one-hour drive and is home to employers such as Boeing supplier GKN Aerospace, outdoor power tool maker Husqvarna, polymer tubing manufacturer Zeus and textile firm Sigmatex.
Marino maritime
Charleston-based Marino Group is expanding its maritime business into the Houston market.
Marine Repair Services — Container Maintenance Corp., which provides container and trucking services at 13 ports in the Southeast and Gulf Coast, recently opened a site at the Port of Houston. It will supplement an existing facility there and will provide loaded and empty container storage, chassis repairs and other services.
"As Port Houston continues to experience record-breaking container volumes, we see a market-driven need to expand our footprint in the region and enhance our capabilities," David Miller, the company's director of southwest and mid-south operations, said in a written statement.
Houston is home to the largest Gulf Coast container port, handling 70 percent of the region's volume. As of mid-July, the port said it has moved just shy of 2 million cargo boxes, an 18 percent increase.
Marino Group's new site is across from Bayport Terminal and a few minutes from Barbours Cut Terminal. Last year, the company expanded its Carolinas operations with depots in Greer and Charlotte as the company marked its 50th anniversary. The Upstate operation serves the State Ports Authority's nearby inland port.