Plans for three peninsula hotels moved forward this month.
Charleston's Board of Architectural Review unanimously gave conceptual approval to two design plans at its Dec. 13 meeting: The 225-room hotel on the the site of the State Ports Authority headquarters on Concord Street and a 50-room lodging on the site of the former Molly Darcy's pub at 235 East Bay St.
The plans by Los Angeles-based developer Lowe Enterprises for the SPA site at 176 Concord St. include extending the adjacent Waterfront Park to its proposed luxury hotel.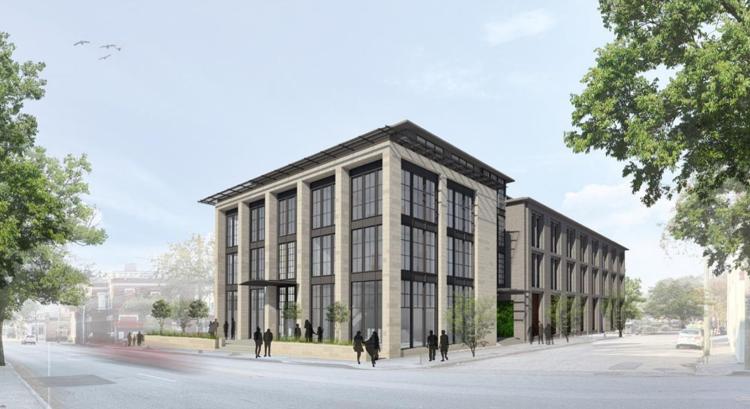 The project at 235 East Bay will also include the former Wild Wing Cafe building around the corner on North Market Street and a parking lot behind it. Conceptual approval came with a recommendation for warmer materials and a "restudy of the modularity of forms to reduce rigidity."  The owner is Pearce Development.
The third hotel is planned for the former Wendy's restaurant at 194 Cannon St.  The city's Planning Commission unanimously approved rezoning to allow up to 175 rooms at its Dec. 20 meeting.
An earlier request to include the adjacent site of Bruegger's Bagels at 221 Spring St. has been withdrawn. The hotel is part of a planned-unit development by Calfran Properties that also includes extending Hagood Avenue from the WestEdge mixed-use development to the city's hospital district. 
Upstate art hotel
OTO Development, the Spartanburg company behind the new Home2 Suites in the mixed-use Indigo Square development in Mount Pleasant, has opened the state's first AC Hotel by Marriott in its hometown. The 10-story, 114-room AC Hotel Spartanburg at 225 Main St. is the first new lodging in the Upstate city's business district since 2004. 
Marriott's new AC Hotels brand aims to compete against independent boutique hotels, with contemporary European flavor, upscale breakfasts and modern art.
The lobby and second floor of the Spartanburg property feature artwork from North Carolina's Black Mountain College, a haven for artists from around the world in the 1930s, '40s and '50s. The pieces are from the Johnson Collection, the family that owns the company and that has extensive land holdings in the Lowcountry.
Twin City service
In a spring boost for South Carolina tourism, Sun Country Airlines will offer direct flights between St. Paul/Minneapolis and Myrtle Beach International from April 6 through June 4. The carrier, which is based in the Twin Cities, will also advertise vacation packages to the Grand Strand.