Passengers on a 787-10 Dreamliner flight this week were worried that as they watched a movie on the plane's in-flight entertainment system, someone somewhere might have been watching them.
A Twitter flap erupted after a Singapore Airlines passenger noticed a small camera embedded near the bottom of the seat-back video display on a Boeing wide-body jet built in North Charleston.
"Just found this interesting sensor looking at me from the seat back on board of Singapore Airlines," Vitaly Kamluk tweeted, along with a photo of the video screen, on Sunday. "Any expert opinion of whether this is a camera?"
Singapore Airlines 'fessed up a couple days later, explaining the camera was part of an off-the-shelf entertainment system the carrier purchased for some of its planes.
"We have no plans to enable or develop any features using the cameras," the airline stated on Twitter.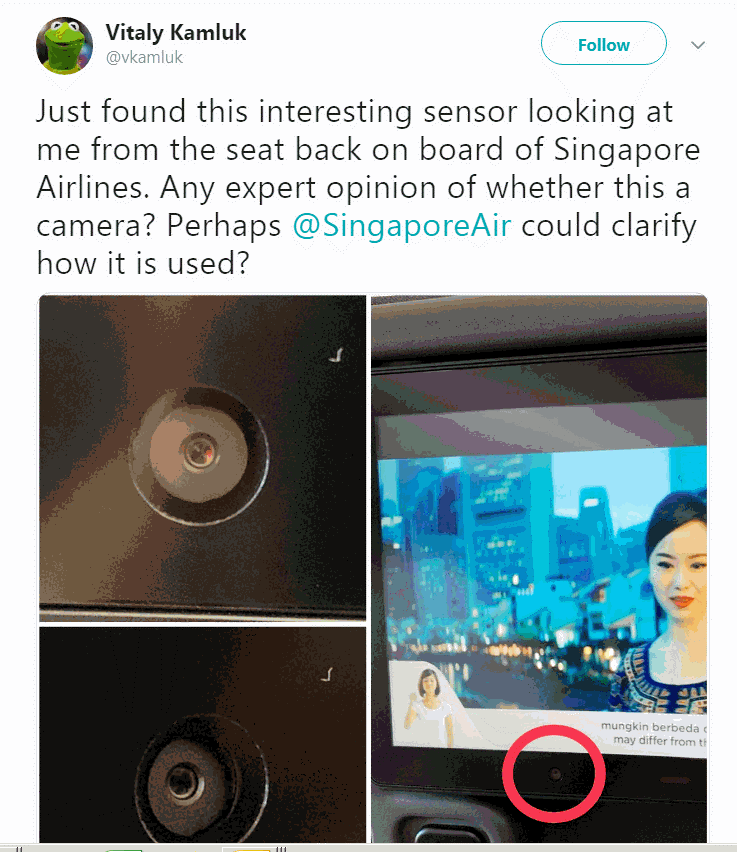 That unleashed a series of responses from conspiracy-minded fliers suspicious of the carrier's intent.
One Twitter user named Tarah asked how Singapore Airlines was storing all the information gathered by the cameras. Another user, Jeremy Clark, tweeted: "You say the cameras are 'disabled.' How do we know?"
Others worried the cameras were being used for facial recognition technology, to keep tabs on passenger behavior or as part of some experiment involving collection of passengers' biometric data.
All of which Singapore Airlines denies.
A few Twitter users offered a simple solution to those worried about their in-flight privacy — place a piece of black tape over the camera lens.
The entertainment system is made by Panasonic and the technology firm Thames, according to a report by Singapore news site The Strait Times. In addition to the 787-10, the systems have been installed on the carrier's Boeing 777-300ER jets and some Airbus planes.
Other carriers, including American Airlines, have the systems on some of their planes. An American spokesman told the Associated Press that the cameras are meant for future options such as seat-to-seat video conferencing. 
Singapore Airlines was the launch customer for Boeing's "Dash 10," which is built exclusively in North Charleston campus. The carrier has ordered 49 of the wide-bodies, the largest variant of the three-plane Dreamliner family.