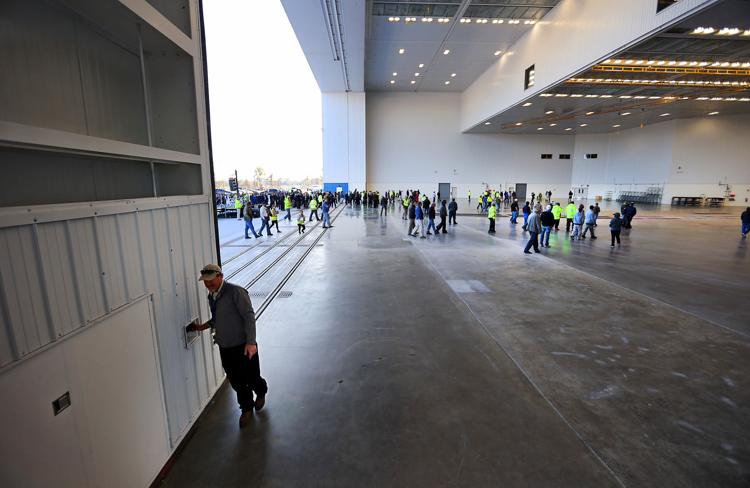 The giant paint hangar Boeing opened along International Drive on Thursday completes the company's plan to build a "freezer-to-flight" campus for its local 787 production line.
From raw materials that are frozen until needed for fuselage construction to the time a customer flies one of the wide-bodies home, the entire nose-to-tail assembly process will now take place at the North Charleston facility.
No longer will Boeing South Carolina have to send its Dreamliners to other sites around the country for their paint jobs.
"Now we control our own destiny from the outset, and that's a great feeling," Joan Robinson-Berry, vice president and general manager, said after Thursday's ribbon cutting.
At nine stories tall and two football fields wide, the 360,000-square-foot building is large enough to paint two Dreamliners - each with wing spans of nearly 200 feet - at the same time.
Matt Frey, vice president of South Carolina operations for building contractor Skanska, listed some of the massive structure's superlatives: enough steel to build 2,000 automobiles; concrete equal to a sidewalk 130 miles long; reinforcement bar that would stretch for 13,000 miles if laid end to end; and enough chilling capacity to cool more than 1,800 homes.
"This project is awesome," Frey said, adding that his construction crew battled a 1,000-year flood, Hurricane Matthew and an "intense schedule" to get the building ready within about two years.
Robinson-Berry said having a paint facility next door to the 787 final assembly plant gives local Boeing workers peace of mind.
"You do all your great work here and then you have to send it out to another area, and if there's anything wrong you think, 'I spent lots and lots of time doing this and now there's this one thing,'" she said. "We don't have to fly them out any more."
The opening ceremony for the hangar came seven years to the day after the first Dreamliner flight - a three-hour test at Boeing's other 787 assembly site in Everett, Wash.
It takes one to two weeks to paint a Dreamliner, and Boeing is producing a dozen of the planes each month split between the North Charleston and Everett sites. Robinson-Berry said the North Charleston paint hangar might have time and space to handle other Boeing models - specifically the 767 and 737 - in the future.
"We have more capacity now than we can probably use ... It's a big building," she said. "We have two bays and our vision is to grow. That's why you don't just make it for the size you need today but to grow."
In addition to the paint bays, the structure includes office towers and mechanical and electrical rooms. It also contains an extensive mechanical, electrical and plumbing system to handle the airflow requirements for the paint process. Boeing did not provide a cost for the facility, saying only that it is part of the company's $1 billion in capital investments announced in 2013.
With the paint facility, Boeing now has 4 million square feet of commercial space in North Charleston. That includes the adjacent final assembly site as well as a plant that makes interior cabin parts for the Dreamliner, a propulsion center that designs and manufactures engine parts and a technology center.
Boeing is one of this area's largest employers, with about 7,700 workers and contractors.