Since lawmakers returned to Columbia last week, Dominion Energy has been center stage in the Legislature's effort to clean up the state's costly nuclear mess, mounting an all-out push to sell its proposed purchase of SCANA Corp.
But another power company has been waiting in the wings, quietly watching the contentious debate about South Carolina's energy future.
That company is NextEra Energy, and like Dominion, it's a giant in the utility business that sees an opportunity amid the crater of debt left behind by the failed expansion of the V.C. Summer Nuclear Station north of Columbia.
Like Dominion, NextEra has amassed an imposing lobbying presence in the Statehouse, hiring eight former lawmakers and staffers to ply its message under the dome.
But NextEra is unlike Dominion in one key way: Two months after it began assembling its team, its plans are still hazy.
Dominion's intent is clear. Its chief executive, Thomas Farrell, fielded questions for hours this week about his Virginia-based company's ambitions to buy SCANA Corp., the Cayce-based owner of South Carolina Electric & Gas.
Dominion's was the first act: It offered to pony up $7.9 billion in stock to buy SCANA, slice part of the SCE&G rates paying for the nuclear project and refund most of the money customers have paid toward the unfinished reactors.
NextEra is widely expected to stage the second act, and people familiar with its plans say the Florida-based utility behemoth is homing in on Santee Cooper, the state-owned power company that was SCE&G's partner at V.C. Summer.
"They have lobbyists out there. They're out there right now," said Rep. Peter McCoy, a Charleston Republican who chairs a special committee investigating the nuclear project. "If they want to be a suitor, they need to come to the table like Dominion has done."
NextEra declined to comment on its interest in Santee Cooper. And its spokesman, Rob Gould, said the company wouldn't answer questions about its lobbying efforts in South Carolina.
Growth ambitions
In the energy business, it's hardly a secret that NextEra has ambitions to buy another utility.
It tried to buy Hawaii's biggest power company in 2014, until the acquisition was rejected by regulators on the islands who doubted the company would meet the state's aggressive renewable-energy goals.
And the company tried to buy Texas's largest electric distribution system in a deal that regulators swatted down last year because they wanted more local control of the utility.
Fresh off those rejections, NextEra has turned its sights to South Carolina, where the $9 billion V.C. Summer project has rocked SCANA and Santee Cooper back on their heels — and where the possibility of big-ticket buyouts has been on the table for months.
Gov. Henry McMaster has advocated for the sale of government-owned Santee Cooper in a bid to pay off the debt it piled up to pay for the nuclear project. McMaster invited power companies to kick the tires on Santee Cooper last fall, and NextEra has been considered a leading prospect since.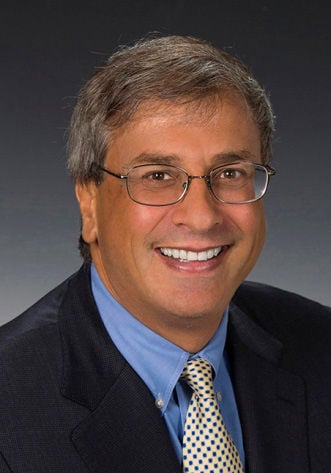 NextEra CEO James Robo called McMaster's office the day the Dominion-SCANA deal was announced to say his company was still interested in buying Santee Cooper, according to people with knowledge of the conversation. No other company tied to a possible Santee Cooper deal reached out to McMaster's office.
The interest stems in part from a company that's eager to replicate a utility model it pioneered in Florida. And it also stems in part from similarities between Santee Cooper and NextEra's primary business, Florida Power & Light.
Shar Pourreza, a utility analyst at Guggenheim Partners, said that a decade ago, Florida Power had a testy relationship with regulators and a heap of work to keep up in an evolving industry. Florida depended heavily on outdated power plants that burned coal and oil, lagging behind on renewable energy and struggling with infrastructure ill-prepared for damaging storms.
NextEra is credited with flipping that narrative by "hardening" its grid to prevent storm damage and developing a system that mostly burns natural gas in newer plants.
In South Carolina, it sees many of the same problems — and an opportunity to make money by investing in fixes.
Pourreza said that's the pitch executives gave him at an industry conference in November, when the company started to present Wall Street with its case for a play into South Carolina.
"If you just think about the needs of South Carolina and you look at the needs of Florida, they have very similar needs in terms of infrastructure," Pourreza said, though he says Florida is ahead. "They were able to take what was a relatively challenging state, weather it and essentially turn it around."
Now, with relatively low rates and good measures of reliability, the company has a much friendlier relationship with Florida regulators. When the utility comes asking for new spending, he said, officials are loathe to say no.
Power play
Utility observers in Florida say NextEra has also developed a reputation for aggressive politics and an ability to ply its influence in the halls of power.
And like SCE&G did in South Carolina, it has taken advantage of a Florida law passed a decade ago that was intended to spark a nuclear renaissance.
Florida was the first of at least 11 states to rewrite the rulebooks of utility regulation, letting power companies finance risky power plants by shifting risk from their investors to their customers. The Post and Courier's investigation "Power Failure" found that utilities in Florida spent $6 billion on nuclear plants.
NextEra was one of them.
The company, which provides electricity on Florida's east coast, has collected $275 million from customers for a nuclear construction project that hasn't broken ground. The project south of Miami would use the same Westinghouse designs that V.C. Summer did, but the company hasn't walked away yet, suggesting that it will wait to see what becomes of similar reactors now being built in Georgia.
NextEra also used the Florida law to undertake an ambitious project executives would later call "one of the most challenging in the history of the industry." It opted to upgrade four reactors in south Florida in a construction effort that would ultimately yield the equivalent of the mid-size power plant.
A consumer watchdog would call the project a "cautionary tale" before it was all said and done, citing "runaway spending." The upgrades cost $3.4 billion — almost double initial estimates.
More efforts?
In South Carolina, the extent of NextEra's lobbying efforts is uncertain.
The company has hired heavy-hitters like former senator and gubernatorial candidate Tommy Moore and former Rep. Harry Cato, who served as House speaker pro tem and chaired the Labor, Commerce and Industry Committee. But there are still looming questions about how far its influence reaches.
At the Statehouse, the company is also rumored to be connected to the Palmetto Energy Coalition, a group that cropped up as McMaster's efforts to sell Santee Cooper accelerated. Statehouse sources have indicated that NextEra was one of the group's founding members.
NextEra declined to comment on its connection to the coalition.
The energy coalition has said nothing about its membership or who is filling its coffers, even as the group hired a pair of lobbyists and commissioned a poll on whether it's a good idea to sell Santee Cooper.
Advocacy groups with vague names and agendas have been a staple in South Carolina for years, helping topple lawmakers and push causes. These groups remain popular because they are not required to file state financial disclosure reports after a 2011 federal court decision.
The coalition is led by former U.S. Rep. Gresham Barrett, a former solar advocate who didn't respond to repeated calls and messages on social media over the course of more than a week. Its other lobbyist, longtime political insider Dwight Cauthen, didn't respond to messages either.
A spokesman for the group, Adam Temple, declined to comment, saying only: "I can't share anything further at this point."
However, the energy coalition hasn't been shy about its thoughts on the future of South Carolina's energy sector.
Barrett registered as a lobbyist specifically to advocate for "the sale of Santee Cooper and for the South Carolina government to get out of the power business," state records show.
The group has also rejected Dominion's proposed takeover of SCANA, saying the deal "leaves much to be desired for thousands of South Carolina families struggling to pay rates for electricity they didn't and won't receive."
Andy Shain and Andrew Brown of The Post and Courier contributed to this report.